Conservatives on Debt-Limit Plan: What's In It for Us?
Spending cuts 10 years down the line don't cut it for the Far Right.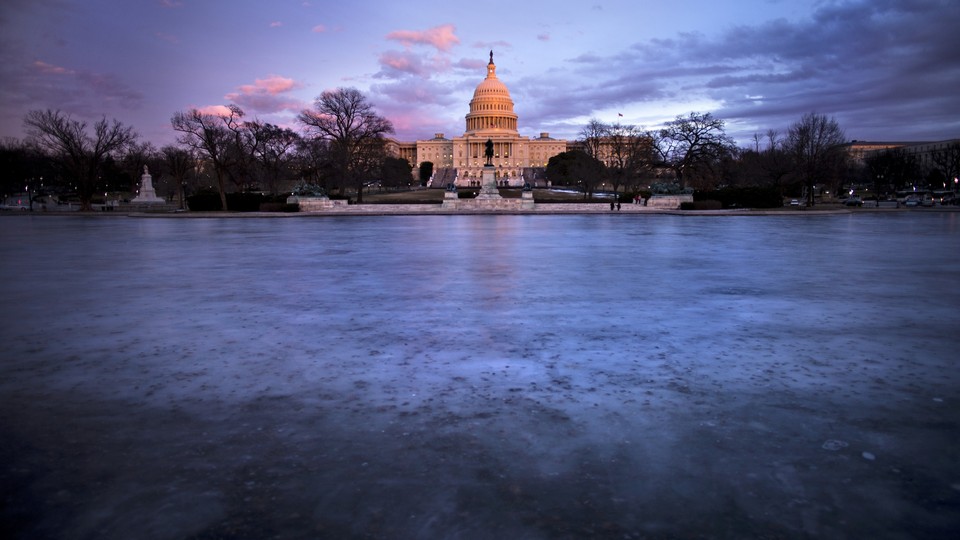 House Republican leadership unveiled a debt-limit strategy to membership on Monday night, leaving many conservatives wondering what exactly is in the bill for Republicans.
"The bottom line is this: This plan increases spending and raises the debt ceiling. So it makes our financial condition as a country more precarious in the years going forward," Rep. Mo Brooks of Alabama said of the plan, which would add an extra year of mandatory sequestration cuts in order to offset the cost of eliminating reductions to military pensions.
Brooks and others called the additional sequestration cuts, which won't come until 2024, a gimmick, noting that little Congress might do that far down the line is set in stone. Just look at the original sequestration cuts, which were altered in December's budget agreement, only nine months after they first took effect.
"Yeah, a decade from now [we'll get the offset], which to me is no offset at all," Brooks said. "You have to go through 10 years of Congresses before you have a pay-for for an expenditure that is immediate."
This is the second time in recent months that Congress has looked to sequestration to offset new spending. Once viewed as cuts so terrifying that no member of Congress would allow them to take effect, a majority of members in both parties and both chambers passed the budget deal in December that added another two years to the mandatory sequester cuts.
"When you have a president that doesn't want to go to the mandatory side of spending and we've cut below what even the Republicans put out there on the discretionary side, you're left with no other options," Rep. Devin Nunes, R-Calif., argued.
"Look, nobody likes any of this. But there's problems with every bill we put up. I just think the leadership feels this one gives the best chance for us to get Republicans and Democrats to vote for it, get us to 218 votes," Nunes added.
Rep. Paul Broun, R-Ga., indicated that he'll be a "no" vote but agreed that leadership is doing its best to get members from both parties to pass a debt-ceiling hike. "They're trying their best to find their answer," he said.
House Republicans were expected to post the bill with the Rules Committee Monday evening, setting up a Wednesday-morning vote and leaving little time for argument within the caucus. Still, members overall expect the bill to pass easily with Republican and Democratic support. One House Republican estimated that as much as 50 percent of his caucus would support the measure.