Colorado Senate Race: Definitive Proof Republicans Are Getting Their Act Together
Representative Cory Gardner's candidacy shows that Democrats could be losing their biggest electoral advantage: GOP disarray.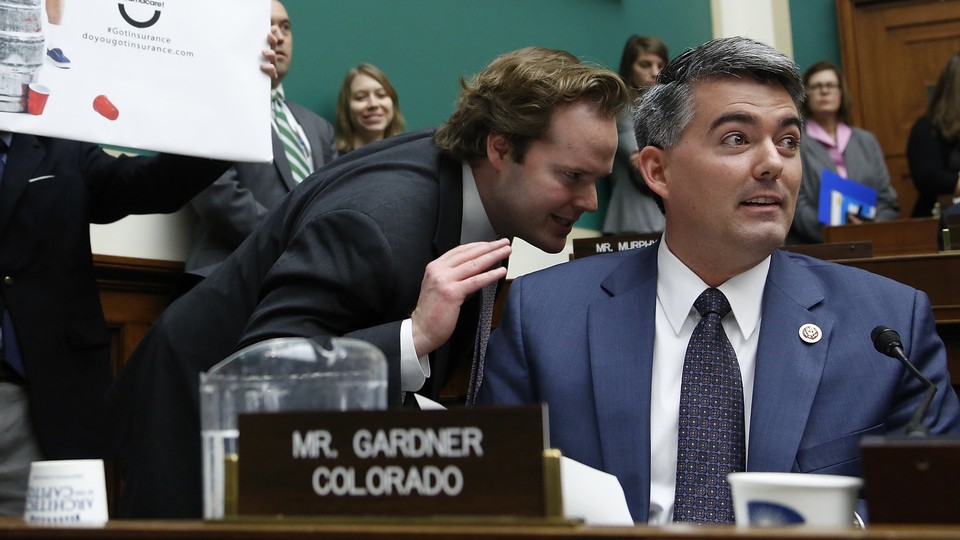 A Republican congressman named Cory Gardner has decided to run for Senate in Colorado, the Denver Post reported Wednesday. This is a big deal for a couple of reasons. Gardner is a rising star in the GOP whose candidacy gives the party its best shot at unseating the Democratic incumbent, Senator Mark Udall. But perhaps more significant, it's proof Republicans are reasserting control over the chaotic primaries that have been the party's Achilles heel in recent years.
At the same time as Gardner entered the race, two others who had been running, Ken Buck and Amy Stephens, indicated they would drop out of it. Buck, a hard-core social conservative, was previously seen as the frontrunner, but now says he will run for Gardner's seat in Congress instead. Stephens announced Thursday she was dropping out and endorsing Gardner. Though a state senator named Owen Hill remains in the primary, Republicans appear to have made a backroom deal to virtually clear the field for Gardner.
That's the kind of backroom deal has repeatedly eluded the GOP since 2010, when the Tea Party revolted at party leaders' attempts to handpick the most electable candidate for the general election. Right-wing bloggers and grassroots activists were incensed by the National Republican Senatorial Committee's efforts to get moderates like Mike Castle, in Delaware, and Charlie Crist, in Florida, through GOP primaries. They rallied on behalf of candidates they considered more conservative, like Christine O'Donnell (of "I am not a witch" fame) and Marco Rubio. In cases like Rubio's, this worked out fine; in cases like O'Donnell's, not so much.
The grassroots' hunger for maximally "conservative" candidates, regardless of their credentials, allowed Democrats to manipulate the process: In Nevada in 2010, a group affiliated with Senate Majority Leader Harry Reid helped Sharron Angle win her GOP primary over a candidate the establishment preferred; in Missouri in 2012, Democratic Senator Claire McCaskill's campaign aired $1 million worth of TV ads to let Republican voters know Todd Akin was the most conservative candidate. Angle and Akin both lost general elections that Republican leaders believed a more qualified, mainstream candidate could have won.
Since 2010, fearful of blowback, the NRSC has generally refrained from making endorsements in open primaries, though it does back Republican incumbents. (The committee tried to bring perpetual troublemaker Ted Cruz into the fold by making him vice chairman, but Cruz continues to rock the boat; on Thursday, he told an interviewer he objected to the policy of supporting incumbents.) But the Gardner-Buck "switcheroo," as Politico termed it, indicates a desire to avoid destructive, free-for-all primaries—and the ability to make it happen. That could dramatically help Republicans' chances to take the Senate.
The Tea Party hates this, of course. Hill, the candidate who's staying in the primary, told Politico, "This is the kind of insider trading that people are sick and tired of." (The Tea Party also rightly points out that establishment-anointed candidates blew plenty of winnable elections, too.) But the Tea Party may be losing the argument inside the GOP as the party rank and file tire of getting beat. A Republican member of Congress I spoke to this week said that while the Tea Party's energy was a "net plus" for the GOP in 2010, by now it has become a "net minus" for the party. There's evidence of this weariness elsewhere as well—for example, in Liz Cheney's abortive challenge to Wyoming Senator Mike Enzi and Texas Representative Steve Stockman's comically futile primary challenge to Senator John Cornyn. Republican primary voters have wised up, and "I'm the conservative!!!" isn't enough of an argument to automatically win their hearts anymore.
The NRSC, for its part, acknowledged working to recruit Gardner but denied involvement in the switch. "Clearly we've talked to Cory," committee spokesman Brad Dayspring told me, adding, "Voters are going to decide who defeats Mark Udall—but we've worked with all the candidates in the race," including Hill.
For two straight election cycles, Republican chaos has been Democrats' biggest electoral advantage, particularly in Senate elections. If that chaos is abating and the GOP has gotten its act together, Democrats should be worried.