California's Democratic Drought
Democrats have struggled to develop a pipeline of young talent in the most important state in the country.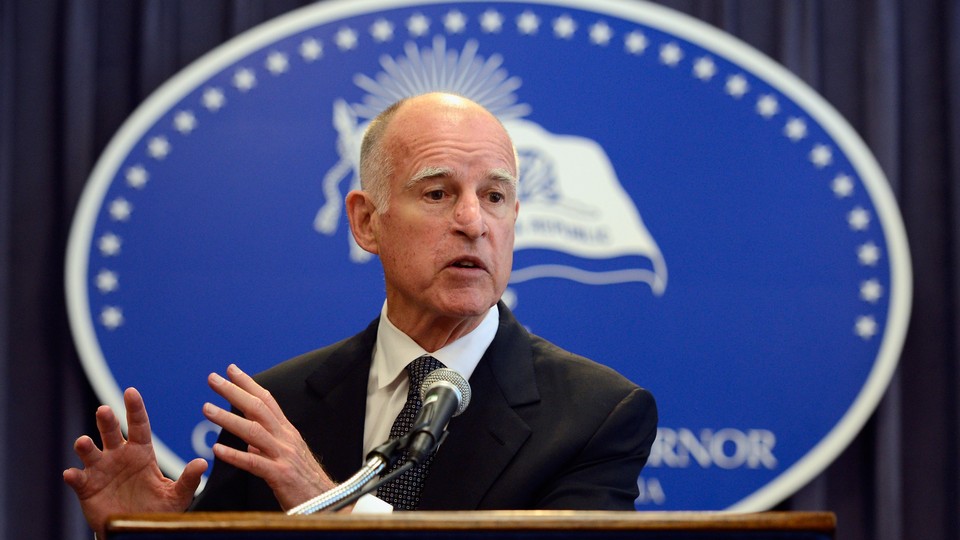 California Gov. Jerry Brown, who's running for a second term at age 76, is occasionally mentioned — usually in jest — as a possible 2016 presidential candidate. (He's said he's not interested.) It's a reminder of how thin the bench beyond Hillary Clinton is in the Democratic Party. But Brown himself is an important symbol of why Democrats have struggled to develop a deep farm system of future national candidates. It all starts with California.
As Democrats have held a lock on control of state politics in the last decade, they've struggled to develop a pipeline of talent in the most populous Democratic state in the country. Brown's successful gubernatorial comeback in 2010 deprived younger officeholders from making a name for themselves. Sens. Barbara Boxer, 73, and Dianne Feinstein, 80, have each held their seats since 1992. Before the 2012 nonpartisan redistricting, most House seats were gerrymandered to the point where most members stayed in their seats indefinitely. (Before the last election, the average tenure among California members of Congress in 2012 was just under 16 years.)
That's had major consequences for the national Democratic Party. The list of prospective 2016 candidates is filled with politicos from the other Democratic stronghold of New York — Hillary Clinton, Gov. Andrew Cuomo, Sen. Kirsten Gillibrand — but there's no one from California on the list. It's striking how few Hispanics are represented in the party's presidential ranks, even as they make up an essential part of the Democratic coalition.
Blame California, the diverse Democratic goldmine, as a pivotal factor in that drought.
Within California, top talent has been blocked from seeking higher office thanks to a logjam of long-tenured politicos. Despite the state's diversity, there isn't a single Hispanic official currently holding statewide office. Within Congress, promising California Democrats, such as House Democratic Caucus Chairman Xavier Becerra, preferred to move up the ranks rather than think bigger.
In a state that's minority-majority, Hispanics were underrepresented in the state's Congressional delegation before last year's redistricting. Most represent gerrymandered seats drawn to elect minorities, which makes it a greater challenge appealing to a broader electorate.
The best-known Democratic politician from California is House Minority Leader Nancy Pelosi, a polarizing national figure whose success depends on managing her caucus, not building the profiles of her colleagues. Her decision to remain as party leader after the disastrous 2010 midterms blocked younger successors from filling leadership roles.
The recent retirements of California Reps. Henry Waxman and George Miller, after serving a combined 80 years in the House, is as powerful an indicator as any of the disconnect between the state's representatives and their voters. Elected in the Watergate class of 1974, the two congressmen accrued enormous influence crafting energy, health care, and education policy. Like many of their California colleagues, they never had any incentive to run statewide when they could build a power base in the House — and have their seat for life.
That offers little consolation to the many up-and-coming prospects blocked from a chance to run. The number of brand-name Democrats looking to succeed Waxman — former Los Angeles mayoral candidate Wendy Greuel, Secretary of State Debra Bowen, and state Sen. Ted Lieu among them — is indicative of the pent-up demand for a new generation of leadership.
There are signs of change on the horizon. California Attorney General Kamala Harris heads the list of up-and-coming national figures, though her path to the governorship was blocked by Brown's reelection decision. Former Los Angeles Mayor Antonio Villaraigosa is touted as a future statewide candidate. The redistricting shook up the delegation by forcing early retirements and making many races more competitive. The Democratic Congressional Campaign Committee made a concerted effort to recruit a diverse crop of outsiders to run, like emergency physician Raul Ruiz and Mark Takano, the first openly gay person of color to serve in Congress.
The dramatic shakeup of the state's House delegation in 2012 is likely to eventually percolate upwards. Boxer is up for reelection in 2016, and hasn't decided whether she'll run for a fifth term. Two years later, Feinstein is up for reelection at age 85 and Brown (if he wins) is term-limited.
But for now, the state that best represents the diverse Democratic coalition isn't producing politicians that live up to its golden reputation.
{{ BIZOBJ (video: 4708) }}