An Apology to Donald Trump: Please Keep Talking
Last month, I suggested that his repeated pretend campaigns for president/governor/attention should be met with stony silence. That was wrong. This week, we've seen the value in letting Trump be himself.
This article is from the archive of our partner
.
I would like to apologize to Donald Trump. Last month, I suggested that his repeated pretend campaigns for president/governor/attention should be met with stony silence. That was wrong. Instead, as this month has made clear, every little thing he says and does should be covered fully and thoroughly. Because the more that happens, it seems, the more Trump is revealed to be unserious and manipulative. It's like forcing a kid to smoke a carton of cigarettes. The only thing that will alleviate America's taste for Donald Trump is more exposure to Donald Trump.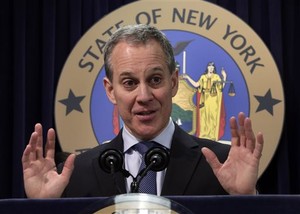 I'm about to walk on tricky ground, so please forgive the speculative nature of this paragraph. Donald Trump has a daughter named Ivanka, and Ivanka is married to a guy named Jared Kushner. Kushner is the publisher of a newspaper called the New York Observer. So when the Observer recently ran a lengthy piece criticizing New York state attorney general Eric Schneiderman — who spent much of 2013 suing Trump for fraud over his "Trump University" money-making scheme — people raised eyebrows. Could the Observer and Kushner fairly profile Trump, given their personal relationship?
Very quickly, it seemed to be the case that the answer was "no." BuzzFeed's Andrew Kaczynski spoke with William Gifford, who started reporting on the piece at the request of Observer editor-in-chief Ken Kurson. Gifford told Kaczynski that Kurson "wanted to go at it a certain way and I wanted to go at it objectively," so he dropped off the project. (The Observer, in a long note, claimed that Giffords balked because he was "spooked" by the AG's staff.) Gawker expanded on that, revealing a series of email requests from Kurson to Schneiderman's office that outline the turmoil at the paper and the changing description of what it was trying to do. Among the emails: detailed questions about Schneiderman's motivations in the Trump University case.
The final straw came last night, when The New York Times revealed that Gifford was an unusual pick for the reporting gig anyway. It begins:
Bill Gifford was managing an ice cream shop in Maplewood, N.J., last summer when a customer, Ken Kurson, the editor of The New York Observer, came in with an unorthodox request. He wanted Mr. Gifford, a 28-year-old political science major who was seeking a new job but had almost no journalistic experience, to write an article about the New York attorney general, Eric T. Schneiderman.
Too bad about New York Magazine, but there's a much bigger one out there, currently doing a story on me to get even, that I'll soon discuss!

— Donald J. Trump (@realDonaldTrump) December 3, 2013
The whole thing is pretty stunning. What made it worse was that Trump appeared to know what was coming, taking to his hyperactive Twitter account to plug an upcoming story that would allow him to "get even."
But given the timeframe, Trump could argue that he was talking about the other big story with which he was involved this month: a profile by BuzzFeed's McKay Coppins titled, "36 Hours On The Fake Campaign Trail With Donald Trump." Which is what it says on the package, Coppins trailing Trump as he went to an event in New Hampshire that allowed the reporter to see how Trump tried to maintain his image in real-time.
"Did [Time's Mark] Halperin see it?" Trump demands, referring to the co-author of the 2012 campaign book Double Down, in which he plays a starring role. "Someone ask Halperin, did he see the speech? Tell him it was the biggest crowd they ever had. Tell him to watch."

One of the yes-men is on it.
It was the aftermath of that article that was most amazing, though. I wrote about it last week, the appearance of an extensive defense of Trump at Breitbart.com, complete with the sort of first-person Trump harangues that, as Gawker pointed out, pepper the Observer piece. If Coppins showed how Trump was pushing his worldview into the media, the Breitbart and Observer articles show what comes out the other side at friendly outlets.
Part of Breitbart's motivation may have been its longstanding feud with BuzzFeed's Ben Smith, but it's otherwise inexplicable. Other prominent conservatives, even the incendiary Michelle Malkin, have repeatedly called out Trump, who, to be fair, doesn't have a particularly robust conservative track record. That's the sort of thing Breitbart usually polices.
What's been remarkable about 2014 is that these weird rifts have become obvious, mostly because Trump has been peeling open his own wounds to salt them with his tears. The Breitbart response, which doesn't appear to have convinced anyone that Coppins's piece was unfair, served only to demonstrate that Trump was just as thin-skinned and surreal as the original piece suggested. Likewise this Observer thing; it appears to demonstrate that Trump will leverage deeply personal relationships in ill-advised windmill-tilts.
In other words: The more we see how Trump acts, the more we see what Trump is like. And that's not good for Trump. So, again. My apologies. Say what you have to say, Donald Trump. But you should know that what we hear is something else entirely.
This article is from the archive of our partner The Wire.