America Is Running Low on Road Salt. Thanks, Winter.
The country is experiencing a run on salt.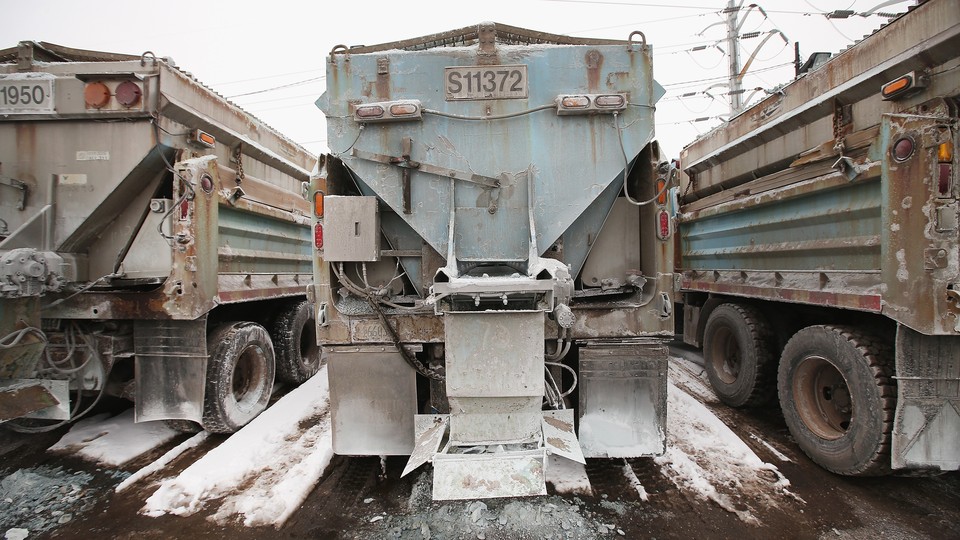 This winter, with its polar vortices and frequent storms, has driven up demand for road salt so much that municipalities are starting to run low on supplies. And local news outlets are crying "crisis."
Here are some of their cries:
In West Moreland County, Pa., CBS is calling the salt situation dire. "We were promised 400 tons last week," a public-works official in the area told the outlet. "We only got 75 ton. We were promised 100 ton today; I got 100 ton."

In Delaware County, N.J., the township roads commissioner told a local paper, "We're as close to a state of emergency as you can get," and said salt vendors are telling him they are out of stock.

New York state is currently relocating 3,500 tons of the mineral down to Long Island from upstate, due to shortages.
Faced with steep, sudden demand, major salt manufacturers have turned to prioritizing where to send their product. Morton Salt, which produces the mineral for roads as well as for food, told officials in Cleveland "they can only bring up 10,000 tons a day and, about a week ago, were about 23,000 tons behind."
Morton acknowledges its delayed deliveries. "We know this is frustrating for customers and communities, and we apologize," the company said in a statement.
But why are supplies so low?
"There's been high usage, and then everybody wanting to get the last of their contracted salt kind of at the same time, and it's just a narrower window to get the salt," says Mark Klein, a spokesman for Cargill, a major supplier of road salt.
So it's actually more of a salt bottleneck than a salt shortage.
The problem is that municipalities place their salt orders in the fall, based on prior usage and long-range forecasts. They typically receive a minimum order before the winter season begins and reserve the right to order up to a predetermined maximum amount. What's happening now is that some locations are asking for their maximums, all at once.
While bad weather increases demand for salt, it also makes delivering that salt much harder. Salt-carrying barges can't pass through frozen rivers. Freight trains need to plow the path ahead of them. And delivery by truck is stymied for the same reason road salt is needed in the first place.
"These storms have just been relentless," Klein says, noting that it's not the huge storms that drop a foot of snow that tax the salt supply, the kind that call for snow plows. It's the repeated dustings of snow and ice. At this time last year, salt miners were working less than a 40 hours a week. There were even some layoffs. This year, "we're working overtime in our mines," Klein says. In those mines, workers are blasting giant 45-foot-by-25 foot walls of salt and then processing the crystals down to size for road use.
As demand for road salt soars, so do its prices. In the Chicago suburbs, for example, officials say prices are three times higher than normal. The Southtown Star reports that one public-works director "has talked with suppliers out of state and has been quoted prices as high as $176 per ton, far above the $49 a ton his village paid."
"Salt is like gold," he told the paper.