Of All the Real-Life 'Good Wife' Scandals, Illinois' Corruption Suit Is the Good-Wife-iest
Illinois' Republican gubernatorial primary race is starting to resemble an episode of The Good Wife.
This article is from the archive of our partner
.
Illinois' Republican gubernatorial primary race is starting to resemble The Good Wife. There's a possibly corrupt Illinois official accused of inappropriate sexual conduct (Treasurer Dan Rutherford), a tight race for state governor, political rivals who stand to benefit from the scandal, and even a few people who work for Cook County. Of the Good Wife-like political scandals to hit the news recently, this is the Good-Wife-iest. Good Wife spoilers ahead, obviously.
The state filed a lawsuit against Rutherford on Monday, after a former employee (who now works for Cook County) accused Rutherford of sexual harassment and forcing him to do campaign work on the taxpayer dime. Rutherford then ordered a taxpayer-funded report that he said would clear his name, but now he won't release it, the Chicago Sun-Times reported Thursday night. Rutherford's spokeswoman said that "advice from counsel" and pending litigation led the team to keep the report private. Though Rutherford has been challenging the accusations in the press all week, he wasn't served with the lawsuit until Thursday. Rutherford is convinced that one of his three rivals, a businessman and two state senators, is behind the scandal, given the timing of the suit. The Republican primary is on March 18. 
The Scandal
Rutherford, the Peter Florrick in this scenario, is accused of sexually harassing a male employee over a two year period and using government time for his campaign. According to the Associated Press:
(The accuser, Ed) Michalowski alleges that he attended an April 2011 overnight retreat at Rutherford's Chenoa home. He says Rutherford told him other staff members would be there but that no one else arrived.

The lawsuit alleges that Rutherford entered the guest bedroom where Michalowski was staying that night and grabbed his genital area.
Michalowski also accused Rutherford of forcing him to "set up meetings with potential donors for campaign contributions and organize parades and petition drives while on government time." Like the Florrick scandal, there's a sexual element and a corruption element. And while the corruption element raises serious questions about Rutherford's decisions as a leader, it's the sexual element that's getting more press. The Chicago papers are implying there's a trend of the treasurer sharing rooms inappropriately with staffers.
According to the Chicago Tribune, "Rutherford routinely roomed overnight in hotels and a Chicago apartment with a low-level treasurer's office employee whom he has given a 50 percent pay hike, raising questions about the workplace judgment of the Republican candidate for governor." The employee never complained of improper conduct, and the Tribune never comes right out and says it, but the headline, "Rutherford Shared Rooms with Assistant," hints at sexy times. It's not "Hooker-Loving, Toe-Sucking State's Attorney Peter Florrick," but it's heading in that direction.
The Glen Childs/Eli Gold/Wendy Scott Carr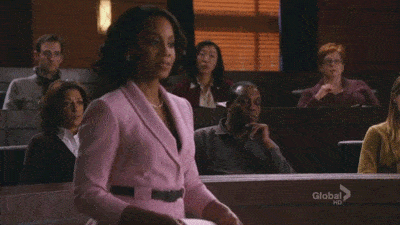 "I absolutely believe this thing smells of politics," Rutherford said. The Republican primaries are just around the corner and, Rutherford claims there's a link between Michalowski and one of his gubernatorial opponents, businessman Bruce Rauner. Rutherford claimed Rauner was behind these allegations, that Michalowski's attorney was linked to Rauners campaign, and that the attorney approached him for a $300,000 payout to keep the whole thing under wraps. Rauner says he only knows the attorney through a one-time lease agreement.
During The Good Wife season two's State's Attorney race, news leaks that candidate Wendy Scott Carr once employed an undocumented woman as a nanny, as did fellow candidate Glenn Childs. One of the campaigns released a video of the woman whose toes Florrick sucked singing about him, with clips of Florrick saying "The stiffer the better" in the background. In every case, a candidate did something wrong, but was quick to blame another campaign. Chicago politics seem to be just as dirty in real life as on TV.
This article is from the archive of our partner The Wire.