A Glimpse Into 1970s Gay Activism
A remarkably frank examination of LGBT issues during the transformative decade between Stonewall and AIDS.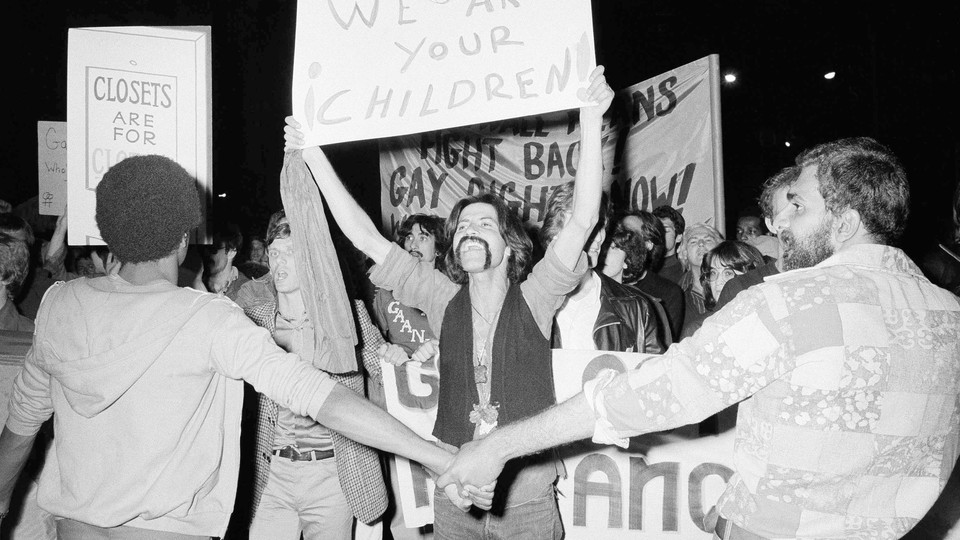 This article is the 11th in a series featuring clips from the American Archive of Public Broadcasting, which is working to digitize television and radio pieces so that they may be preserved for years to come. For more about the project, see our introduction to the series, where you'll also find a handy list of all the series' pieces so far.
---
The 1960s came to a close with what is still perhaps the most consequential event in recent American gay history: the Stonewall riots of June 28, 1969.
As Charles Kaiser put it in his history of gay New York, "No other civil rights movement in America ever had such an improbable unveiling: an urban riot sparked by drag queens. But while many gay people remained ignorant of Stonewall and others reacted to it with discomfort, this 1960s version of the Boston Tea Party would do more than any other event to transform gay life in America. The thick bottle that had contained an entire culture was uncorked in 1969; within a few years it would be shattered into a thousand pieces."
Those years that followed, the decade of the 1970s, represent a remarkable period of transformation for gays and lesbians, particularly those living in America's coastal cities. At its core, that transformation was about visibility. During those years, there was the first gay television movie; a sexy on-screen kiss between two men in Sunday, Blood Sunday; and the release of Cabaret, which has been hailed as the first movie that "really celebrated homosexuality." There were gains in politics too: Edward Koch, then serving in Congress, "became one of the first elected officials to publicly lobby on behalf of the homosexuals of Greenwich Village," Kaiser writes. Gay Pride Week was established. Perhaps most significantly: In December of 1973, the board of the American Psychiatric Association* voted 13-0 "to remove homosexuality from its list of psychiatric disorders."
Perhaps inspired by these changes, in 1976 New York's public-television station, WNET (today known as Channel 13) featured a live, three-hour special called "OUTREACH: LESBIANS AND GAY MEN" (capitalization theirs). A small clip has been provided to The Atlantic as part of our series on the history of public media. Though some of the language may induce cringing on the part of viewers today (e.g., "has a homosexual experience"), in the context of the 1970s, this special represented a remarkably frank and sympathetic conversation. It may not have been right on the cutting edge of gay and lesbian activism, but it wasn't trailing too far behind either. As Kaiser told me over email, "Any discussion of anything gay on television was still pretty rare then."
A press release from WNET explains a bit more about the programming: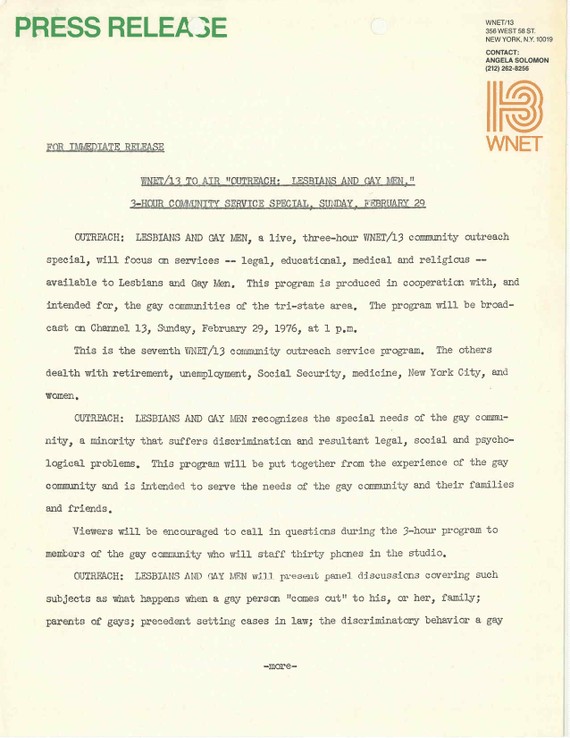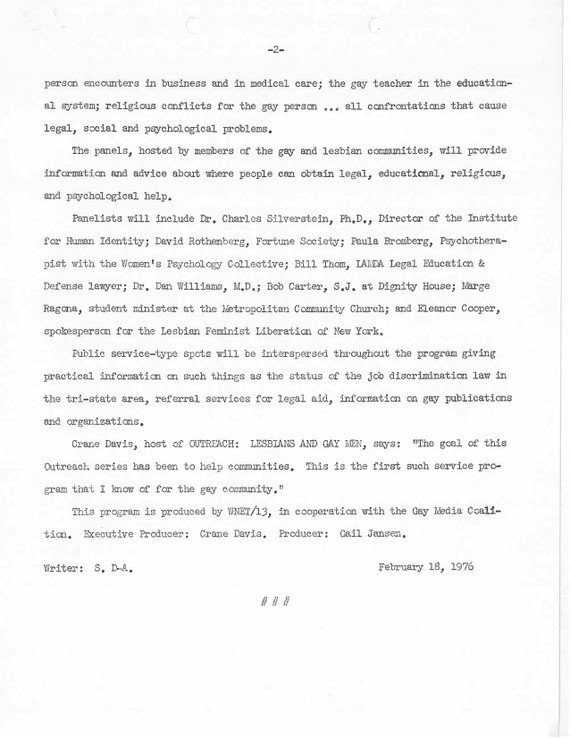 The WNET program and other firsts of the 1970s were early signals of a country and a culture in transformation—a transformation that is still under way today. That's not to say that progress followed a clear course: The 1970s also saw Anita Bryant's successful campaign in Miami to repeal a gay-rights legislation and the assassination of Harvey Milk, one of America's greatest advocates for gays and lesbians and one of the first openly gay men elected to public office. But the gains were great. As Kaiser writes in his book:
By 1980, in response to the growing clamor for equality, 120 of the largest corporations, including AT& T and IBM, had adopted personnel policies prohibiting discrimination on the basis of sexual orientation, and 40 towns and cities had passed similar laws or issued executive orders. (Mostly because of fierce opposition from the Catholic Church—whose lobbyist was Roy Cohn—New York City remained pointedly absent from this list at the beginning of the decade.)

Twenty-two states had ended all restrictions on sexual relations between consenting adults, and on the tenth anniversary of Stonewall, seventeen-year-old Randy Rohl took twenty-year-old Grady Quinn to the senior prom in Sioux Falls, South Dakota. The National Gay Task Force announced that this was the first time two acknowledged homosexuals had attended a high school prom together in America.
Unfortunately, it would be just a few months before the progress of the 1970s turned into the tragedy of the 1980s. A July 3, 1981, New York Times article foreshadowed years of loss to come. AIDS had arrived: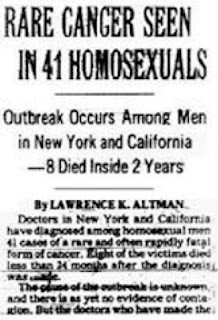 ---
Correction: Earlier this post said that the American Psychological Association had voted to remove homosexuality from its list of psychiatric disorders when in fact it was the American Psychiatric Association.