World War II Somehow Claims Another Casualty
A German construction worker was killed Friday by an unexploded bomb. Some 70 years after the war's end, the bombs are still an everyday threat.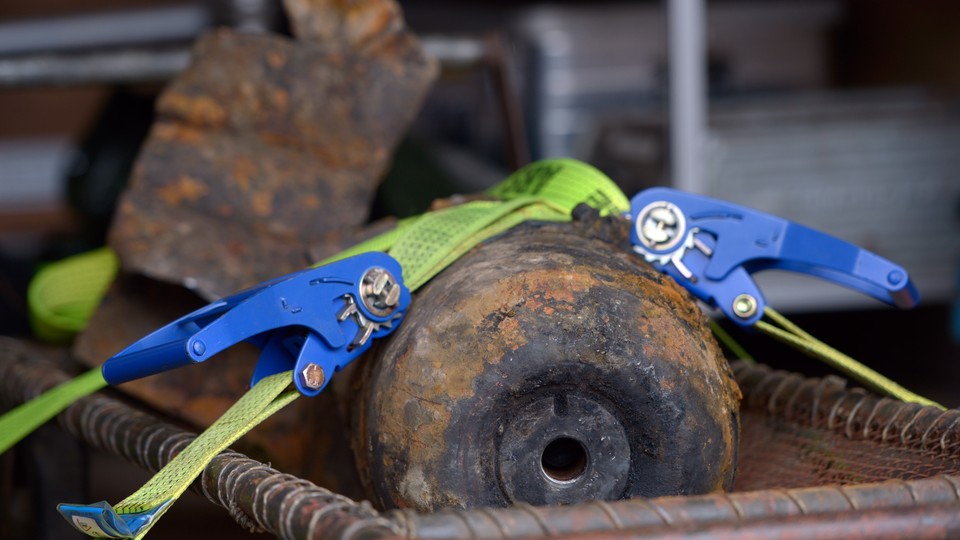 We can actually blame Nazis for another death from World War II.
A driver of a bulldozer was killed in the western German town of Euskirchen on Friday when a yet-to-be-identified World War II bomb exploded during construction work. Eight others were injured in the explosion, two of them seriously.
Nearly 70 years after the war ended, bombs are still being discovered in Germany, some of which have threatened the lives of the people who unwillingly discover them. In November, 20,000 people were evacuated from the western German city of Dortmund when authorities discovered a 4,000-pound Allied bomb. It was defused before anyone was injured.
Two years earlier, 45,000 people were evacuated from Koblenz, a major city along the Rhine River, because of an equally large bomb. If it had gone off, it would have wiped out the center of the city.
These bombs are also discovered in larger cities, like Berlin. A 220-pound Soviet bomb was discovered near the train tracks that led into the main station of the German capital last April, forcing 840 commuters to evacuate the area. The bomb was safely detonated in a nearby forest after being moved out on the back of a truck.
"Here in Berlin, it is a fact of daily life to defuse bombs," Berlin police spokesman Jens Berger told CNN then.
Since the war ended, nearly 2,000 bombs have been discovered in Berlin, according to National Geographic. And there are still between 2,000 and 4,000 bombs remaining in the capital. During the war, Allied forces dropped some 2.7 million tons of bombs on Germany. The bombs weighed between 100 and 4,000 pounds. The ones that were duds, some 7 to 15 percent of those dropped, still lie throughout the European country.
From National Geographic:
Experts say the problem will get worse before it gets better. For decades, bombs turned up during postwar building projects, sometimes with deadly results. That's why construction projects in Germany today often require a Kampfmittelfreiheitsbescheinigung, or a permit certifying that the area is bomb-free, before work begins. Consultants pore over aerial photos from U.S. and British army archives for signs of unexploded ordnance.
And sometimes these discoveries can be deadly, as Friday's explosion shows. In 2010, three bomb-defuse team members were killed when a device exploded in the Gottingen.
For now, however, Germans just have to wait until a hoe or bulldozer or aerial photo finds the next bomb dropped some 70 years ago.