Wind Permits Allowing Eagle Deaths Face Blowback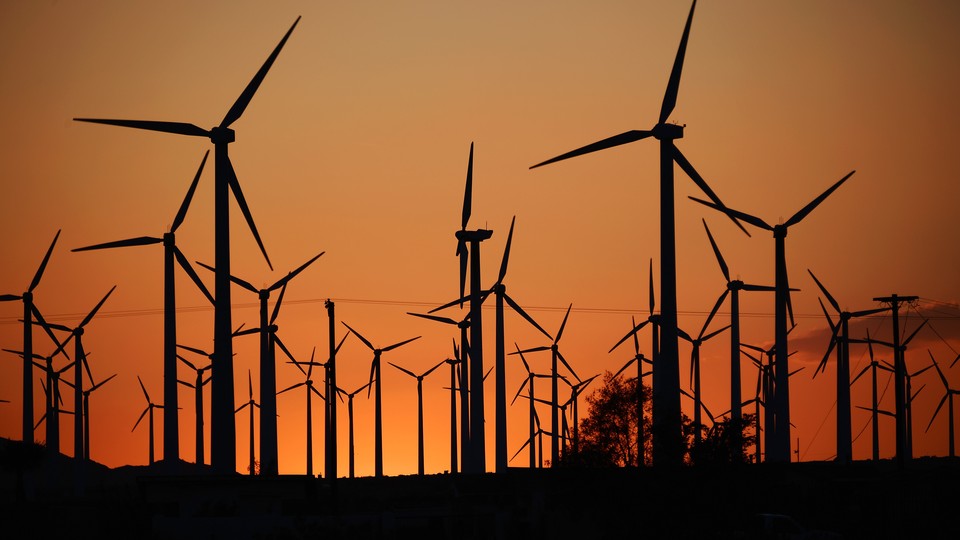 An ongoing battle over an Interior Department rule-making that allows wind-energy producers to kill bald and golden eagles without prosecution has created a rift between environmental advocates and the wind industry.
"We're between a rock and a hard place," said David Yarnold, president and CEO of the National Audubon Society, one of the groups opposed to the rule. "We support a move away from fossil fuels, but there's no question that this issue has strained our relationship with the wind industry."
Permits authorizing the accidental death of eagles as a result of collision with wind turbines are nothing new. But when the Interior Department's Fish and Wildlife Service extended the shelf-life of the permits from five to 30 years last month, the decision ruffled more than a few feathers.
Environmental groups, including Audubon, Defenders of Wildlife, and the Natural Resources Defense Council, loudly criticized the rule, with many of the organizations saying that there isn't enough credible information about how many eagles are killed by turbines to justify an increase in permit duration.
Research published in the peer-reviewed scientific journal Biological Conservation last year estimated that between 140,438 and 327,586 birds — or a mean of 234,012 — are killed annually due to collisions with turbines across the U.S.
Eagle mortality is more difficult to pin down, though it is clear that eagles are only a small fraction of all birds killed by turbines. A study in the Journal of Raptor Research also published last year reported 85 eagle deaths at wind farms in 10 states over a period from 1997 to 2012.
"If you want to know how many eagles are killed because of wind energy, you can't find that number. That number doesn't exist," Yarnold said. "That's a big part of the problem we have with this rule. It's like they [FWS] haven't done the homework."
Green groups have also voiced skepticism about whether FWS has put in place adequate conservation safeguards.
By applying for a permit, turbine operators agree to a certain amount of oversight from FWS, including a five-year review to determine whether operators are taking steps to minimize bird and eagle mortality on their property.
These steps include switching the turbines on only during times of the day or year when eagles are least likely to be flying overhead, as well as the use of radar or other sighting techniques to spot eagles and shut down turbines when they approach.
Participation in the federal permit program is voluntary. If wind developers do not apply for a permit, however, they risk prosecution for bird deaths at wind farms found to violate any number of federal conservation laws, including the Endangered Species Act, the Migratory Bird Treaty Act, and the Bald and Golden Eagle Protection Act.
Prosecution is rare but may be on the rise. In November, the Department of Justice reached a $1 million settlement with Duke Energy for birds killed at two of the company's wind farms in Wyoming. The settlement marked the first time the federal government had pursued legal action against a wind developer for bird deaths caused by turbines.
Now that the precedent has been set, the threat of litigation will likely to carry more weight. The American Bird Conservancy recently announced that it is considering bringing a lawsuit against the Ohio National Guard for the planned construction of a wind turbine near Lake Erie.
Such proposed litigation and the Duke Energy settlement have also elevated the issue of bird deaths from turbines to a higher profile in the national debate over how to strike a balance between conservation and clean energy.
Contrary to what some environmentalists say, FWS insists that the permitting process actually works to protect wildlife.
"We're not going to issue a permit unless we think there's an overall conservation value," said David Cottingham, senior adviser to the director of the service.
But environmentalists remain unconvinced — a stance that has put them at odds with the wind industry, which defends the permitting process as necessary to provide regulatory certainty for wind developers.
"Most environmental organizations support the wind industry, but what we're saying right now is just because you're producing clean energy, that doesn't mean you have carte blanche to run roughshod over environmental law," said Robert Johns, a spokesman for the American Bird Conservancy.
Now that the regulation is final, critics of the rule-making are weighing their options. How they respond will determine how much the rift widens between environmentalists and the wind industry.
"Addressing issues as complex and important as this one naturally creates some tensions," said Katie Umekubo, an NRDC attorney focused on renewable-energy projects in the West. "But we all agree protecting eagles is a top priority."
NRDC and Audubon want the service to go back to the drawing board.
"At this time we're still exploring all our options," Umekubo said, adding that the group is "continuing to urge the FWS to reconsider the rule-making."
A number of conservation groups, including Audubon and ABC, have also indicated a willingness to consider litigating against the rule.
"We're looking at a range of actions," Yarnold said. "The first is asking [Interior] Secretary [Sally] Jewell to take a second look at the rule. There's also another rule-making underway at Interior that will take a broad look at the permitting process, and we'll be looking to engage in that. But there are potential legal remedies as well."
For its part, the wind industry, which has worked with green groups in the past to develop conservation strategies for wind projects, is quick to point out that turbines account for a low percentage of bird deaths compared to other man-made threats such as windows in buildings.
The American Wind Energy Association also hopes to keep animosity over the rule at bay by focusing on the bigger picture, environmentally speaking.
"The U.S. Fish and Wildlife Service, environmental groups, and others all agree the biggest threat to wildlife is climate change," said Tom Vinson, AWEA vice president of federal regulatory affairs. "[And] wind energy is one of the key solutions available today to mitigate climate change."