Will Nancy Pelosi Be the Next to Retire?
Her allies are stepping down, but the former speaker says she'll run again in 2014.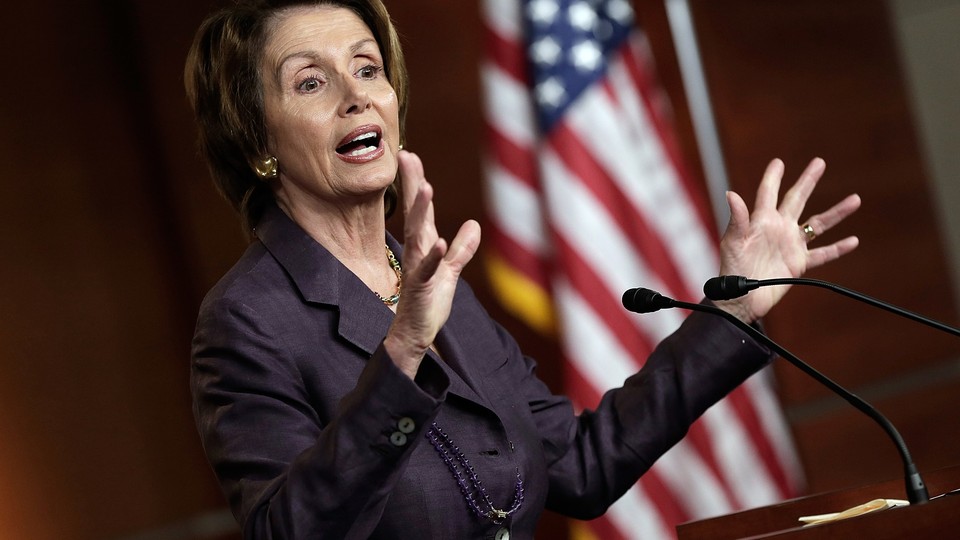 With Rep. Henry Waxman's retirement announcement, many of House Minority Leader Nancy Pelosi's top lieutenants are abandoning ship. Waxman joins his California colleague, Rep. George Miller, and Rep. Jim Moran of Virginia as close Pelosi allies to retire after this Congress. And after last year's 2012 elections, Pelosi's leading in-house strategist Jen Crider left her office, later announcing she was working for Microsoft.
Their decisions are as strong a signal as any that veteran House Democrats hold little hope of taking the House in 2014, and they probably are pessimistic about their long-term prospects for a congressional majority. Miller and Waxman would be in line to chair influential committees if their party took control of the chamber. A third Democrat, Rep. Collin Peterson of Minnesota, wouldn't commit to running again in an interview this week. He would be in line to head up the Agriculture Committee in a Democratic majority.
Democrats need to net 17 seats to hand Pelosi the gavel, and analysts expect little movement, with President Obama's low approval ratings and redistricting reducing the number of competitive districts.
The decisions by Pelosi's California allies also raise the prospect that the minority leader herself could decide to retire — if not this year, then in the near future. (On previous occasions, Pelosi has said she's running for a 14th term.) She's played an active role in helping her party fundraise to take back the House, and she has shown no signs of slowing down. But California's filing deadline is more than a month away (March 7), giving her time to change course. 

In a statement released this afternoon, Pelosi reiterated she is running for another term.

"I'm running. I've already started the paperwork process. My work is not finished," she said.
Waxman and Miller's retirements also underscore how outsized a role Pelosi has played in her home state's politics, to her benefit in Congress, but also to the national party's detriment.
Before the 2012 nonpartisan redistricting, most House seats in California were gerrymandered to the point where most members stayed in their seats indefinitely. (Before the last election, the average tenure among California members of Congress in 2012 was just under 16 years.) Many of the more senior members developed close ties with Pelosi, and sought to move up the congressional leadership chain instead of pursuing statewide political office.
Indeed, it's striking that the list of prospective 2016 candidates is filled with politicos from the other Democratic stronghold of New York — Hillary Clinton, Gov. Andrew Cuomo, Sen. Kirsten Gillibrand — but there's no one from California on the list. Promising California Democratic members of Congress, such as House Democratic Caucus Chairman Xavier Becerra, preferred to move up the ranks than think bigger.
That's changed recently, thanks to a redistricting shake-up and Democratic efforts to recruit younger, more diverse talent to the state. The Democratic Congressional Campaign Committee made a concerted effort in 2012 to recruit a diverse crop of outsiders, bringing in newcomers such as emergency physician Raul Ruiz and Mark Takano, the first openly gay person of color to hold a seat in Congress.
California has changed dramatically since Waxman was first elected in 1974 as part of a class of unapologetically liberal Democrats. Pelosi reflected her delegation's outspoken liberalism to a T. But as a new generation of Democrats are getting elected around her, she could very well be California's next member of Congress to step aside.
CLARIFICATION: The story was updated to reflect that Crider's departure announcement was made in July, but according to a Pelosi spokesman, she stopped working for the DCCC in December 2012.
{{ BIZOBJ (video: 4695) }}