Why We're Marching Across New Hampshire to Honor Aaron Swartz
A year after his death, a group of his friends and admirers want to take up his cause of fixing a corrupt campaign-finance system.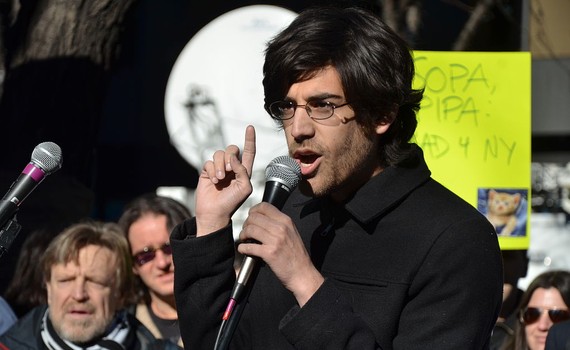 A year ago tomorrow, Aaron Swartz left. He had wound us all up, pointed us in a million directions, we were all working as hard as we could, moving things forward. And then he was gone.
Forever, all of us close to him will wonder whether there was more we could have done to keep him. We hadn't worked hard enough to help him. He was alone, surrounded by a million friends. And now, even now, forever it will be this now, a million friends are forever alone, having lost him.
I wanted to find a way to mark this day. I wanted to feel it, as physically painful as it was emotionally painful one year ago, and every moment since. So I am marking it with the cause that he convinced me to take up seven years ago and which I am certain he wanted to make his legacy too. On Saturday, we begin a walk across the state of New Hampshire to launch a campaign to bring about an end to the system of corruption that we believe infects D.C. This is the New Hampshire Rebellion.
Fifteen years after New Hampshire's Doris Haddock (aka "Granny D"), at age 88, began her famous walk from Los Angeles to D.C. with the sign "campaign finance reform" on her chest, a dozen or so of us will start to walk in Dixville Notch, New Hampshire, the place the first 2016 presidential ballots will be cast. For two weeks, with more than 100 joining us along the way, we will walk south across New Hampshire, ending up in Nashua on January 24, the day Granny D was born.
Along the way, we will recruit everyone we can to do this one thing: We want them to ask every presidential candidate at every event between now and January 2016 one question: "How will YOU end the system of corruption in D.C.?"
A system of corruption, not particular crimes. Our focus is not Rod Blagojevich; it is the system of campaign funding in which fundraising is key, and the funders represent the tiniest fraction of the 1 percent. That system corrupts this democracy. And until that system changes, no sensible reform on the right or the left is possible. Politicians may continue to play this fundraising game. But we believe that New Hampshire can change it.
As this question gets asked, we will record the responses. Literally. And post them. And through allied campaigns, we will put pressure on the candidates to surface this issue—and if we're lucky—make it central to their campaigns.
This campaign will only work if the citizens of New Hampshire care about this issue. And the citizens of New Hampshire will really care only if we can find a way to convince them that there's something that can be done about it.
Because here's the really incredible fact that we've just discovered in a recent national poll about this issue:
Ninety-six percent of America believe it is "important" "that the influence of money in politics be reduced"—68 percent believing it "very important," 28 percent just "important."
Yet 91 percent of America believes it is "not likely" that the influence will be reduced.
If we can, as Harvey Milk used to say, "give'm hope"—hope that that there's a real chance this system of corruption might change—then some of this latent energy for reform might be released. And then this, the only real hope for real reform, might be realized: an end to this system of corruption.
Since Aaron convinced me to take up this cause, I've written three books and given more than 300 lectures about the problem. But the walk across New Hampshire is not a lecture tour. It is a chance for all of us to talk about this issue, person to person, one citizen at a time. Most politicos believe it is not possible to convince ordinary voters to care about this issue. I believe these experts are wrong. Over the next two weeks, and twice more before the 2016 primary, as we walk across the state, we'll see. And I will report back.
You can help. Please help. You can still join the walk. You can spread the word of the walk on Twitter with the hashtag #NHRWalk. You can sign a petition from wherever you are to push the candidates to answer this one question. You can send support that will help this movement grow.
It will always be my penance to believe that I didn't do enough for my friend. I will do more. This is the start. If we're lucky, we'll mark the third anniversary of that terrible day with the real hope that the New Hampshire primary will turn upon this issue. And if we're super lucky, we'll mark the fourth with the anticipation of a president who made it her or his issue. And won.