Why the Cory Remsburg Tribute Will Be Seen as a Sign of Our Times, and a Bad One, Many Years From Now
Taking The Long View of events one day in the past
Barack Obama has always been said to take The Long View. It's a point he made several times in last night's speech, most explicitly here:
Climate change is a fact. And when our children's children look us in the eye and ask if we did all we could to leave them a safer, more stable world, with new sources of energy, I want us to be able to say yes, we did.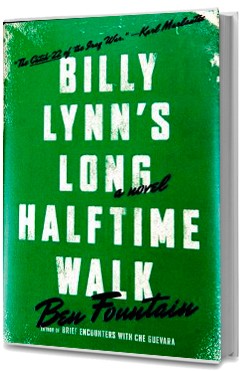 That's the answer the president "wants" to give his grandchildren; it's not the answer I "expect" any of us to be able to give. But at least he raised the question and expressed a hope.
There was another moment in the speech that I think will look worse in the long view. It was the emotionally charged ending, the tribute to the obviously courageous and grievously wounded Sergeant Cory Remsburg.
The moment was powerful human and political drama; it reflected deserved credit and gratitude on Remsburg and his family; and as I wrote earlier today, I think it was entirely sincere on the president's part, as a similar tribute would have been from his predecessor George W. Bush. With the significant difference that Bush initiated the wars these men and women have fought in, and Obama has been winding them down. And so the most favorable reading of the moment, as John Cassidy has argued, is that the president was trying to dramatize to the rest of the government the human cost of the open-ended wars many of them have egged on.
But I don't think that's how it came across to most of the Congress, or was processed by the commentariat. This was not presented as a "never again" moment; it was a "this is America's finest!" moment—which Cory Remsburg himself, and with his family, certainly is. (Also see Peter Beinart on this point.) For America as a whole, the episode did not show us at our finest. In the earlier item, I tried to explain why these few minutes will reflect badly on us and our times when our children's children view them years from now. Since the explanation was buried at the end of a long post, I repeat it at the end of this one.
Here is a reader note that makes the point more directly. A soldier in an earlier war writes:
When I was a draftee in the Army (1967-69) it was unusual to meet a soldier who'd served two tours in Vietnam and almost unheard of to meet one who'd served three tours. That's why I consider it almost unimaginable cruelty the sacrifices our politicians have forced on our troops in the past 12 years.  

Ten tours! Good Lord, how much is a soldier—and his or her family—supposed to take in order to save a chickenhawk politician the odious task of voting for a draft to supply enough manpower for all the wars he wants others to fight? 
A Congress that by default is pressuring the country toward war, most recently with Iran, and that would not dream of enacting either a special tax or any kind of enforced or shared service to sustain these wars, gives a prolonged, deserved ovation for a person who has dedicated his all to the country. Tears well up in many eyes; the cheering persists; the admiration for this young man is profound. Then everyone moves right on.
Years from now, people can play this clip and see something about the culture of our times. It's a moment of which only the Remsburg family will be proud.
Update: Another note that just came in:
I read about the reference to Cory Remsburg and pulled up the SOTU video to see what I had missed. Watching Mr. Remsburg wave his poorly functioning right hand with the help of his father, tears began to slowly well up.

But as the applause continued and the camera panned over the collection of privileged white men, I started to feel angry and frustrated. It was difficult to hear the President speak about sacrifice while knowing that few of the clapping members of Congress will put any of their children in similar harm's way.

It was difficult to hear the President speak about Cory Remsburg as a case of an American fighting and pushing through adversity and life's hard knocks, as if he was an entrepreneur who opened a business, went bankrupt, and is now working hard to rebuild a new business and provide for his family. This is a man who took 10 deployments overseas for reasons that members of Congress would struggle to explain in lucid and clear terms. I found it tasteless because it seemed that the President, as head of state and Chief in Command, wasn't acknowledging his role in the adversity that Cory Remsburg and his family deal with every day.

I don't mean to blame the President directly, but I would like the plight of people like Cory Remsburg publicly framed as a time of reflection and accountability for members of both the legislative and the executive rather than an opening for a 90 second clapping routine.
---
From earlier today, after seven other items about the speech.
8) Sergeant First Class Cory Remsburg. About the service and sacrifice of this brave man and other men and women like him, we cannot say enough. As Obama emphasized, Sgt. Remsburg's grave injury came on his tenth deployment. I do not doubt that Obama, like his wartime predecessors, is genuinely seized by both anguish and admiration about the people he has sent into harm's way. Even when, and perhaps more so when, like Obama he has been trying to withdraw those troops.
And no one can doubt the drama and power of the speech's closing minutes.
But while that moment reflected limitless credit on Sgt. Remsburg, his family, and others similarly situated; and while I believe it was genuinely respectful on the president's part, I don't think the sustained ovation reflected well on the America of 2014. It was a good and honorable moment for him and his family. But I think the spectacle should make most Americans uneasy.
The vast majority of us play no part whatsoever in these prolonged overseas campaigns; people like Sgt. Remsburg go out on 10 deployments; we rousingly cheer their courage and will; and then we move on. Last month I mentioned that the most memorable book I read in 2013 was Billy Lynn's Long Halftime Walk, by Ben Fountain. It's about a group of U.S. soldiers who barely survive a terrible encounter in Iraq, and then are paraded around in a halftime tribute at a big Dallas Cowboys game. The crowd at Cowboys Stadium cheers in very much the way the Capitol audience did last night—then they get back to watching the game.