Why Obama Should Back Drug-Sentencing Reform in the State of the Union
He's been reprising themes of the War on Poverty, but LBJ also pioneered smarter treatments for nonviolent offenders. It's worth bringing that back, too.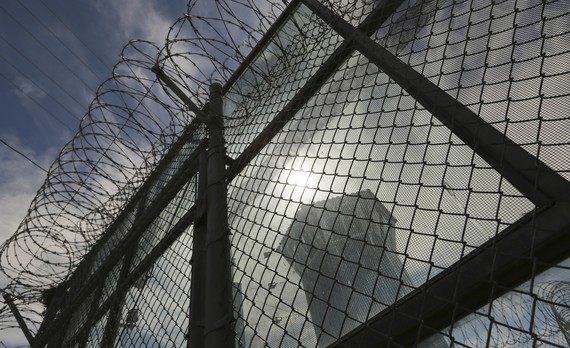 In the last week of 1963, my father, Ted Sorensen, met with President Lyndon Johnson late into the night at his Texas ranch to decide what provisions of President John F. Kennedy's unfinished agenda to include in the upcoming State of the Union address. Last on the list was a provision for expanded federal jurisdiction over illegal drugs, which provided not only for federal criminal-law enforcement but also for expanded rehabilitation and treatment programs.
As my father recounted in his memoir, Johnson angrily brushed aside the suggestion. "Drugs? I don't want to have anything to do with them. Just lock them up and throw away the key!" The meeting ended, and my father deleted that portion of the speech, which famously announced the War on Poverty—but kept the drug provision in Johnson's legislative program. This led to controlled-substance and drug-addiction reform that passed with bipartisan support in Congress. Despite Johnson's dismissal of my father's proposal of treatment and rehabilitation, he extolled those ideas when he signed the Narcotic Addict Rehabilitation Act into law in November 1966, describing it as a "pioneering measure" that recognizes that "treating addicts as criminals neither curtails addiction nor prevents crime."
President Obama now has a golden opportunity in his own State of the Union to confront the U.S. government's continued struggle to effectively legislate drugs. In a January 8 statement, Obama endorsed the very same priorities articulated in LBJ's War on Poverty and catalogued exactly 50 years ago in Johnson's own State of the Union address. This indicates that he will also focus on income inequality—21st century lingo for entrenched poverty—in his speech on January 28. While a renewed commitment to tackling persistent poverty is laudable, Obama should also seize the moment to further another, related legislative aim of the Kennedy and Johnson Administrations: reduced sentencing for drug-law violators who are nonviolent offenders.
The stark increase in federal inmates in recent decades has overcrowded prisons, impeded rehabilitation, and cost taxpayers millions. A "lock them up and throw away the key" response to the rise of crack cocaine 30 years ago—echoing Johnson's reaction on that December night—resulted in an 800 percent increase in the number of federal prisoners in the United States between 1980 and 2012. Significant evidence suggests that dangerously overcrowded prisons are at odds with rehabilitation. The increase in prisoners has also cost taxpayers; the Justice Department now spends about $6.4 billion—a quarter of its budget—on prisons each year.
Members of the bench and bar have come to recognize that mandatory minimums don't always keep society safe or effectively punish every defendant. A bill in the Senate, co-sponsored by Senators Dick Durbin, a Democrat, and Mike Lee, a Republican, would capitalize on shifting opinions in Congress and the general public. The Smarter Sentencing Act (SSA) would reduce the mandatory-minimum penalties for many drug offenses and give federal judges more leeway to sentence nonviolent offenders with limited criminal histories below the high mandatory-minimum sentences. It would also reduce disparities between crack- and powder-cocaine offenders by making the Fair Sentencing Act of 2010, which reduced the gap between the amount of crack and powder cocaine needed to trigger certain penalties, retroactive. Support for the SSA from law enforcement, victims' organizations, prosecutors, and judges has poured in, including a letter signed by more than 100 former judges and prosecutors, including me.
Drug trafficking victimizes entire populations, from the mountains of Afghanistan to the streets of Chicago. As Kennedy said in his address to the White House Conference on Narcotic and Drug Abuse, "criminals responsible for international traffic in illicit narcotics have no respect for national boundaries." But passage of the SSA will not result in dangerous criminals roaming free, nor will it diminish the work of the Department of Justice, the Drug Enforcement Agency, and our international partners in cracking down on warlords and kingpins who make their living from the drug trade at the expense of others. Rather, it allows for discretion in sentencing by considering the particular circumstances of nonviolent defendants.
The Obama Administration has indicated it supports mandatory-minimum-sentencing reform. Tellingly, the president last month commuted the sentences of eight nonviolent drug offenders who would most likely have received significantly shorter terms if they had been sentenced under current drug laws, sentencing rules, and charging policies. Attorney General Eric Holder stated last August that legislation such as the SSA will "ultimately save our country billions of dollars while keeping us safe." In an interview published in this week's issue of The New Yorker, Obama acknowledged the disparate impact of drug laws on minorities, noting that "African-American kids and Latino kids are more likely to be poor and less likely to have the resources and the support"—in their families, in their schools, and in their communities—to avoid lengthy prison sentences for marijuana crimes, even as he acknowledged the "profound" social costs of drug trafficking.
A declaration of support for the SSA in his State of the Union Address—broadcast live and heard not only by Congress but approximately 50 million people around the world—would go far to create momentum and support for the bill and its goal of curbing unnecessarily harsh sentencing. In so doing, the president would put America back on the road paved by Kennedy and Johnson. My father, and the presidents he served, would be pleased.