Why Members of Congress Are Sending Their Staffers Home
Powerless in Washington, a rising number of freshmen are cutting policy jobs and instead hiring in their districts.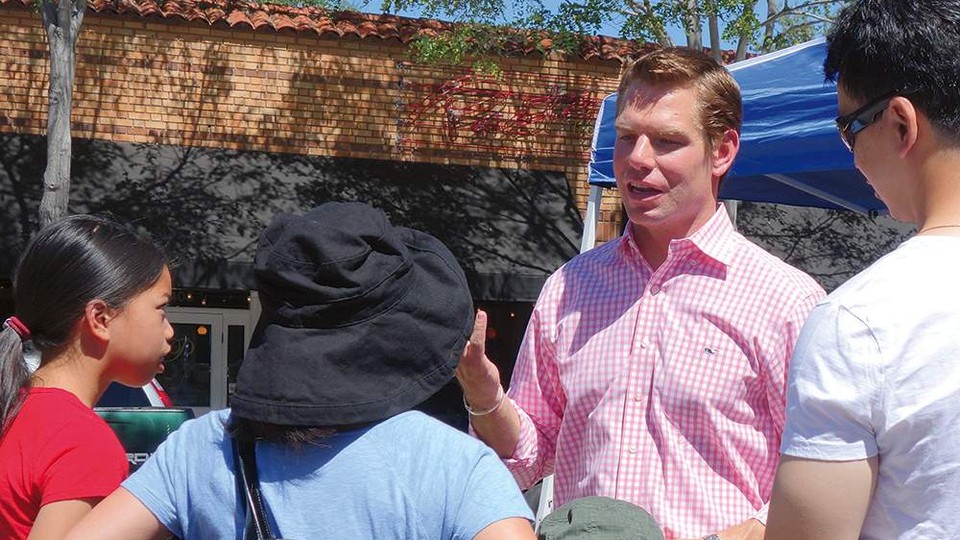 Freshman Rep. Eric Swalwell of California was 3,000 miles from Washington when he scored one of the greatest successes of his congressional career.
In his East Bay district, knocking on constituents' doors, Swalwell met a man who said he hadn't heard from his brother in the Philippines in days, since Typhoon Haiyan hit the islands. The Democratic congressman took down the man's phone number and called him back with information about the State Department's hotline for locating missing relatives.
At the same time, Swalwell realized that many more Filipinos in his district probably had similar problems. "Within hours," Swalwell says, "we put up on our Facebook and Twitter the phone numbers you can call through the State Department to find family members. Within 72 hours, we sent out 6,000 letters" targeted to Filipino constituents. Swalwell stuffed some of the envelopes himself.
Congress didn't have a great session. It passed fewer laws in 2013 than in any other year with a recorded total. And what little legislation did move was the product of the new norm in the congressional process — a deal brokered behind closed doors by leadership or its surrogates.
For first-term lawmakers, such congressional inaction can be toxic and potentially career-ending. With almost no chance to make a mark or score a single legislative achievement, freshmen have little opportunity to show voters that they are working on their district's behalf.
And so, Swalwell and dozens of other freshman lawmakers have shifted resources out of the nation's capital, swapping policy staffers for constituent-facing district office workers who have a better chance of affecting voters than any of their colleagues in Washington.
Indeed, at the start of 2014, 46 percent of all House members' staffers now operate outside the capital, according to a National Journal review of payrolls and staff listings. Swalwell and 34 other freshmen exceed that proportion: Collectively, 52 percent of their staff members work back in the district.
That means a historically large share of staff aides are dedicated to constituent services, helping district residents navigate federal bureaucracy — stuff like getting new passports, recovering wrongly denied government benefits, advocating in a dispute with the IRS, or contacting endangered family members abroad.
"People don't realize how much contact Congress has with constituents through these offices, helping them cut through government red tape," said Rep. Rodney Davis, who ran fellow Illinois Republican John Shimkus's congressional office in Springfield.

Constituent services has certainly always been important, but it hasn't always been lawmakers' focus. In 1972, less than a quarter of all House members' staffers were based in their district, according to Vital Statistics on Congress, a data trove compiled by the Brookings Institution, the American Enterprise Institute, and the Campaign Finance Institute. That figure climbed steadily over the last 40 years, hitting highs in the past decade, just as congressional productivity dropped off sharply.
Now, more than 3,000 House staffers work outside Washington, making the ratio of district-to-District workers higher than in all but seven years on record.
For House Democrats, rendered impotent by minority status, the numbers are even higher: 48 percent of Democratic staff members work in district offices, compared with 45 percent of Republican staffers.
Their work is busy and unaffected by the legislative calendar. Ron Barber, an Arizona Democrat who served on predecessor Gabrielle Giffords's staff as her district director, says his staff in the Tucson area has helped constituents recover $7.5 million this year in Social Security and disability payments they'd been wrongly denied. His office opened more than 1,000 cases in 2013. Many of them involve government benefits, although Barber cited another category that stands out to him: helping veterans get medals they should have already received.

Stories like those can be a big plus for members during difficult congressional times in Washington. As Rep. Todd Akin became a household name outside Missouri for his comments about "legitimate rape," for example, the controversy threatened to envelop firebrand GOP Rep. Steve King in Iowa. King had defended Akin, and the press had taken note of his support for bills banning Medicaid-covered abortions for victims of "non-forcible" rape. But the next day, the local Sioux City Journal gave equal billing to another story about King presenting a veteran with eight replacement medals for ones that had been stolen in the 1990s.
GOOD OFFENSE
Would-be policy staffers wishing for work might be unhappy about the district-staffing trend, but political strategists love it, for an obvious reason. The legwork involved in constituent services often resembles the boots-on-the-ground fieldwork that goes into reelection campaigns. (Swalwell was on campaign duty the day he knocked on his Filipino constituent's door.)
And political strategists in both parties recommend that electorally vulnerable members staff their districts at high levels.
Besides, the constituent-services part of the job isn't wholly divorced from what goes on in Washington. Sometimes there is synergy between casework and legislation.
Republican Rep. Richard Hudson told a story about Rep. Virginia Foxx when she was a freshman and he was her chief of staff. At a North Carolina event, she met a constituent's enlisted son, who was having an unexpected issue with his taxes. Because the soldier was serving in Iraq and receiving combat pay, which is nontaxable, he wasn't allowed to contribute to an IRA. That led Foxx to introduce a fix in the House.
President Bush signed the Hero Act, which breezed through Congress, in 2006 with Foxx in attendance.
"That was a great idea that none of us would have thought about sitting around a room trying to come up with bills," Hudson said. Recently, his office helped track down discharge papers for a deceased World War II veteran so he could receive a full military funeral.
"Because [Foxx] got in the community, we were able to make a change affecting a lot of people's lives."
On the House's final Washington workday of 2013, Swalwell and three other members (one Democrat, two Republicans) introduced a bill allowing people to deduct donations to Typhoon Haiyan relief from their 2013 taxes even if the donations are made in early 2014. It stands a good chance of passing; a similar measure incentivizing donor relief after the Haiti earthquake sailed through Congress and became law in 2010.
GOOD DEFENSE
Constituent services may be the last popular thing that Congress does with any regularity, and the sum of these small, individualized accomplishments goes a long way toward explaining why Americans almost never actually get around to "throwing the bums out."
Polling has consistently shown that people are happier with their own representatives than with Congress as a whole, a trend that has held even during the latest public-opinion swoon.
While congressional approval fell to an all-time low of 14 percent in 2013, Gallup's tracking in October — in the midst of the government shutdown — found that 44 percent of respondents still approved of their member of Congress. That's the lowest rating Gallup has ever recorded, but it is still far better than opinions about the institution.
And post-shutdown, the figures held: Congressional approval hit another record low (9 percent) in a CBS/New York Times poll, but 46 percent of respondents still approved of their own representative.
"I don't think success in this job is entirely measured by how many bills you introduce and how many bills you pass," says Swalwell, whose staff is split evenly between Washington and California.
"Writing and passing legislation is important, but as a freshman in the minority, being realistic, you can be "¦ effective by just listening to people and using the federal resources that you have that don't require legislative action to help them."