Why Is Insane Clown Posse Suing the FBI?
And what's an insane clown posse?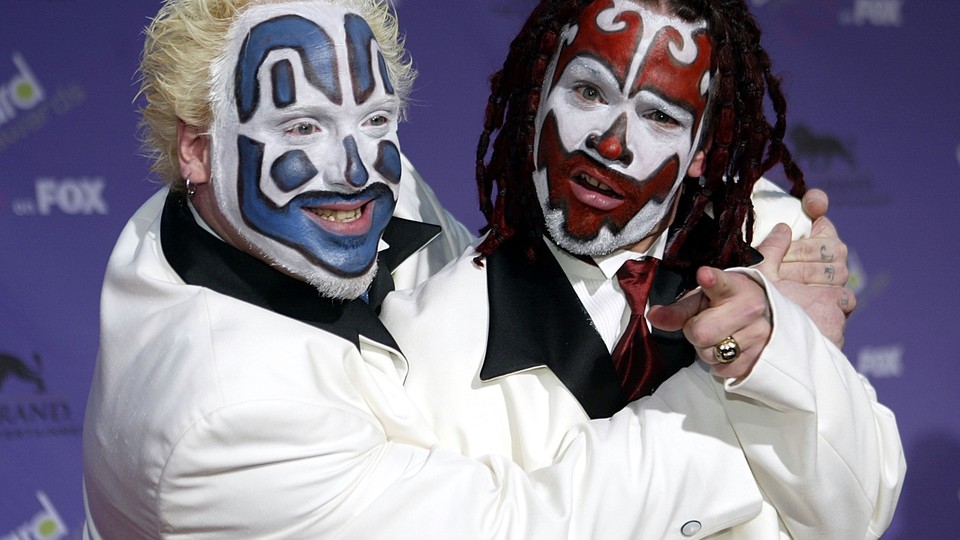 This is Insane Clown Posse.
They are a rap group from Michigan and the de facto icons of the Juggalo subculture.
A Juggalo is a person characterized by stark black-and-white clown-face makeup who listens to Insane Clown Posse's music. You could describe the band's music as aggressive, hard-core rap. Or maybe not: This writer has near-zero familiarity with their music.
A female Juggalo is a Juggalette, per Wikipedia.
Some Juggalos have, in recent times, been linked to gang violence — or at least that's how the federal government sees it. However, as Wired relays, the entirety of the "gang violence" categorization may rest on just two arrests in Salt Lake City in 2011, which prompted an investigation into possible gang activity.
Then, in 2011, the FBI categorized Juggalos as a "non-traditional gang" in their National Gang Threat Assement. In it, the FBI writes:
The Juggalos, a loosely-organized hybrid gang, are rapidly expanding into many US communities. Although recognized as a gang in only four states, many Juggalos subsets exhibit gang-like behavior and engage in criminal activity and violence. Law enforcement officials in at least 21 states have identified criminal Juggalo sub-sets....
Most crimes committed by Juggalos are sporadic, disorganized, individualistic, and often involve simple assault, personal drug use and possession, petty theft, and vandalism.
The FBI admits that the group is "difficult to classify ... and identify their members and migration patterns," kind of like this rare species of Amazon bird. Hybrid gangs, they write, have a "nebulous structure." Kind of like clouds, whose contours and menace tend to disappear upon closer inspection. It seems entirely possible that the FBI is conflating gang crimes with a few sporadic instances of hooliganism, based on the stereotype of a person who might look apt to commit a crime.
Peaceful Juggalos were offended by the description of their subculture in this manner, and argued that the actions of a view shouldn't implicate the reputation of the whole. That's why Insane Clown Posse, along with several other Juggalos who have faced discrimination (one was told to remove his Juggalo tattoo before joining the military) filed suit Wednesday morning in a Detroit federal court with help from the ACLU. They want "Juggalos" purged from the FBI gang primer. This follows a suit the group filed in 2012 over a FOIA request to obtain information about the federal investigation.
As they announced to their fans when they filed the FOIA suit last year:
Listen up, Homies! This is the biggest thing to rock the Juggalo and Juggalette universe and we've got all the details for you right here! In case you haven't heard, then get ready! The Insane Clown Posse and Psychopathic Records have kept their word and filed a lawsuit against the FBI on behalf of the Juggalo Family TODAY! ...
Really, this is the first time in the history of rock-n-roll that any music fans have been labeled as a "gang" and that's probably because it makes no damn sense!
Insane Clown Posse member Violent J says that the group's image is unfairly distorted by the FBI, telling Rolling Stone, "All we're trying to do is be like the Stephen King of music. We like to tell horror stories."
Update: This short documentary on Juggalos explaining their culture is worth watching (H/T Alex Seitz-Wald)
American Juggalo from Sean Dunne on Vimeo.