Why Didn't New Jersey Mayors Stand Up to Chris Christie?
The best way to stop a bully is to speak out—but disappointingly, Garden State officials waited until the governor was vulnerable to air their complaints.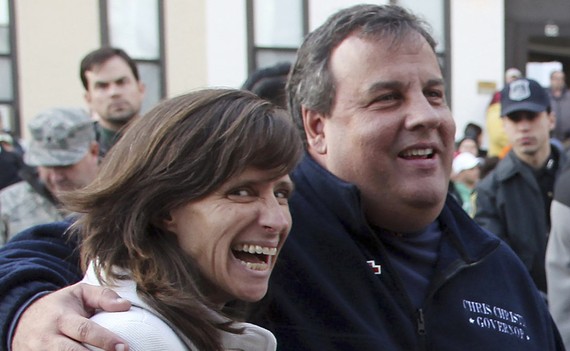 Bullying is collaborative. It's a transaction between bullies, victims who are unable or unwilling to defend themselves, and, in most cases, onlookers who are too cowardly or self-interested to intervene. Children and teens have developmental excuses for not standing up to bullying, in defense of themselves or others. Adults have none.
So I don't have much sympathy for New Jersey mayors complaining belatedly of Chris Christie's bullying now that he's vulnerable. Or, rather, I won't have much sympathy for them if it becomes clear that Christie merely engaged in bullying and not high-stakes abuse of power. If allegations that he held Sandy aid and other entitlements hostage are true, then he wasn't simply a bully intent on taunting or humiliating people. He was running a protection racket.
The decision to resist or submit to extortion is harder and more complicated than the obligation to call out a bully. A governor who uses the welfare of citizens as leverage in "negotiations" presents local political leaders with moral and practical dilemmas. Assuming that they're focused in good faith on their constituents' public interests more than their own private interests in reelection, they have to balance the indirect, cumulative harm of cooperating with an extortionist governor and helping to consolidate his power with the direct, immediate harm of not cooperating with him. What's a mayor to do?
There's no reliably right answer. You can only weigh the particular, competing harms in particular cases in the hope of discerning a greater good. In this case, given Christie's feasible presidential ambitions, the potential, long-term harm to the nation of submitting to his alleged extortion was considerable. It pointed to the hard path of greatest resistance and a possible (not inevitable) sacrifice of local interests.
That's easy for me to say, any number of New Jersey politicians might respond, given my position as an observer. Besides, politics is, in part, the art of soft extortion, as well as compromise. Politicians are persuaded by promises of rewards for their districts, the withholding of which may be a form of punishment. Abolishing earmarks, for example, arguably contributed to congressional dysfunction.
But withholding a reward, like money for a bridge to nowhere, is a lot more benign than withholding an entitlement or a necessity—equal access to the governor and emergency disaster aid. If allegations by Hoboken Mayor Dawn Zimmer and others are true, then Christie wasn't the usual wheeler-dealer using rewards in order to enable compromise. He was a thug, which meant that the costs of defying him were high but the costs of not defying him even higher.
Defiance would have been hard but not impossible, I suspect, even in New Jersey, especially if more than one besieged Democratic mayor had spoken up. If they had publicly accused Christie of threatening their constituents for declining to endorse him or his pet projects would Christie have followed through with his threats and punished scores of voters before an election? It's hard to imagine.
Did any of the mayors who reportedly obliged Christie out of fear of not obliging him consider the alternatives? "I had to sit down and think about … what is my town getting," one Camden County mayor told The Washington Post. "I made the endorsement based on who was with [my town]," another remarked. It's not surprising or inappropriate for local politicians to reflexively privilege immediate local interests, especially in the aftermath of a disaster. But, in this case, given the national as well as statewide interests involved, it's a little disappointing. It seems weak as well as parochial. The explanation for her initial silence offered by Hoboken Mayor Dawn Zimmer "is the same one heard in a lot of middle schools," New Yorker writer Amy Davidson remarked. I agree, and think it's long past time she graduated.