What's Ahead in Politics in 2014
The midterm election year is shaping up around a few broad themes, including ongoing Republican civil war and the pitched partisan battle over Obamacare.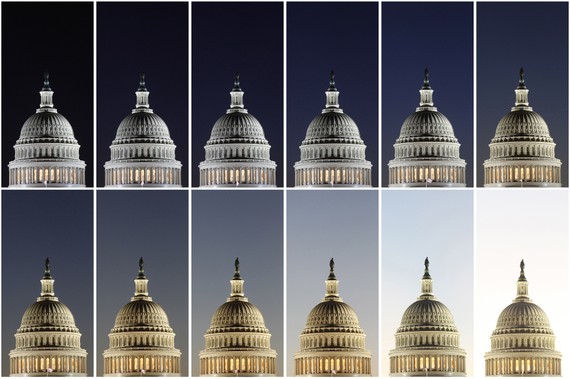 And lo, another year dawns on the barren landscape of the American polity, that vast, frigid tundra full of people yelling at each other. The year begins on an interesting note: Congress will soon return to Washington for the first time since passing a bipartisan budget agreement last month; the new mayor of New York spent his recent inauguration forcefully reiterating his commitment to a progressive crusade against inequality; and Americans finally began getting health insurance under the reform law passed in contentious circumstances in 2010.
The themes thus appear staked for the midterm-election year ahead. A Congress perhaps slightly thawed (though it would be wise to keep expectations low); a left newly invigorated; and a continuing partisan battle over the domestic reform that will be central to President Obama's legacy, for better or for worse. So what should we expect from politics in 2014? Here's an impressionistic breakdown of the areas where we'll likely see these broader themes play out.
What's going to happen in Congress? The budget deal that passed last month seemed to bode increased comity for the coming year, though the previous level of discourse was a very low bar and one's expectations for Congress should always be tempered by its inherent terribleness. The budget deal means no government shutdowns in 2014. House Republicans also say they are done staging constant show votes on repealing Obamacare, which even the Tea Party had wearied of. Meanwhile, House Speaker John Boehner has signaled he still wants to pass some sort of immigration reform. But it's not all wine and roses on Capitol Hill. Concurrently with the budget deal passing, senators were pulling all-nighters as part of Republicans' retaliation for the "nuclear option." Lawmakers are still feuding over unemployment benefits, which weren't extended as part of the budget deal, and the farm bill, which has had a long and rocky road. The debt ceiling will need to be raised again sometime after late February, raising the possibility of more legislative brinksmanship.
What's going to happen with Obamacare? On January 1, the first Americans began receiving healthcare through the new exchanges created by the Affordable Care Act, but the partisan spin battle over the law's consequences has barely begun. Another major deadline comes on March 31, the deadline to buy insurance without paying the individual-mandate fine for 2014. Democrats hope that as time goes on, the Healthcare.gov website begins to run smoothly, and people start getting benefits from the law, Republicans' apocalyptic criticisms will start to look like politically driven hyperventilation. But so far, the law's implementation has been marked by seemingly constant screw-ups and delays, a trend Republicans believe is likely to continue as they seek to make the legislation the central issue in the midterm elections.
What's going to happen in the primaries? 2013 saw new tensions flare up between Republican elites, many of whom believe the party needs to moderate if it wants to win the presidency again, and the far right, which disagrees. The proving ground for this battle for control of the GOP will be the primaries, where Tea Partiers have made such an indelible mark in recent years by elevating maximally conservative candidates, even when they were unqualified and unpalatable to a general-election audience. Of the 12 incumbent Republican senators up for reelection, seven face primary challenges, from Liz Cheney taking on Wyoming's Mike Enzi to a Kentucky businessman's crusade against Minority Leader Mitch McConnell. Most of the challengers look unlikely—but that's how they looked at this point in 2010, before many surged to victory on a wave of Tea Party fervor. Open-seat races in Georgia and Iowa are also shaping up as free-for-alls. Taken together, the results will show whether the Tea Party is still winning the Republican civil war—or whether the establishment has stepped up to beat it back.
What's going to happen in the midterms? Democrats' high hopes for the Obama era came crashing down in November 2010, when a wave of public anger booted dozens of Democrats from office. In 2014, Obama's popularity is at an even lower ebb. Republicans hope to keep or widen their majority in the House, hang onto their dominance of governor's mansions, and—the biggest prize—take control of the Senate. Red-state Democratic senators such as Mark Pryor of Arkansas, Mary Landrieu of Louisiana, Kay Hagan of North Carolina, and Mark Begich of Alaska are fighting for their political lives, and it will be difficult for the party to hang onto open seats in Montana, South Dakota, and West Virginia. Republicans need a net gain of six seats to control the Senate. Beyond the arithmetic of party control, 2014 stands to be, like 2010 was, an important gauge of American political sentiment.
What's going to happen in the 2016 stakes? Fret all you want about the ever-earlier jockeying of presidential politics, the preliminary rounds of the 2016 contest are happening this year. Hillary Clinton has said she'll decide in 2014 whether to run for president, something informed speculation considers likely but not a lock. If she does, it's hard to see any Democrat with the stature to mount a serious challenge, though the pundits all said the same thing in advance of 2008, for what it's worth. On the Republican side, it's shaping up to be the kind of melee we saw in 2012, only even more hotly contested. Chris Christie's reelection in New Jersey has made him an establishment favorite; Paul Ryan can point to the budget compromise as a token of bipartisan effectiveness; Rand Paul has already spent 2013 trying to knit together the conservative GOP base and his father's youthful supporters; Ted Cruz has the hearts of many in the Tea Party. There are plenty of other names in the mix, from Marco Rubio to Wisconsin Governor Scott Walker, and the moves they make over the coming year will determine whether they're positioned to compete when things get serious—next year.