What the Library of the Future Will Look Like
No longer a warehouse for barely touched tomes, the Chattanooga Public Library has embraced 3-D printers, laser cutters, sewing machines, and, above all, interaction.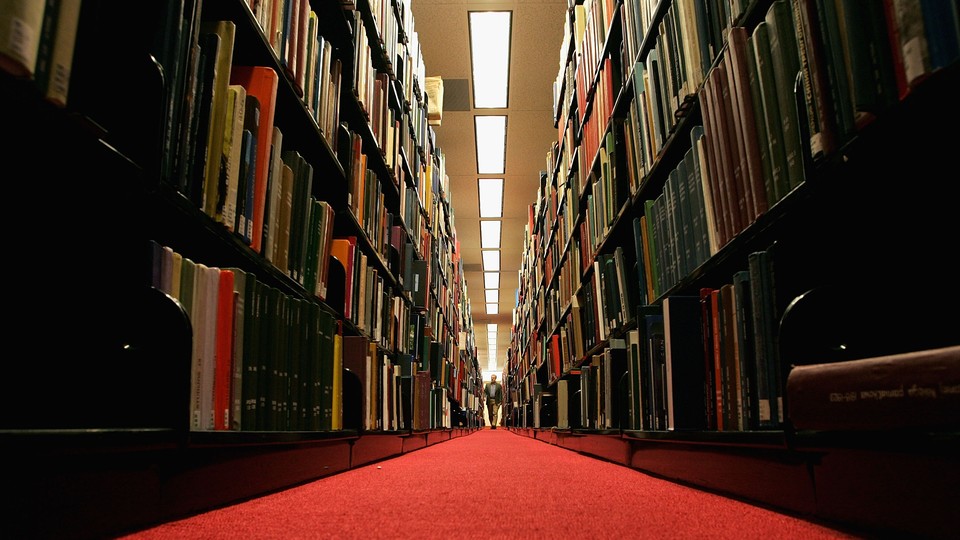 Forget what you know about the library of the 20th century. You know, those dark places with clunky microform machines fossilizing in the basement and with rows of encyclopedias standing, perfectly alphabetized, in denial of their obsolescence.
Forget all of that: The library as a warehouse of information is an outdated concept. The library of the 21st century is a community workshop, a hub filled with the tools of the knowledge economy.
"If we can't shine in this environment, in this economy, shame on us," says Corinne Hill, the director of library system in Chattanooga, Tenn. — a system that has thoroughly migrated into the current era.
The library of the 21st century still has books, but it also has 3-D printers, laser cutters, sewing machines, and spaces for conducting business meetings. It offers computer coding classes. It has advanced video- and audio-production software. All things that might and individual may find too expensive but can still benefit from using.
Last year, the downtown Chattanooga public library cleared out its entire fourth floor — 14,000 square feet of former storage space — and opened its floor plan for a community collaboration space. It's part public workshop, part technology petting zoo. But members of the community can also use the space to work on projects or try to launch a business.
"It used to be, when I came in here, the priority was on developing the collection and buying really high-end research materials," Hill says about her arrival at the library in 2012. "Those big bound reference tomes that cost thousands of dollars." Looking through the budget, she thought, "Oh, my lord, how much money did you spend on this last year? That's a total waste of money."
People go to the public library for Grisham, not Hume, after all. "If you're working on a Ph.D., what are you doing here?" she says.
She shifted around the library's $5.7 million budget, making room for the 3-D printers and vinyl cutters, and started stocking the shelves with more popular titles. So instead of spending $10,000 for access to little-used academic journals, the library purchased makerbots (the 3-D printers) for around $2,000, a laser cutter for around $5,000, and a vinyl cutter for $3,000. With these moves, the library has rebranded itself as a coffee shop alternative/technology salon for the upwardly mobile. It even brews its own roast coffee, aptly named "shush."
"With this space, what we're trying to do is acknowledge that access to the commons is no longer a read-only environment," says Meg Backus, who runs the library's fourth floor.
Backus says libraries should find instruction in the evolution of the Internet — which started as a place to post static pages and now is a thoroughly collaborative environment. "There needs to be production capabilities for true access to happen," she says. "That means the ability to create a video, the ability to learn how to make a website, to have access to the software that can create these 3-D files."
And the library's initiatives aren't just for adults; the children and teen section now has videogames, button-makers, and a sewing machine.
Engage 3D, a local nonprofit that promotes education in computer technologies with the hope of attracting more tech jobs to the area, often collaborates with the library. This past summer, it helped host a computer coding camp for teens.
"It's so exciting for them to say, 'Come and use our facility.' Hell, yeah, we want that," says Bill Brock, the managing director of Engage 3D. A lifelong resident of Chattanooga, Brock says, "It was really kind of sweet to watch it [the library] come back and recreate itself." He now sees people congregate there, to share ideas. "Whether or not they're [3-D] printing the next widgets to change the world or not — it doesn't matter — the knowledge transfer is happening around it," he says.
Tiffany Robinson, a library board member, works with an angel fund intended to get more female entrepreneurs set up in Chattanooga. She imagines the library as a place where female business starters can come and work, while keeping their kids entertained. "The change in the library is almost like a resurgence in the community," she says. "It's like this thing that's been dead for so long."
And the overhaul in the operating philosophy is working. Attendance is up 150 percent throughout the four-library system, Hill says. From 52,000 people in the first quarter of 2012 to 151,000 in the most recent. "Yeah, my circulation is up; they're taking stuff out, but not at a 150 percent increase. So they are coming for other things. I love that they're seeing the building as being more than the stuff that is in it." The main downtown library is the only one with a "fourth floor," and it functions as "kind of a beta lab," for the system, as Backus says. The idea may expand to the other locations in the future.
Hill's work has earned her the respect of her peers. In January, Library Journal, a trade publication, named Hill its 2014 Librarian of the Year. "Hill has created a model for other librarians to watch," the journal's editorial director said in a release.
As information has become easier to access, libraries are smart to bolster their physical spaces to stay relevant. And Chattanooga isn't the only city that has adopted this philosophy. The Martin Luther King Library in Washington, D.C., for instance, has a "Digital Commons," equipped with 3-D printers and a bookbinding machine. But libraries also adapt to the needs and interests of their communities. A library in Overland Park, Kan., last year offered a popular seminar in hog-butchering.
Libraries are especially apt to increase their relevance in the coming years, considering the rise of the "sharing economy," a concept arguably invented by the first libraries. The sharing economy means that instead of owning things outright, people pay to use them only when needed. Think Zipcar and Citi Bike as prime examples.
Recently, the Pew Research Center found that 90 percent of Americans would be upset if their local library closed. But the survey also found "52% of Americans say that people do not need public libraries as much as they used to because they can find most information on their own."
That's why libraries need to adapt. People want them — but want them to be better. Instead of a warehouse of information, libraries need tools for use by the commons — a Netflix of things.
"We've been in the information business for 3,000 years," Hill says, waxing philosophical on the role of the librarian in society. "If there's anything we do well, it's deliver information, and information is knowledge. I think if anybody is positioned to help build workers for this new information age, it is the library."