West Virginia Chemical Crisis: The Latest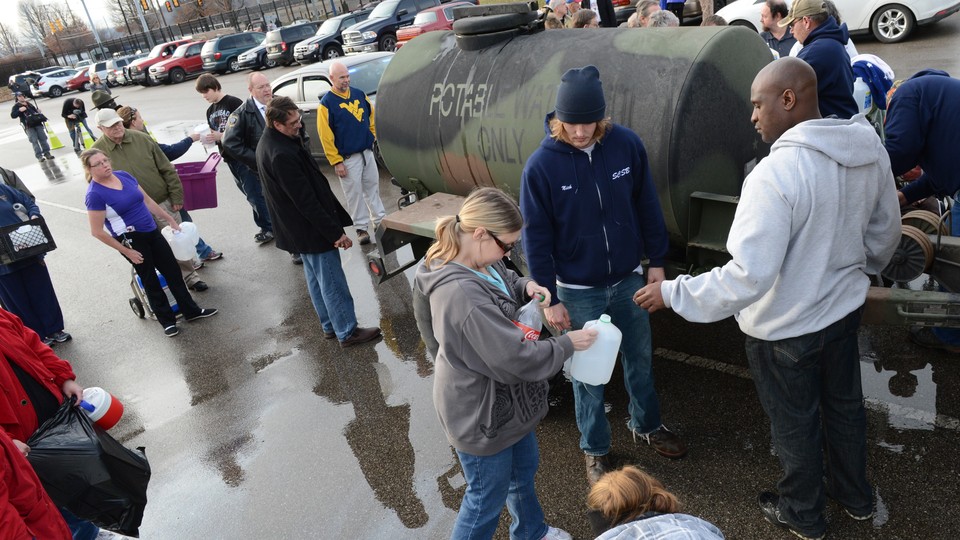 Three hundred thousand people in West Virginia face a fifth day without drinking water from their taps after the leak of a coal-treatment chemical contaminated supplies in the Charleston region, Bloomberg reports.
But Gov. Earl Ray Tomblin said Sunday there's a "light at the end of the tunnel" and things are "trending in the right direction" after tests showed low levels of contamination from 4-methylcyclohexane methanol, the news service reports.
The accident has prompted bottled-water distribution because residents cannot use tap water for drinking, bathing, and other needs.
The Charleston Gazette, which has extensive coverage of the disaster, reports that state regulators have for years ignored calls for tougher oversight of chemical facilities.
The Wall Street Journal has a front-page story that says the Freedom Industries chemical-storage site that leaked operated with almost no state and local monitoring.
And the chemical that spilled into the Elk River from the company's Charleston facility "isn't closely tracked by federal programs," the paper reports.
The accident is also reigniting calls for Congress to toughen federal regulation of chemicals and industry testing requirements.
Legislation to strengthen the Toxic Substances Control Act has languished for years on Capitol Hill.
Environmental Defense Fund scientists, in a weekend blog post, said the spill reveals the "epic failure" of the law passed in the mid-1970s.
"What is particularly maddening and outrageous is that no one — not local or state officials, not the company that owns the storage tank, not the federal government — can say anything even close to definitive about what risk the chemical poses to people, even in the short term, let alone over time," EDF's Richard Denison and Jennifer McPartland write.
"And that's where the failures of TSCA come into sharp focus," their post states.