We Went Shopping for the McDonnells' $30,000 in Alleged Illicit Goods
Perhaps the most eye-popping detail in the eye-popping indictment filed against former Virginia Gov. Bob McDonnell was what he'd need to forfeit if convicted. We decided to see how much it would cost to buy all of the stuff.
This article is from the archive of our partner
.
Perhaps the most eye-popping detail in the eye-popping indictment filed against former Virginia Gov. Bob McDonnell and his wife was the list of items that the couple would need to forfeit to the state if convicted. We decided to see how much it would cost to buy all of the stuff in the first place.
The list is mostly items of clothing that were allegedly purchased for Maureen McDonnell by the owner of the nutritional supplement company Star Scientific. But it extends beyond that, into shows and golf bags and, of course, boxes and boxes of Anatabloc, the (somewhat questionable) supplement that Maureen once helped pitch.
The total cost of the items on the list? $29,184.70, by our estimate — plus $140,805.46 in cash. Or: $160,990.16 all told. If you'd like to live like the McDonnells (allegedly!) simply click the links below and shop away. And also find $140,000 somewhere.
---
Black Rebecca Minkoff shoes
We decided on the black "Kalin" heels from Minkoff's website, after deciding that a Republican governor's wife would likely avoid flats.
Description:
Day and night Kalin has you covered. The tiger print over the pointy- toed stiletto brings out your inner feline.
Cost: $250
Black Louis Vuitton shoes
Here, we chose the "Eyeline Pump." Why? Let's have the auteurs at Louis Vuitton explain.
Description:
One of the statements of the season, this timelessly chic pump in glazed calf leather is distinguished by its sleek lines and graphic details, including a pointed toe [and other things, who cares].
Cost: $750
White Louis Vuitton shoes
This shoe is called the "Oh Really!" pump. It isn't white, as such, but our cursory survey of the LV site didn't turn up a lot of white shoes. Maybe it's the season? Who knows.
Description:
A feminine rounded toe and revealing [cleavage (!)] are distinctive features of this high-heeled pump in chic calf leather. It is accessorized at the back with a golden LV padlock [!] inspired by Louis Vuitton leather goods.
Cost: $745
Cream Louis Vuitton purse
Did you know that Louis Vuitton has some fancy purses? It does. We decided on the "Brea GM," which is fairly demure for the company. It also is compared to a doctor's bag, which seems apt.
Description:
The Brea GM is a feminine and modernized reinterpretation of the doctor's bag shape. [D]ue to its large capacity, it is very functional and adapted to a business use.
Cost: $2,530
Cream Louis Vuitton wallet
This wallet, the "Sarah," is extremely expensive. Does it go with the Brea GM? Sort of?
Description:
This functional wallet in Epi leather offers numerous compartments to hold bills, cards, and papers.
Cost: $765
Silver Rolex watch, engraved
Well, here's something: The Rolex corporation doesn't sell a silver watch at its website. So we went with white gold. This is the Day-Date Oyster. You also can't buy the watch at the website, apparently. (Classy.) But, happily, news reports give us the exact value.
Description:
From its launch in 1956, the Day-Date was immediately recognized as the watch worn by influential people. [Clearly!]
Cost: $6,500 (not including engraving)
Yellow Peter Som dress
It is hard to find new Peter Som dresses from retailers. We found this one on eBay, so it's not quite as polished in its description as Mr. Som himself might have offered. (Assuming there exists a Mr. Som.)
Description:
Butter yellow dress with a pleated detail along the bust. ... Boning along the top portion to hold the shape.
Cost: $1,639
Blue Armani jacket and two matching dresses
At this point we'll note that none of these are the actual items under consideration; rather, they are representative examples. We say that because these dresses only sort of match that jacket.
Description:
Cost: $2,121
Two gold Oscar de la Renta dresses
For the sake of ease, we found one Oscar de la Renta dress and assumed that Mrs. McDonnell bought it twice. Or, rather, received it twice.
We picked this one.
Description:
Crafted with couture-like attention to detail, this gold-threaded tulle dress is an investment in Oscar de la Renta's timeless aesthetic.
Cost: $4,788
Black Louis Vuitton rain coat
Louis Vuitton makes a surprisingly diverse array of rain gear. This coat, found on eBay, appears to be a slightly hipper look than the governor's wife usually wore.
Description:
LOUIS VUITTON special edition mackintosh from Autumn/Winter 2010! Part of a special run of just one hundred pieces manufactured by legendary Scottish brand Mackintosh whose founder created the first ever rubber proofed, waterproof material for clothing.
Cost: $697
Gold Oscar de la Renta sweater
Why do people buy such expensive clothes? Obviously, in this case, it wasn't the wearer that bought them, but still: $2,200 for a sweater? It's pretty enough, but we've seen cheaper sweaters.
Description:
Sequined knit sweater by Oscar de la Renta. Boat neckline. Long sleeves. Slim silhouette.
Cost: $2,290
One pair of Amelia Rose earrings
We went with a goldish color, given the First Lady's known tastes.
Description:
Our best-selling single drop earring in sunflower yellow, perfect length to take you from day to night!
Cost: $49
One Gear sweatshirt
We couldn't figure out what this was, so The Wire made a decision to dress the former governor in Ralph Lauren for reasons that will become obvious.
Description.:
This long-sleeved crewneck is crafted from breathable cotton mesh and accented with our signature pony embroidery
Cost: $89.50
Two pairs of Foot Joy golf shoes
We went with the "comfort," instead of "sport," because it sounded more luxurious.
Description.:
The lightweight cushioned fit-bed provides extreme underfoot comfort and heel support. The fit-bed ensures a comfortable underfoot environment by dampening shock while walking.
Cost: $360 for two pairs
One button-down Ralph Lauren shirt
No color specified, but this one is fun.
Description:
Washed to give it a lived-in look, this preppy sport shirt is made from pinpoint cotton oxford and designed with our new slim-fitting silhouette.
Cost: $98
One white Peter Millar golf shirt
Get ready for the golf section of the gift list! (Bob's tastes are more ... pedestrian.)
Description:
Cost: $89.50
One royal blue Peter Millar golf shirt
When the white clashes with your khakis.
Description:
Cost: $89.50
One White Striped Ralph Lauren Golf Shirt
Can't show up twice to the exclusive golf club in the same outfit.
Description:
a comfortable, relaxed silhouette.
Cost: $89.50
One Ping University of Virginia Golf Bag
UVA's athletic shop might have switched brands, but this bag seems comparable to other Ping golf bags.
Description:
Fulfills your storage needs with 5 front-facing zippered pockets (including a velour-lined valuables pocket)
Cost: $189
One Ping Kinloch Golf Bag
Kinloch is a premiere golf club in Virginia. Uncustomized Ping bags cost about the same as any other bag
Description:
Combines the strength of a cart model with the comfort and easy handling of a carry bag.
Cost: $179
One Sun Mountain Notre Dame Golf Bag
McDonnell attended Notre Dame University. The school is probably very proud to appear on this list.
Description:
Featuring a gold ND logo on the ball pocket.
Cost: $179
Two sets of golf clubs
The McDonnells like golf. Golf club and set prices range by quite a lot. We've gone for a conservative estimate here: $300 apiece.
Description:
Designed for Maximum Performance Right Out of the Box.
Cost: $600
One Heather Mackenzie watercolor and frame
The most Google-able Heather Mackenzie in the art world is this Cape Cod-based watercolorist. Assuming it's her, framed originals go for $195 to $1,400, which is actually pretty thrifty for a painting. We went in the middle, figuring $800 for a framed original.
Description:
Heather loves impressionism, especially Monet, Cassatt, Manet and van Gogh. She finds inspiration in beauty and hopes her expressions give joy to those who own her paintings.
Cost: $800
2 iPhones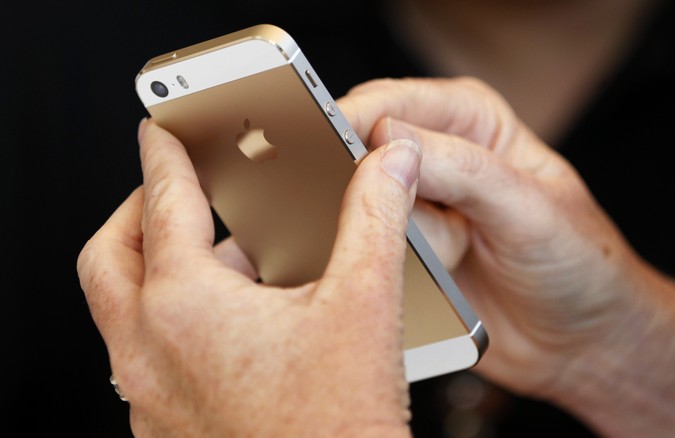 The indictment doesn't specify which kind of iPhones. But given their taste for the lavish, we chose two iPhone 5s with a gold finish. Verizon.
Description:
Cost: $598
30 boxes of Anatabloc
This dietary supplement (allegedly!) comes with the rousing endorsement of former Virginia governor Bob McDonnell.
Description:
Anatabloc® leverages the body's natural process for regulating its own inflammation using anatabine, a naturally-occurring compound found in some plants.
Cost: $2,999.70 for 30 boxes
This article is from the archive of our partner The Wire.