Two States That Should Have Republicans Worried About 2016
Republicans are still facing persistent problems in the presidential battlegrounds.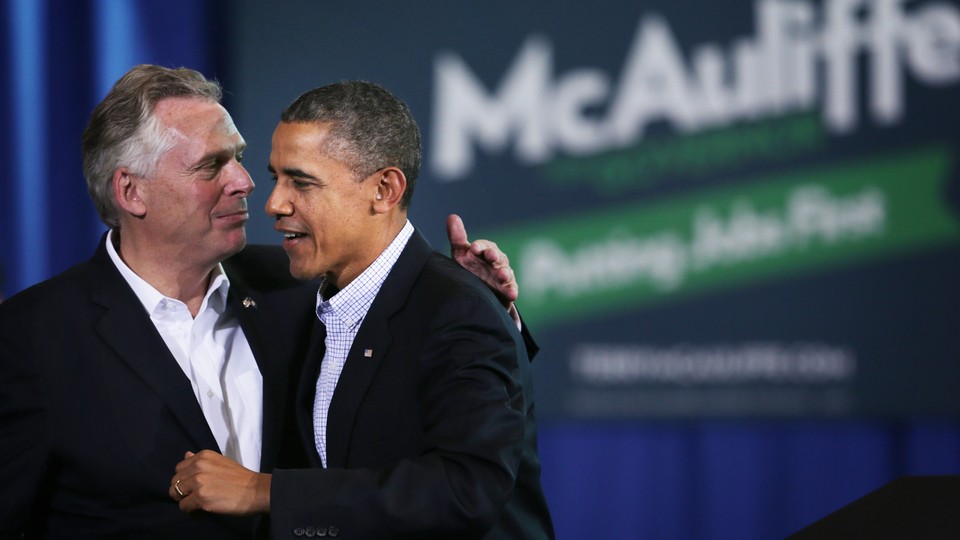 Already, Republicans are eagerly anticipating the 2014 midterms. And they should be. President Obama's shaky approval ratings and struggles over Obamacare give the GOP good, maybe even great odds, of taking the Senate.
But such short-term fortune masks Republicans' continued struggles to broaden their appeal, even in the best of times. Their gains are almost entirely a product of Democratic screw-ups, not because of an improved public image. And nowhere is that clearer than in two of the biggest battleground states recently hospitable to Republicans — Colorado and Virginia.
In both, Republicans should be exploiting the Democrats' problems. Instead, Democrats just completed a clean sweep of all Virginia's statewide offices for the first time in decades, are in strong position to reelect freshman Sen. Mark Warner, and are watching continued divisions among Colorado Republicans despite the Democratic Party's collapse in the Mountain West.
Making the problem more serious than just a two-state anomaly is that Virginia and Colorado are filled with what my colleague Ronald Brownstein calls "the coalition of the ascendant" — college-educated (affluent) whites, millennials, Hispanics, and Asian-Americans. These are the very voters Republicans need in order to have a shot at getting back into the White House in 2016.
Yet they're doing very little to make that happen. Voters clearly are angry with Democrats, but they don't see any viable Republican alternatives. This is all the more striking because it's unfolding while President Obama hits his political nadir.
In Virginia, Democrat Terry McAuliffe won the governor's race despite the furor over Obamacare taking place in the immediate run-up to the election. His victory was helped by the GOP's decision to choose its ticket through a convention filled with its most conservative, single-issue activists. Sen. Mark Warner, who voted for the health care law, faces no credible Republican opposition yet — though former Republican National Committee Chairman Ed Gillespie is expressing interest in a campaign.
In Colorado, inviting opportunities are all over, but Republicans haven't yet been able to exploit them. Instead, Republicans are close to nominating candidates who lost to Democrats in the wave election of 2010. Sen. Mark Udall's approval ratings are at all-time lows, according to a recent Quinnipiac poll, and he barely leads his Republican challengers. But his opposition consists of former Senate candidate Ken Buck, whose gaffes cost the party a winnable Senate seat in 2010; Owen Hill, a state senator and Ron Paul acolyte; and former state House Majority Leader Amy Stephens, whose past support for Obamacare exchanges in the state could doom her in the primary.
And that's not all in Colorado. Against vulnerable Gov. John Hickenlooper, anti-immigration hawk Tom Tancredo is an early GOP front-runner, which worries operatives looking to pick up the seat. Tancredo ran as a third-party candidate against Hickenlooper in 2010, winning 36 percent of the vote. Former state Sen. Mike Kopp, an Iraq war veteran, and Secretary of State Scott Gessler are his primary opponents, and could split the anti-Tancredo vote.
Former Colorado Republican Party chairman Dick Wadhams views the problems so seriously that he worries Colorado could go the way of California unless the GOP improves its outreach to minorities and learns how to appeal to less-ideological voters. Wadhams also worked in Virginia on George Allen's Senate campaign in 2006.
"If we nominate Tancredo and Buck, we'll not only lose, but we could permanently define the party to the point that we're headed to Oregon and Washington territory," Wadhams said. "In both Virginia and Colorado, there are overwhelming [numbers] of unaffiliated voters who are gettable for a solid candidate. There are a lot of opportunities, but plenty of peril."
While all of these problems might not affect the GOP's overall tally this year, they are troubling leading indicators for 2016. The Republican brand's favorability is at historic lows, with a new Gallup poll showing GOP identification at its lowest point since the pollster began tracking 25 years ago. With the exception of New Jersey Gov. Chris Christie (who's facing his own fresh controversy), the prominent presidential contenders — Rand Paul, Paul Ryan, Ted Cruz — have underwater favorability ratings in most national polls, which is as much attributable to their party as their personal standing.
Speeches from Marco Rubio, Eric Cantor, and Paul Ryan this week on increasing economic mobility show that the party's leaders recognize they can't just rely on the opposition's missteps to retake control. But navigating the party's divide between the establishment and grassroots won't be easy. A successful 2014 may only embolden those voices looking to stay the course.