Today Is D-Day for Obamacare
Many of the healthcare law's benefits take effect January 1, making this a crucial test for the law—both politically and practically.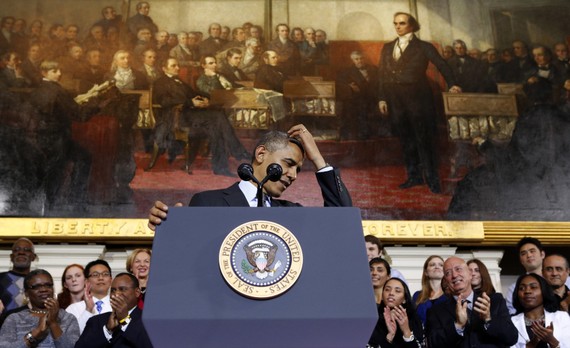 Democrats have said for years that Obamacare will get more popular as people begin to see its benefits. Now we'll find out whether that's true.
Many of the Affordable Care Act's most popular provisions take effect Wednesday. Beginning this week, insurers cannot use a preexisting condition as a reason to deny someone coverage or charge a higher premium. New insurance policies take effect that must cover certain benefits. And, biggest of all, new tax subsidies kick in to help low-income consumers cover the cost of their premiums.
All of this is happening amid stubbornly bad—and, according to some polls, falling—public approval of the healthcare law. The latest tracking poll from the Kaiser Family Foundation put its favorability rating at 34 percent, compared with 48 percent who had an unfavorable view.
Obamacare's approval ratings have been upside-down for years, and Democrats had all but given up trying to turn the numbers around until the law's most popular provisions took effect.
The botched rollout of Healthcare.gov made matters worse. Approval of the law, and President Obama's own approval ratings, sank as the federal enrollment website sputtered. Administration officials say their biggest concern during the site's early troubles was that people would give up on the Obamacare "brand" and simply wouldn't come back to the site once it began working.
That hasn't happened. According to the Health and Human Services Department, more than 975,000 people selected and enrolled in a plan through Healthcare.gov this month. The total for all 50 states is now above 2 million—still shy of the 3.3 million sign-ups HHS initially expected to receive by the end of the year, but rapidly picking up steam.
One potential problem for the administration, though, is that people don't associate new benefits they might like with the healthcare law. As Democratic strategists have noted, coverage under the ACA isn't an easily identifiable benefit like Medicare or Social Security. It's private insurance, paid for in part by a subsidy that goes directly to the insurance company.
Many individual pieces of the ACA, including many of the policies that take effect January 1, are popular on their own. The administration has already struggled with earlier benefits—namely rebates paid by insurance companies—that poll well but which people don't seem to connect to Obamacare.
And that's assuming people like the coverage they'll get under the law. In order to keep premiums low, many insurance companies have limited the network of providers they'll cover in new policies, meaning some people who had their plans canceled might not be able to keep their doctors. And consumers who benefited most from the pre-Obamacare individual market—young, healthy, reasonably affluent men—will see their premiums for coverage rise under the new rules.
If consumers don't like the coverage they get, or don't connect it to Obamacare, public approval could continue to sag, creating a drag on Democratic candidates in 2014.