Three Things You Should Know About the Latest Obamacare Numbers
About 2.1 million have picked a private plan, but that doesn't paint the whole picture.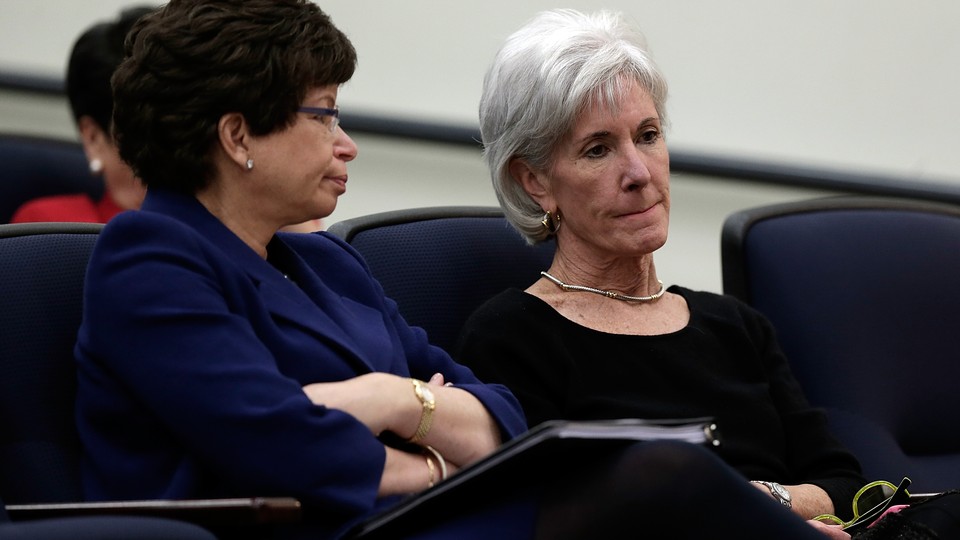 Halfway into Obamacare's enrollment period, we're starting to get a clearer picture of where things stand.
About 2.1 million people have selected a private insurance plan through the health care law's exchanges, according to the monthly enrollment update the Health and Human Services Department released Monday. The report, which covers enrollment through the end of December, is the most comprehensive set of data the department has released so far — and also the most positive for the administration.
The bottom line is that Obamacare hasn't fully dug out of the hole that HealthCare.gov created during October and November, but it's rapidly getting closer to being back on track. Here's what that entails.
The Mix of Young People Is OK, for Now
Whether premiums go up next year (and by how much) depends mostly on the mix of who signs up this year. It's less about the total number of enrollees than who those enrollees are "" whether they're old, young, healthy or sick.
And because insurance companies can't cherry-pick their customers based on health status, age is the best stand-in: The number of young people who sign up is presumed to roughly in line with the number of healthy people, so there's a big push to get as many young people through the door as possible.
So far, about 25 percent of enrollees are young adults. The White House previously set a goal of roughly 38 percent. So the administration is shy of that target, but health care experts have always warned that young people are likely to sign up at the last minute "" which, in this case, isn't until March.
Administration officials were happy with the 25 percent figure and said they had crossed the threshold to avoid massive premium increases that could make the new markets unsustainable.
"We are already at that range of preliminary sustainability with three months left to go," a senior administration official told reporters on Monday.
Obamacare's young-adult enrollment is roughly in line with Massachusetts' experience halfway through its process. Young adults ultimately made up about 30 percent of the risk pool there.
Overall Enrollment Is Improving
Through the end of December, roughly 2.1 million people have picked a private insurance plan through Obamacare's exchanges, including both the federal marketplace and the state-run exchanges. That's still shy of the 3.3 million the administration had once estimated, but it's a big leap forward. In October and November, when HealthCare.gov wasn't working, enrollment technically increased, but only by inching ahead at a snail's pace. In December, the pace picked up to about where it should have been to begin with.
The administration has done its best to avoid setting any firm goals for overall enrollment. Hitting 2.1 million is obviously short of the first-year targets the White House and HHS had discussed before the botched HealthCare.gov launch, but it's a signal that people are willing to sign up if they're able.
An enrollment surge was always expected in December, ahead of the deadline to get covered by Jan. 1. So don't expect the same numbers to hold through January. But as long as real-world experience still tracks roughly with expectations, abject failure seems highly unlikely.
People Aren't Buying the Cheapest Plans
Plans sold through the exchanges are categorized as bronze, silver, gold, or platinum. The fancier the metal, the fancier the plan — platinum plans have the highest premiums and the most generous benefits. And there's one level even below bronze: catastrophic plans, which don't offer much coverage and are available only to certain consumers (young people, primarily).
Given all the fuss over premium increases for Obamacare plans, you might expect people to buy the cheapest policy available, right? That's what enrollees did when Medicare's drug benefit launched. But in the exchanges, people are mostly buying mid-level policies. Sixty percent have picked a silver plan, compared with just 20 percent who selected a bronze plan and a paltry 1 percent who chose a catastrophic plan.
Those numbers could change as more young people make their way into the system. But for now, HHS said it's not surprised by the data, in part because the subsidies people receive to buy coverage are pegged to the cost of a silver plan.