Think No One Cares About Christie's Bridgegate? Think Again.
The media narrative holds that Christie's escaped with impunity, but they're making the wrong comparisons.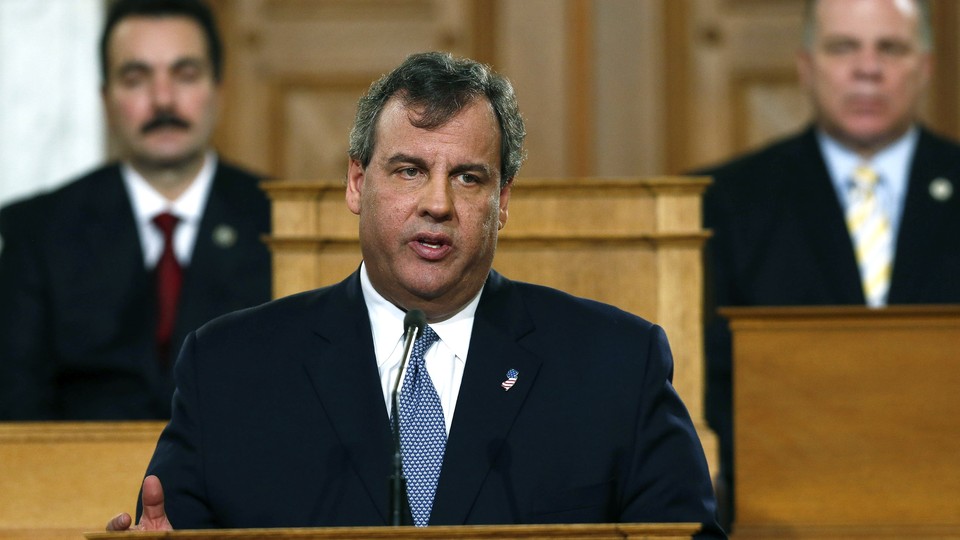 If you've been reading the headlines on recent polling, you might be under the impression that voters don't care very much about Chris Christie's bizarre revenge traffic scandal.
After all, a new Pew Research Center poll found that 60 percent of respondents nationwide say their opinion of New Jersey's Republican governor hasn't changed. And only 18 percent of Americans said they are even following the controversy "very closely" — less than the number who said the same about the cold winter weather (44 percent), the economy (28 percent), and the unemployment insurance debate in the Senate (19 percent).
If polls don't speak for themselves, headlines do. The Huffington Post declared, "Bridge Scandal Has Little Impact on Chris Christie's National Ratings," while The Atlantic went with "Why Don't More Americans Care About Christie's Bridgegate? Political Science Explains."
But whether Americans care "a lot" or "a little" about Bridgegate depends on what you compare it to, and to compare it to something as ubiquitous as the weather is to compare it to the wrong thing. It makes quite a bit of sense for people to be paying more attention to the weather, the economy, and unemployment insurance, because those are things that affect people all around the country.
Last week's polar vortex was felt by 240 million people, stretching from the Dakotas to the Deep South, and the economy and unemployment insurance combined affected more than 300 million. Traffic problems in New Jersey, even politically motivated, Machiavellian-style traffic problems, take a back seat.
People in New Jersey — which is to say people who were directly affected — are, in fact, paying attention. A Monmouth poll taken recently shows that Christie's job-approval rating stands at just 58 percent within the Garden State. That's down from a month ago, when his approval stood at 65 percent. It's also the first time his approval rating has dipped below 60 percent since superstorm Sandy struck the state over a year ago. The takeaway: Residents who are informed and affected do care quite a bit.
Across the pond, the scandal du jour is that French President Francois Hollande is having a love affair that involves moonlit-scooter rides with a younger actress. This is a virtually known fact, yet 84 percent of survey respondents in France say it has not changed their opinion of him. Now sex scandals are different from political scandals and should be treated differently, but some science suggests that people typically care more, not less, about sex scandals. If that's the case, the politician having his cake and eating it isn't Christie, it's Hollande.
People aren't apathetic about Christie at the national level, either. A new NBC News/Marist poll found 29 percent of registered voters view Christie favorably while 32 percent view him unfavorably. Although 68 percent say the political uproar has not had any effect on their opinion of Christie, one in five like him less because of it. Among those who've heard about the bridge scandal, 32 percent think he's "mostly not telling the truth," and 26 percent consider him a bully.
The NBC News headline accompanying that survey? "Poll: Christie cruising through bridge scandal (so far)."
It is certainly true that Americans seem to care far less about this than do the Sunday talk shows and the talking heads on MSNBC. But that Americans are not as obsessed with the Christie scandal doesn't mean they don't care about Bridgegate; it means in the first weeks of 2014, they aren't as obsessed as the national media is with a presidential election that will take place in 2016. America, you might surmise, is a little bit saner than that.
Recall that the Bridgegate charges have not even been proven. We still don't know whether Christie was involved in a revenge plot to snarl traffic on the George Washington Bridge. Indeed, he's flatly denied it. If he is shown conclusively to have been involved, you can bet his poll numbers will get worse.
{{ BIZOBJ (video: 4658) }}