The Smartest Nerd in the Room
Why Melissa Harris-Perry is America's foremost public intellectual, and what she means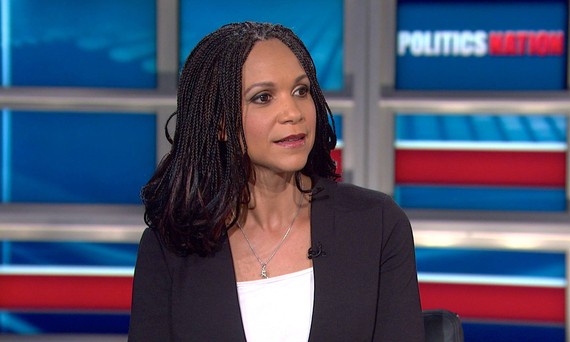 On Saturday, Melissa Harris-Perry apologized on air for segment that made light of the Romney clan's adoption of a young black boy. On Sunday, Mitt Romney accepted Harris-Perry's "heartfelt" apology, noting, "I've made plenty of mistakes myself." I've watched the offending segment several times now. I can see how a white parent who'd adopted a black child (or vice versa) would find the segment flip and offensive. It would not have surprised me if those concerned about adoption, equality, and racism voiced some protest about the segment. Instead what we got was week of invective driven mostly by a conservative movement with less lofty concerns.
"Harris-Perry has been a public laughingstock for some time now," wrote John Nolte. "P.S. The Duck Dynasty family has an adopted black child. Maybe this is why the media hate them so much." Nolte was writing for the site named for the man who engineered the "Shirley Sherrod is a racist" hoax. There has never been an apology for that and there won't be one. That is because the conservative movement does not believe that racism is an actual issue to be grappled with, but sees it instead as a hand grenade to be lobbed into an enemy camp. One week we find Sarah Palin defending a man who thought my father was better off living under state-sponsored terrorism. The next we find her arguing that history's greatest monster is one Melissa Harris-Perry.
When not attempting to shame their enemies on trumped-up charges of racism, the conservative movement busies itself appealing to actual racists. We are into the sixth year of the era of a black president. In that time the conservative movement has gorged on a steady diet of watermelon jokes, waffle jokes, affirmative-action jokes, monkey jokes, barbecue jokes, terrorist machinations, secret Muslim plots, and dastardly Kenyan conspiracies. Three months ago, the movement reached a new low, waving the flag of slavery in front of the Obama's home. It is tempting to call this the climax of a long campaign. That would exhibit an unearned optimism at odds with history.
Mitt Romney is not immune to this trend—he embodies it. On July of 2012, then-candidate Romney spoke to the NAACP (allegedly planting his own supporters). Later that day, he went before a crowd of conservatives and pitched his speech as follows:
I had the privilege of speaking today at the NAACP convention in Houston and I gave them the same speech I am giving you. I don't give different speeches to different audiences alright. I gave them the same speech. When I mentioned I am going to get rid of Obamacare they weren't happy, I didn't get the same response. That's OK, I want people to know what I stand for and if I don't stand for what they want, go vote for someone else, that's just fine. But I hope people understand this, your friends who like Obamacare, you remind them of this, if they want more stuff from government tell them to go vote for the other guy-more free stuff. But don't forget nothing is really free. 
A few months later Barack Obama ended Romney's political career. Romney responded as follows:
Mitt Romney told his top donors Wednesday that his loss to President Obama was a disappointing result that neither he nor his top aides had expected, but said he believed his team ran a "superb" campaign with "no drama," and attributed his rival's victory to "the gifts" the administration had given to blacks, Hispanics and young voters during Obama's first term.
Racism is, among other things, the unearned skepticism of one group of humans joined to the unearned sympathy for another. Mitt Romney was born into a state whose policy was white supremacy, whose policy was to heap "gifts" upon people who looked like him, at the expense of people who looked like Barack Obama. Romney's familiarity with white supremacy was not passive and distant but direct and tangible. As a child he lived in a neighborhood which, by the employment of compacts, red-lining, and terrorism, was an exclusive white preserve.
As an adult, Romney worships in a church that as late as 1978 took racism not simply as policy but as the word of God. It is possible the church believes this even to this day.* In 2012, the Washington Post looked at the Mormon church's racist history. Reporter Jason Horowitz talked to Brigham Young University professor of religion Randy Bott, who explained the church's take on its past:
"God has always been discriminatory" when it comes to whom he grants the authority of the priesthood, says Bott, the BYU theologian. He quotes Mormon scripture that states that the Lord gives to people "all that he seeth fit." Bott compares blacks with a young child prematurely asking for the keys to her father's car, and explains that similarly until 1978, the Lord determined that blacks were not yet ready for the priesthood.

"What is discrimination?" Bott asks. "I think that is keeping something from somebody that would be a benefit for them, right? But what if it wouldn't have been a benefit to them?" Bott says that the denial of the priesthood to blacks on Earth—although not in the afterlife—protected them from the lowest rungs of hell reserved for people who abuse their priesthood powers. "You couldn't fall off the top of the ladder, because you weren't on the top of the ladder. So, in reality the blacks not having the priesthood was the greatest blessing God could give them."
There is a sense that Romney's grandchild should be off-limits to mockery. That strikes me as fair. It also doesn't strike me that mocking was what Harris-Perry was doing. The problem was making any kind of light of a fraught subject—a black child being reared by a family whose essential beliefs were directly shaped by white supremacy, whose patriarch sought to lead a movement which derives most its energy from white supremacy. That's a weighty subtext. But there is no one more worthy, and more capable, of holding that conversation than America's most foremost public intellectual—Melissa Harris-Perry.
There may well be intellectuals with more insight. And there are surely public figures with a greater audience. But there is no one who communicates the work of thinking to more people with more rigor and effect than Harris-Perry. Her show brings a broad audience into a classroom without using dead academic language and tortured abstractions. And she does this while awarding humanity on a national stage to a group unaccustomed to such luxury—black women.
Specifically in this instance, Harris-Perry is a black woman with a white mother. Through her mother, Harris-Perry has a Mormon ancestry that extends back through generations. This is not a fact recently produced to inoculate her against criticism, but a theme that she returns to regularly (h/t Mediaite):
My American story is both the story of enslaved ancestors, sold on the street corner of Richmond, Virginia, on my father's side, and of a persecuted religious minority in the American West on my mother's side..
Weighing in on Anthony Weiner, she once noted:
I am descended from Mormon ancestors. And I had Mormon ancestors who were imprisoned for consensual bigamy. And, you know, I've always had a lot of anxiety about that because—you know, my sense is if people are adults making a choice to be in complicated marriages, you know, what does the state have to say about that?
Harris-Perry is uniquely qualified to speak on racism, Mormonism, and history. It's true that what she offered was a humor segment, not a deep analysis. But I strongly suspect that the humor originated in her own feeling of comfort with the subject matter, justified by her biography.
There's a temptation to pile Harris-Perry, and this episode, into the gaffe-parade that is cable news. When you devote 24 hours to mostly unscripted talking, thoughtlessness happens. But no show on cable has higher thoughtfulness-per-hour ratio than Harris-Perry's. MSNBC, recovering from the very real problems of comments by Martin Bashir and Alec Baldwin, may not see this right now. That's a shame. Melissa Harris-Perry makes America smarter. And she does so in a way that we have not seen before and will not soon see again.
*In fairness to the church, that line is too cut and dry. The church hasn't explained why the divine dictates changed. But they did denounce Bott's explanation.