The Scourge of Texting While Walking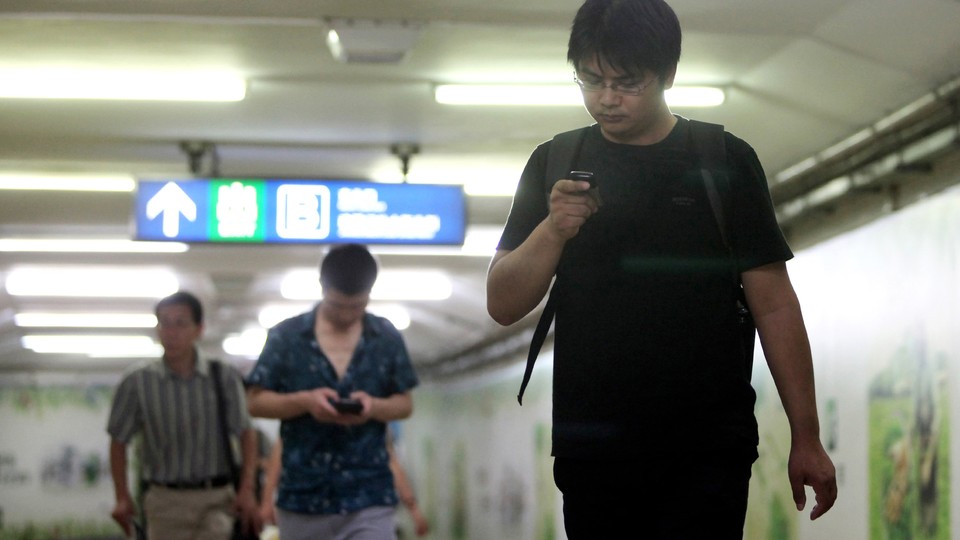 A female tourist in Australia walks off the St. Kilda pier in Melbourne. A Pennsylvania shopper plunges headlong into a mall fountain. A pedestrian falls into a Lake Michigan tributary.
These people are all victims of the modern epidemic known as "texting while walking."
The rise of texting while walking and its associated perils have been well documented by the Pew Research Center, which has posted an analysis of the situation based on a survey from mid-2012. The findings? Fifty-three percent of all adult mobile phone owners have been either on the giving or receiving end of a "distracted walking encounter." Not to be confused with an "illicit encounter" or a "missed connection," these behaviors are most prevalent amongst the young (in particular ages 18-24). Those with a smartphone are especially likely to engage in said behavior (32 percent of users compared with 14 percent of non-smartphone owners), according to the study.
Now some towns are going so far as to ban the practice. In Fort Lee, N.J., pedestrians can be fined $85 for the sin of texting while walking, and in New York City, lawmakers have sought to implement a $100 fine. Enforcement, though, is another issue.
Numerous victims have been moved to speak out on the subject, as did one woman in South Bend, Ind., who recently fell into a river while walking. "I couldn't let pride stand in my way of warning other people to not drive and text or walk and text," she said. "It can be dangerous."
And The Times is on it. "Let's stop acting like hollowed-out zombies, with BlackBerrys and iPhones replacing eye contact, handshakes and face-to-face conversations," filmmaker Casey Neistat wrote recently in The New York Times' op-ed pages. "It's time to live once again in the present and simply be where we are."
All Zen advice aside, the best reason not to text and walk is one that's best relayed by statistics. The U.S. Consumer Product Safety Commission says 1,152 pedestrians were treated in emergency rooms in 2011 upon being injured while using a cell phone or other electronic device.
Pew has distilled the hazards in a chart. Behold, the percentage of cell-phone owners in each age bracket who have bumped into something or been bumped into by others who were distracted by their phones: