The Iran Vote: This Really Matters, and You Should Let Your Senators Know
If the nuclear deal is going to fail, let that happen at the negotiating table—and not be engineered under the Capitol dome.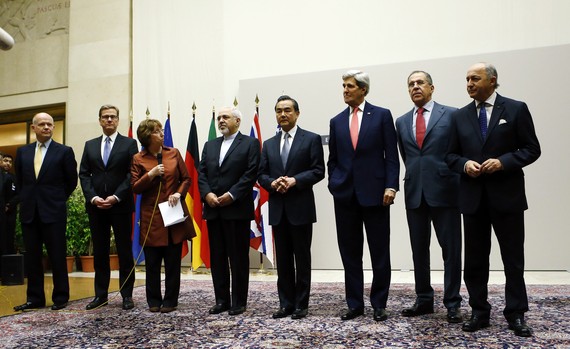 I have been on the road in the South, and staying in a place with no Internet, and doing interviews for another American Futures installment—this one about the way textile-dependent Southern cities have and have not recovered after those mills went away. That's what my wife and I will be talking about in the days ahead.
But this is a moment that counts, on an important, time-sensitive issue, so here goes:
The Obama Administration, along with some of the usual U.S. allies—the U.K., France, Germany—and such non-allied parties as Russia and China, has taken steps with the potential of peacefully ending Iran's 35-year estrangement from most of the rest of the world. That would be of enormous benefit and significance to Iran, the U.S., and nearly everyone else concerned.

Obviously potential is not a guarantee, and a year from now everyone could look back on this as a time of deluded hope. But today's potential is far greater than most "savvy" experts expected a year ago. As I argued last month, the U.S. may be in a position right now with Iran analogous to the one with China in the early stages of the Nixon-Mao rapprochement. Nothing is guaranteed, but the benefits of normalized relations would be so great that they must be given every chance to succeed.
 
Often there is cleavage within the executive branch—State, Defense, the White House—on the merits of a military commitment or a potential deal. Not this time. Very often there is similar disagreement among Western powers, and most of the time the Russians and Chinese find themselves on the opposite side of strategic calculations from the U.S. Again, not now. All involved view the benefits of re-engaging Iran to be so great, and the consequence of a drift toward war so dire, that they want to make sure that no artificial barriers to a deal get in the way.

(On the dire consequences of a drift toward war: Nearly 10 years ago, the Atlantic ran a war game concluding that an air strike designed to take out Iran's nuclear potential would be the height of strategic folly for the attacking party, whether Israel or the United States. Nothing that has happened since then makes it a more plausible option.)
 
Two countries the U.S. cares about are known to oppose this deal: Saudi Arabia, and Israel. The Saudis, because a stronger, oil-exporting, Shiite Iran probably means a less influential Sunni Kingdom. The Israelis, because the Netanyahu government has cast Iran as the new Nazi Germany, with whom any deal or compromise is by definition doomed. 

I believe that Netanyahu is wrong, but it's his country, and he is the elected leader. I don't like the idea of him (or the Saudis) trying to derail what our elected leaders so strongly considers to be in the interests of the United States.
 
That derailment is what seems to be underway in the Senate right now. Republicans led by Mitch McConnell are pushing for a sanctions bill that is universally recognized (except by its sponsors) as a poison-pill for the current negotiations. Fine; opposing the administration is the GOP's default position.

But a striking number of Democrats have joined them, for no evident reason other than AIPAC's whole-hearted, priority-one support for the sanctions bill. The screen clip below is from AIPAC's site, and here is some political reporting on AIPAC's role in the sanctions push: NYT, Politico, JTA, Jerusalem Post-JTA, and our own National Journal here and here. Also see Greg Sargent in the Washington Post.

AIPAC policy brief, from its site. Note implications of point #3.


In the long run, these Democrats are not in a tenable position. Or not a good one. They are opposing what their president, his secretaries of state and defense, our normal major allies, and even the Russians and Chinese view as a step toward peace. And their stated reason for doing so—that new sanction threats will "help" the negotiations, even though every American, French, British, German, etc., and Iranian figure involved in the talks says the reverse—doesn't pass the straight-face test.

Via the AP: "'I think that the Iran sanctions bill is meant to strengthen the president, not in any way impede the ongoing negotiation which should and hopefully will be successful,' Sen. Richard Blumenthal, D-Conn., a co-sponsor of the legislation, said Tuesday." Oh sure. You can imagine what a person as smart as Blumenthal—or Chuck Schumer, or Cory Booker, or Mark Warner, all supporting the sanctions—would do to similar assertions in normal circumstances. 
I agree with Peter Beinart, who wrote last month that people tired of U.S. wars in the Middle East should be speaking up more clearly in support of this deal. As Fred Kaplan of Slate, no peacenik, did when the first agreement was announced:

See also Andrew Sullivan, and an arms-control expert on technical flaws in the sanctions bill. [Update: and my Atlantic colleague Jeffrey Goldberg, who also argues that this bill is torpedoing the best chance for avoiding an Iranian nuclear program.] Maybe this deal will fail. But if you'd rather that the failure not be engineered in the Capitol, let your representatives know.
---
Updates: 1) As many readers have pointed out, Senate Republicans are near-unanimous in supporting the sanctions bill, but Democrats including Robert Menendez of New Jersey and Chuck Schumer of New York have played a big role in promoting it;
2) Also as many readers have pointed out, one of the Democratic co-sponsors of the bill is Sen. Michael Bennet of Colorado, whose brother James is the Atlantic's editor-in-chief. Noted for the record.
3) And, yes, I would let my senators know -- if, as a resident of DC, I had any.