The FCC's Nuclear Option on Net Neutrality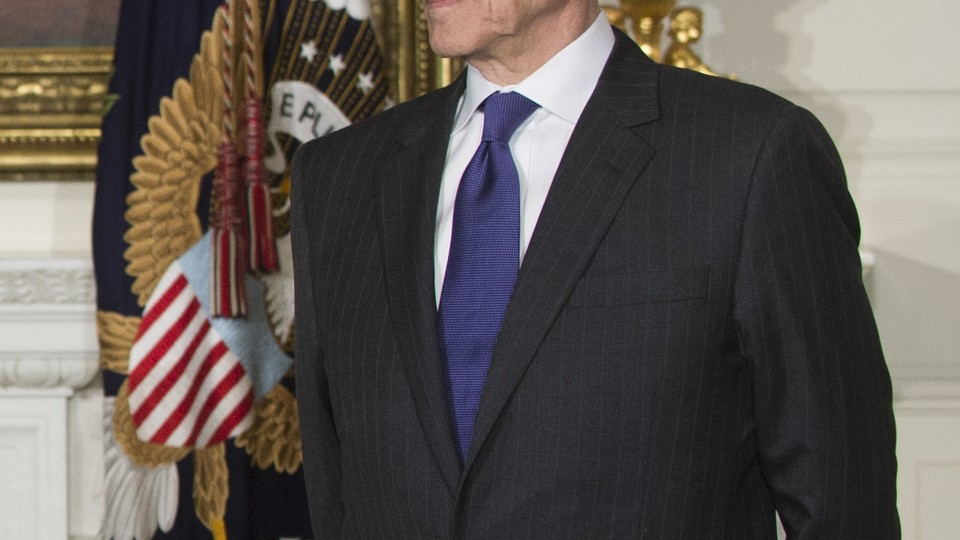 Tom Wheeler, the chairman of the Federal Communications Commission, has a decision to make.
A federal appeals court on Tuesday struck down the FCC's net neutrality rules, erasing the Obama administration's effort to protect the freedom and openness of the Internet.
The court also, however, left Wheeler a path to possibly save the rules. The judges made it clear that the FCC's legal problems stem from its decision to classify broadband Internet as an "information service," and if Wheeler chooses to reclassify broadband as a "telecommunications service," the rules would immediately be on much firmer legal ground.
Reclassifying broadband could save the FCC's net neutrality rules, but it would come at a cost: the move would prompt a knock-down, drag-out fight with congressional Republicans, who fear the FCC would be granting itself broad power to oversee the Internet.
Without the rules, Internet providers could force websites like Google, Facebook or Netflix to pay special fees in order to reach users.
Such a fight would put the rest of Wheeler's FCC agenda at risk, but the chairman may well decide that's a risk he's willing to take.
The FCC adopted its net neutrality rules in late 2010 under Wheeler's predecessor, Julius Genachowski. They bar Internet service providers from blocking websites or from discriminating against any Internet traffic, except for reasonable network management.
Without the rules, Internet providers could force websites like Google, Facebook or Netflix to pay special fees in order to reach users. Supporters of net neutrality argue the Internet should remain an open platform where all websites and services are treated equally.
But critics argue the rules unnecessarily restrict the business choices of Internet providers. They say existing competition laws already ban abuses of market power and that Internet providers shouldn't be barred from experimenting with new pricing models.
Republicans warn that reclassifying broadband as a telecommunications service could lead to not only the reinstatement of net neutrality, but a host of other burdensome regulations that could strangle the growth of the Internet. While the FCC has only limited authority to regulate information services, it has sweeping power to manage the business decisions of telecommunications services.
"The court today delivered a victory for jobs and innovation. This ruling stands up for consumers and providers alike by keeping the government's hands off the Internet," Rep. Fred Upton, R-Mich., the chairman of the House Energy and Commerce Committee, and Rep. Greg Walden, R-Ore., the chairman of the Communications and Technology Subcommittee, said in a joint statement.
Robert McDowell, a former Republican FCC commissioner who voted against the rules, warned in an interview that reclassification could "trigger an avalanche of economic regulation on the Internet."
He argued that the move would stifle economic growth, pointing to the fact that stock prices for Internet providers like Comcast and Verizon slipped when the FCC first floated the possibility of classifying broadband as a telecommunications service in 2010.
Enacting net neutrality in the first place sucked much of the energy from Genachowski's chairmanship. With other pressing issues before the commission like an auction of airwave licenses, a network technology transition and the president's proposal to improve Internet access in schools, Wheeler may be hesitant to re-fight that battle.
"It would start a big war within Washington and would probably not be a constructive use of the commission's time," McDowell said.
But some Democrats and public interest advocates argue that the rules are so important that they are worth enduring some temporary political headaches to save. As long as Republicans only control one house of Congress, they can kick and scream, but they can't block any FCC action.
"The FCC needs to respond immediately in a way that keeps the Internet open to all of us, not just big corporate interests," Sen. Al Franken, D-Minn., said in a statement.
"At its core, the FCC's fundamental responsibility is the regulation of communications networks for the public interest and consumers everywhere," Senate Commerce Committee Chairman Jay Rockefeller, D-W.Va., said. "I urge the FCC to consider all viable options to accomplish these objectives, and to make sure that that both consumers and competition are protected through a free and open Internet."
Instead of reclassification, the FCC could also try appealing the decision to the full D.C. Circuit Court of Appeals or to the Supreme Court. But with the three judge D.C. Circuit panel ruling unanimously against the FCC, the odds of winning on appeal don't look good.
Wheeler could also try to rework the rules under their current authority and see if that is enough to satisfy the court. But rewriting the rules would almost certainly mean watering them down and would likely still face Republican opposition.
"It's going to be a big fight no matter what," said Michael Weinberg, vice president of consumer advocacy group Public Knowledge, arguing that Wheeler should consider reclassification. "There's virtue to just having it and moving on."
For now, Wheeler is leaving his options open.
"I am committed to maintaining our networks as engines for economic growth, test beds for innovative services and products, and channels for all forms of speech protected by the First Amendment," he said in a statement.
"We will consider all available options, including those for appeal, to ensure that these networks on which the Internet depends continue to provide a free and open platform for innovation and expression, and operate in the interest of all Americans."