The Dental Lobby Prepares to Bite Back to Defend One of Its Own
The conservative Club for Growth wants to defeat Representative Mike Simpson, D.M.D., an Idaho Republican. His professional colleagues have another idea.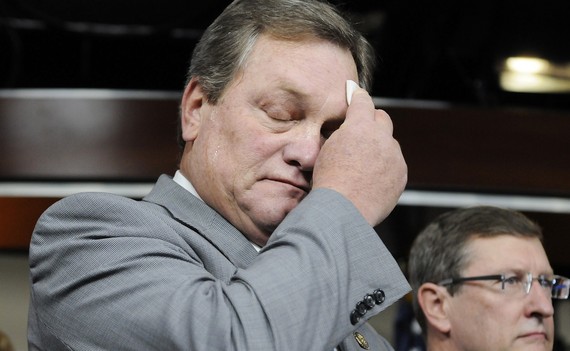 Representative Mike Simpson is a 15-year veteran of Congress and a close ally of Speaker John Boehner. But as the Idaho Republican fends off a stiff Tea Party challenge in 2014, the fact that he's a dentist may prove to be just as important.
The influential dental lobby is expected to go all out this year to protect Simpson, one of only two dentists on Capitol Hill. His primary is still five months away, but the dentists' independent campaign arm has already dropped $22,000 in mailers and spent another $20,000 last week dialing up Idaho voters to gauge the dynamics on the ground.
Simpson, 63, faces the biggest political test of his career as the well-heeled Club for Growth has vowed to extract him from Congress. The club named Simpson as its first target for defeat in 2014 and is backing his Tea Party challenger, Bryan Smith, who has already raised more than $525,000, including his own money.
Enter the dentists. "We'll try to raise as much as we can for him," said Mike Graham, senior vice president of government and public affairs for the American Dental Association.
If history is a guide, the latex-gloved cavalry can fill campaign coffers as well as they fill cavities.
When the other lone dentist in Congress, Representative Paul Gosar, R-Ariz., first won his seat in 2010, nearly 600 dentists contributed a total of $265,000 to his campaign. Dentists accounted for more than 40 percent of Gosar's total haul and more than half his donors.
"People actually in my first primary said, 'You get a lot of your money from dentists,' " Gosar said. "And I said, 'I'm not running from it. I'm proud to be a dentist.' "
Then, when Gosar faced a Tea Party challenger in 2012 backed by the Club for Growth, the independent-expenditure arm of the dental lobby sprung into action, pouring $150,000 into his race. Dentists nationwide injected another $210,000 directly into his coffers. All told, dentists from 47 states and the District of Columbia have invested in Gosar in the past four years.
"I'm one of the dentists' dentists. I came up being involved in grassroots dentistry," said Gosar, who also served on the ADA's government-affairs council. "Mike might have a little harder time with [raising dental money] because he just didn't do all the steps that I did."
Still, Simpson is a valued ally for the dental association, whose political action committee has spent an average of $2.5 million in each of the past three election cycles, according to the Center for Responsive Politics. Simpson is a senior lawmaker, a member of the speaker's kitchen cabinet, and the chairman of an Appropriations subcommittee—a post powerful enough to be nicknamed a "cardinal" on Capitol Hill.
"It makes a difference, sure, to have an appropriator who is a dentist," Graham said. The group's independent arm spent $55,000 on pro-Simpson mailers in his 2012 primary, even as Simpson won by nearly 40 percentage points.
In 2012, The Wall Street Journal reported that Simpson helped stall funding for a piece of the new healthcare law the dental lobby opposed. In 2013, the American Dental Association listed two "action alerts" on its website, urging its members to write in support of legislation. Both bills were authored by Gosar, and Simpson was among the earliest cosponsors of both.
Simpson, who joined his father's dental practice in Blackfoot, Idaho, and continued practicing even while serving in the Statehouse, hasn't tapped the nation's network of dentists for financial support yet for 2014. He reported zero donations from dentists in the first three quarters of 2013. But that is expected to change.
"We are aggressively reaching out to a lot of friends and allies to raise the resources we need to communicate Mike's conservative record of delivering results for the people of Idaho," said Todd Cranney, a senior Simpson adviser. "Obviously, Mike being a dentist, he's going to have a group of folks there who are going to be very supportive."
The GOP primary in Idaho's 2nd Congressional District, which stretches from Boise to the Wyoming border, has become something of a proxy battle in the ongoing civil war between the Republican establishment (backing Simpson) and the Tea Party wing of the GOP (backing Smith). The U.S. Chamber of Commerce paid $150,000 for a flight of television and Web ads in December bolstering Simpson.
Barney Keller, a spokesman for the Club for Growth, said his organization is ready to take on the chamber, the dentists, and anyone else. The club spent nearly $600,000 in its unsuccessful bid to oust Gosar in 2012—almost as much as Gosar himself raised.
"I think that once you drill down on Mike Simpson's atrocious liberal record, you'll find lots of morsels, such as his votes for TARP, for repeated tax increases, and to increase the size and scope of government," Keller said. "We're sure that special-interest groups that favor big government will fight tooth and nail to keep Mike Simpson, but they should brace for impact, as you can expect us to be forceful."