The Bitter Weather Isn't Just a Petty Instagram Gripe — It Kills
A conversation with Augustine Frazier, manager of a low-barrier men's shelter in northeast Washington.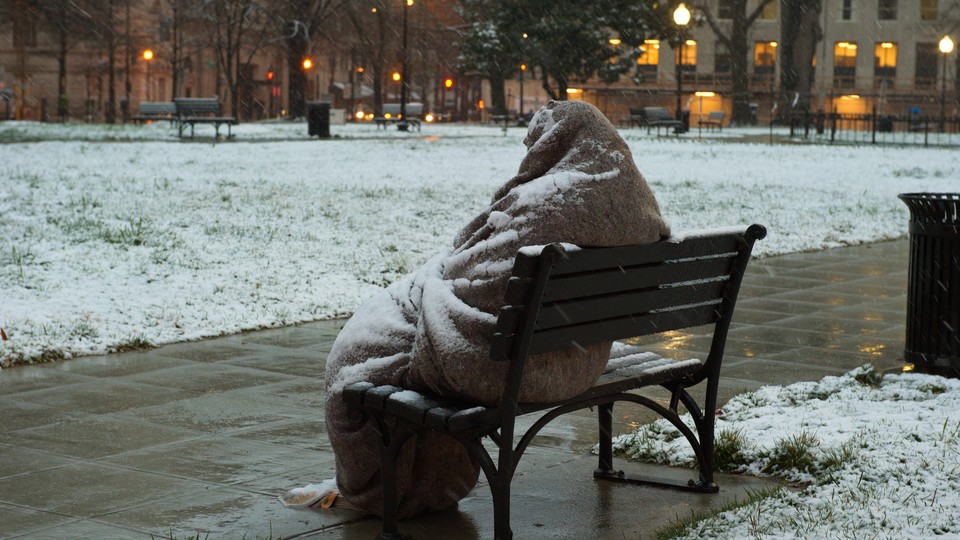 Cold weather isn't just an annoyance. It can kill you. Especially if you're poor.
That's according to a study by Olivier Deschenes and Enrico Moretti that found the number of annual deaths attributable to cold temperature is 27,940, or 1.3 percent of total deaths in the United States, and that the people affected are disproportionately from low-income communities.
"The effect for counties in the bottom income decile is 66% larger than the effect for counties the top income decile," the authors wrote in their 2007 study. The reason isn't difficult to determine: Members of this population frequently lack access to adequate clothing and shelter.
In Washington, home to an estimated 6,685 homeless residents, the city has opened up a handful of emergency shelters. With the city's standard shelters already near capacity, such "low-barrier" shelters can save lives, providing last-minute beds, hot food, and sometimes clothes to individuals in need. (Dan Diamond, a contributer to Forbes, has compiled a useful list of shelter hotline numbers in major American cities.)
Though these emergency shelters are typically open for just 12 to 24 hours, they are currently operating around the clock through the duration of the so-called polar vortex, per city orders. I spoke Tuesday with Augustine Frazier, manager of Catholic Charities' low-barrier men's shelter in northeast Washington, about what he's seen.
What follows is an abbreviated version of our conversation.
National Journal: How long have you worked at the shelter and what do you see in a typical night?
Frazier: I've been with the shelter for six years and capacity for us is 360 people. Sometimes we run over, sometimes we do not. They cue the line up between 3:30 and 5:30 p.m. Intake's at 7 p.m. and people can typically get a sheet, some soup, a towel. They take a shower if they want to and cue up for hot food.
NJ: What happens when you go over capacity?
Frazier: We provide cots.
NJ: How many people did you have last night?
Frazier: We ran up to 370, so 10 over capacity. We made sure we had staffing, made sure everyone got in and at least had some clothes to wear, some food to eat. We have 171 clients in the building as of this interview.
NJ: How do you see your mission as a shelter?
Frazier: It's a continuum, the shelter is part of the continuum on a long-term plan for housing people. I see myself as part of that continuum.