Tea Party Responds to Obama: We Won't Stop Protesting
In his State of the Union response, Sen. Mike Lee tells Americans his group is ready to protest bad policy in 2014 — again, on its own.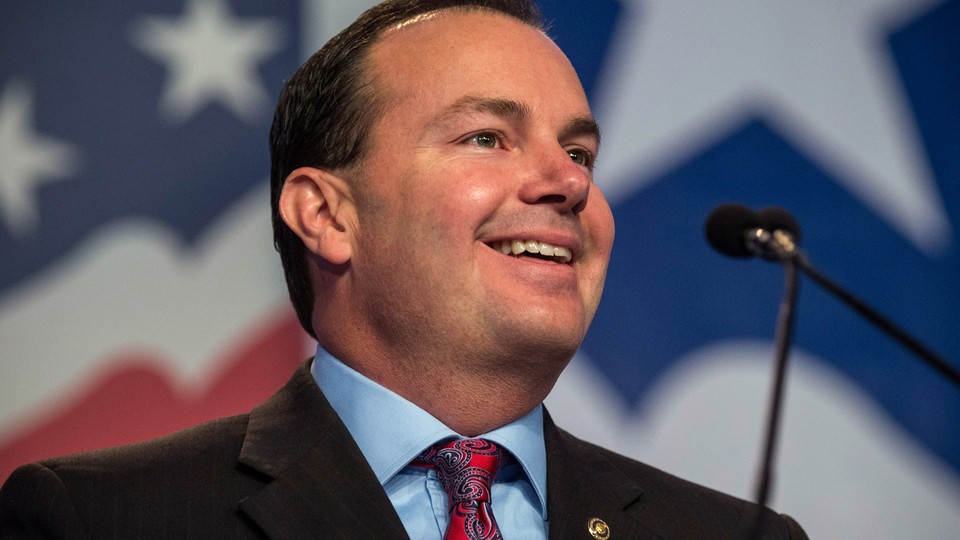 "Obamacare — all by itself — is an inequality Godzilla"
The rift between establishment Republicans and tea partiers has been growing steadily since the government shutdown last fall. In his response to the State of the Union address, Sen. Mike Lee may have stretched it a little bit wider.
"I'd like to speak especially to those Americans who may feel they have been forgotten by both political parties," said Lee, before carving out the tea party's congressional agenda for 2014.
The senator followed the Republican Party's official rebuttal from Rep. Cathy McMorris Rodgers — which struck a more harmonious tone — illustrating the GOP's growing divide. "The Republican establishment in Washington can be just as out-of-touch as the Democratic Establishment," Lee said.
The bulk of Lee's response focused on the centerpiece of Obama's own remarks, income inequality, albeit with a very different flavor. "Where does this new inequality come from? From government," Lee said, later calling the health care law "an inequality Godzilla that has robbed working families of their insurance, their doctors, their wages, and their jobs."
Lee listed several pieces of forthcoming Republican-penned legislation on income inequality, including his own bill that would simplify the tax code.
He didn't directly mention the government shutdown, which has been attributed to tea-party pushback against Obamacare, but unapologetically hinted at it: "Unfortunately, in recent years, we have had no choice but to engage in a number of protests against our current president's Washington-centered agenda."
"Protesting against dysfunctional government is a great American tradition," Lee said, and the tea party's policy fights — against Obama, Democrats and other Republicans — sound far from over. Lee likened the group to the original Tea Party, the big loud one in Boston, as being crucial for change. But sometimes compromise is key. "As Americans we must always be willing to fight the Boston-type battles — boldly calling out bad policy whenever we see it — but we must do so with an eye toward Philadelphia, maintaining a positive focus on the kind of nation we want to be and become," he said.
Such "protests," however, have chipped away at the tea party's public image. Pew noted in an October poll that just 53 percent of Republicans see the tea party favorably, while 27 percent hold an unfavorable view. Among tea partiers, Sen. Ted Cruz's favorability rating was at 74 percent at the height of the shutdown crisis in October. Among non-tea-party Republicans, that number was 25 percent.
The senator's remarks don't just set this year's agenda for the tea party — they outline a plan for its members ahead of midterm elections, too. His words on compromise are likely aimed at House tea partiers, reminding them to hold onto their seats in the GOP-controlled House. And his remarks about protesting "bad policy" are aimed at outside candidates, pushing them to get aggressive in their Senate campaigns. For tea partiers, 2014 is about wrangling power back from Democrats in the Senate.