Sunday News Shows Have Interviewed Two Climate Scientists in Five Years
A group of senators want networks to dedicate more time to covering climate change, but weekend shows almost never invite scientists.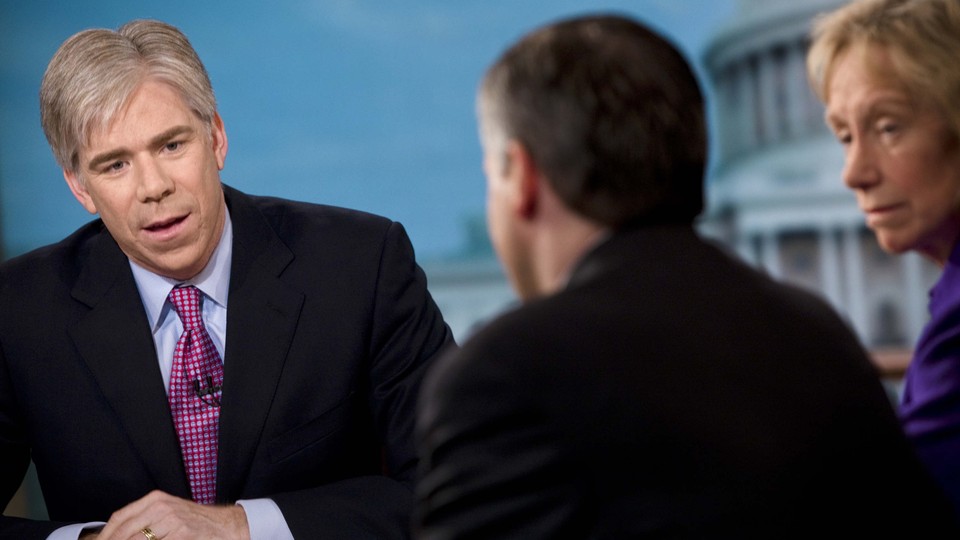 As Senate Democrats urge television networks to report more on global warming, one thing is missing from the news coverage of climate change: scientists.
Only two climate-change scientists were interviewed in 2013 on Sunday news shows on ABC, CBS, NBC, and Fox, according to a study by Media Matters, a left-leaning media watchdog group. Those shows largely ignored the subject last year but still managed to feature four politicians and six media figures in their 2013 coverage, the study said.
And those two scientists, both interviewed on CBS's Face the Nation, were the first in five years to be featured on any of the Sunday shows, according to the study.
Sunday talk shows are particularly important to lawmakers backing climate-change legislation because they help set the agenda for all national media, Sen. Bernie Sanders, I-Vt., told National Journal.
"If they cover it, then The New York Times is going to cover it," Sanders said.
Right now, Sanders said limited discussion about the issue on the Sunday shows is failing to educate the public. While scientists have essentially reached a consensus on climate change, the public is still divided, he said.
Sanders and eight Democratic senators sent a letter Thursday to the heads of the four networks, asking for more coverage of issues relating to climate change.
Networks' preference for pundits over scientists has caused the discussion on climate change to become hyper-political, said Shauna Theel, Media Matters' climate and energy program director.
"They want to show there's still a debate," Theel said. "You want to have both sides, some sort of conflict. So it leads to pundits and politicians debating climate change, rather than saying it's happening and that we're agreed on the basics of the science."
Climate-change coverage was limited overall last year, the Media Matters study found. The Sunday shows covered the topic for less than half the time they did in 2009, when the "Climategate" email-hacking scandal suggested that climate-change scientists had manipulated data.
CBS spent the most time covering climate change last year, dedicating about 52 minutes to the topic between the CBS Evening News and Face the Nation.
Nightly news shows covered the issue more frequently, and about half of their interviews were with scientists, according to the study. That was mainly because those shows included more segments on extreme weather events like wildfires, and they needed scientists to explain how climate change affected those individual events, Theel said.
Cable news channel Al Jazeera America attracted attention in its first week on the air in August when it dedicated 24 minutes to covering climate change in a single day. But in the network's limited debut, it could not have had the same impact as a major network. And lawmakers who support legislation addressing climate change won't be happy until ABC, CBS, NBC and Fox are covering it in-depth.
"If we believe in science," Sanders said, "then I think that the most important media outlets would be having a discussion about the issue with the leading experts on the issue."