SOTU in 8 Thought Drops
The first seven are in different ways encouraging; number eight, less so.
Not doing an annotated version this year, for mainly technical reasons. Thus this bullet-point version. (Plus, discussed the speech this morning on the Brian Lehrer Show on WNYC, and last night right after the event on Charlie Rose.)
1) Theme: it had one. The curse/burden of writing State of the Union messages, and the challenge in listening to them, is that their entire point is to be encyclopedic. It's the president's main shot at listing all the things he's hoping to do. Thus their standard "Turning now to foreign affairs ... " creaky-transition structure, and thus the difficulty of discerning any main theme.
But this one had a theme, and a narrative-argumentative structure. That theme was: things are getting better -- and so, my colleagues in government, let's stop screwing them up. The positive part of the theme allowed Obama to make his version of a morning-in-America presentation: manufacturing up, energy imports and carbon emissions down, health coverage expanding. It also allowed him to make the must-do-more part: inequality and uneven opportunity are the main challenges to doing better. So let's deal with them.
2) Bearing: Obama's mattered. The news of the past few months has all been of a diminished, aloof, estranged, premature-lame-duck Obama. If the man we'd seen last night had resembled the beaten-seeming Obama of the first 2012 Romney-Obama debate, the out-of-it verdict would have solidified. That wouldn't have moved him into permanent figurehead status, because "expert" judgments about politicians are notoriously fickle. (Bill Clinton is now viewed on all sides as a kind of sun king of political dexterity. After the defeat of his medical-care bill, a crushed-seeming President Clinton had to mewl at a press conference that he was "still relevant.") But it would have made things that much harder.
So, all judgments are fluid. But—as he has time and again with "big" speeches—Obama improved his standing by seeming sunny, confident, relaxed, and engaged.
You could say, "Reaganesque," by which I mean: seeming sunnily confident himself, seeming similarly confident about the country, and seeming (most of the time) amused and unflustered by the realities of political division, rather than embittered or scolding about them.
3) American Futures—the speech. It was considerate of the president to begin with a litany of local manufacturing start-ups and community public-private development efforts very much like the ones we've been chronicling in recent months. If he ever tires of Air Force One, there is a seat for him in our Cirrus.
4) Inequality—the shrewd way he positioned it. The news before the speech was that Obama was going to dwell on the worst economic reality of the times, in the United States and virtually all other countries: things are getting better overall, but not for all or even most people. And his opponents were gearing up for a "we are shocked, just shocked by this descent into 'class war' " lament.
So when he talked about strictly economic issues, Obama kept carefully to a "growing pie" tone. It's great that rich people have done so well. Let's help everyone prosper. And when he worked the class-war beat, it was on a front where the Republicans dared not (sanely) oppose him: arguing that today's economy is unfair to women. I.e., to most Americans.
5) Nicest deviation from prepared text—the missing "er." The official text of the speech had this passage about symbols of American opportunity:
Here in America, our success should depend not on accident of birth, but the strength of our work ethic and the scope of our dreams.  That's what drew our forebears here.  It's how the daughter of a factory worker is CEO of America's largest automaker; how the son of a barkeeper is Speaker of the House; how the son of a single mom can be President of the greatest nation on Earth. 
What Obama actually said about John Boehner was, "the son of a barkeep." A tiny difference that was ineffably charming. Boehner himself was manifestly charmed. And the sequence of examples here—first female head of General Motors (which, nudge-nudge, the government helped rescue); the son of a barkeep sitting here behind me; and only then the son of a single mother standing at the podium—put Obama's own story, which is (of course) tremendously important but which (of course) we all already know, in a broader "all in this together" frame.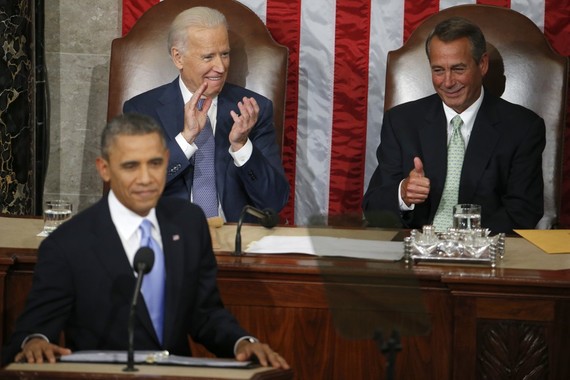 6) Back to vintage-2008 Obama. On the substance, sentences I was very glad to hear:
So, even as we aggressively pursue terrorist networks—through more targeted efforts and by building the capacity of our foreign partners—America must move off a permanent war footing .... And with the Afghan war ending, this needs to be the year Congress lifts the remaining restrictions on detainee transfers and we close the prison at Guantanamo Bay—because we counter terrorism not just through intelligence and military action, but by  
7) Laying down the law, in the right way—about Iran. Also very glad to hear these lines:
Let me be clear: if this Congress sends me a new sanctions bill now that threatens to derail these talks, I will veto it.  For the sake of our national security, we must give diplomacy a chance to succeed...  If Iran's leaders do seize the chance, then Iran could take an important step to rejoin the community of nations, and we will have resolved one of the leading security challenges of our time without the risks of war.
And:
If John F. Kennedy and Ronald Reagan could negotiate with the Soviet Union, then surely a strong and confident America can negotiate with less powerful adversaries today.
Exactly. For later discussion, the way effective (finding bin Laden) and excessive (drone/surveillance) aspects of Obama's records should insulate him from the need to "prove" his toughness.
8) Sergeant First Class Cory Remsburg. About the service and sacrifice of this brave man and other men and women like him, we cannot say enough. As Obama emphasized, Sgt. Remsburg's grave injury came on his tenth deployment. I do not doubt that Obama, like his wartime predecessors, is genuinely seized by both anguish and admiration about the people he has sent into harm's way. Even when, and perhaps more so when, like Obama he has been trying to withdraw those troops.
And no one can doubt the drama and power of the speech's closing minutes.
But while that moment reflected limitless credit on Sgt. Remsburg, his family, and others similarly situated; and while I believe it was genuinely respectful on the president's part, I don't think the sustained ovation reflected well on the America of 2014. It was a good and honorable moment for him and his family. But I think the spectacle should make most Americans uneasy.
The vast majority of us play no part whatsoever in these prolonged overseas campaigns; people like Sgt. Remsburg go out on 10 deployments; we rousingly cheer their courage and will; and then we move on. Last month I mentioned that the most memorable book I read in 2013 was Billy Lynn's Long Halftime Walk, by Ben Fountain. It's about a group of U.S. soldiers who barely survive a terrible encounter in Iraq, and then are paraded around in a halftime tribute at a big Dallas Cowboys game. The crowd at Cowboys Stadium cheers in very much the way the Capitol audience did last night—then they get back to watching the game.