Sorry, Brian Williams, You're No Walter Cronkite
Confusion between the NBC newsman and VP Joe Biden shows the slipping profile of America's top anchors.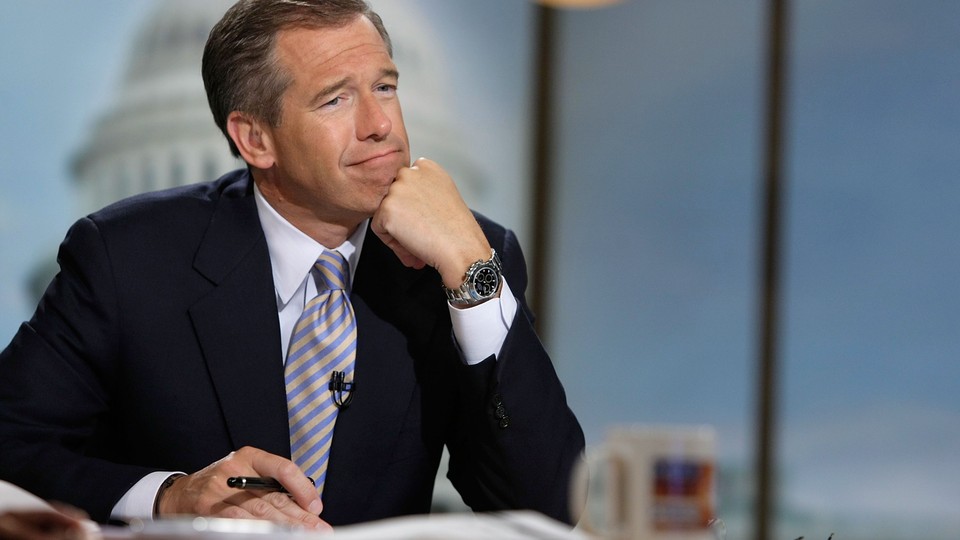 The way America gets its news is changing — and it's relegating the once-famous news anchor into a broad category of vaguely good-looking older men who wear ties.
NBC Nightly News anchor Brian Williams, perhaps the closest modern equivalent to Walter Cronkite, is unrecognizable to a majority of Americans, according to an online poll conducted by the Pew Research Center in August. When shown his photograph, some respondents even confused Williams for Vice President Joe Biden or former Republican presidential nominee Mitt Romney.
A majority of respondents, 53 percent, had no idea who Williams was when shown his photograph, and 18 percent of respondents guessed the wrong person. Only 27 percent correctly identified him.
Former journalists, including Tom Brokaw, Peter Jennings, Dan Rather. and Ted Koppel, were also among respondents' incorrect guesses.
The poll depicts the steady decline of broadcasters' influence in America over the last three decades. In 1985, 47 percent of survey respondents recognized Rather's photograph. And the future looks even bleaker for television journalists, considering that only 15 percent of 18- to 29-year-olds recognized Williams.
Williams shouldn't take it personally. The survey results are largely due to a broad shift in how people consume news. According to a 2012 Pew survey, only 27 percent of respondents regularly watched nightly network news, compared with 60 percent in 1992.
And the decline has occurred across the political spectrum. In 1985, 50 percent of Republicans and 49 percent of Democrats recognized Rather. Last year, only 28 percent of Republicans and 32 percent of Democrats recognized Williams.
Although fewer people are watching the nightly news on a regular basis, television is still Americans' top news source, according to a June 2013 Gallup Poll. The majority of respondents, 55 percent, said they turned to TV for news, but the Internet and cable news are both encroaching on networks' territory. The Internet was the top news source for 21 percent of respondents; Fox received 8 percent of votes and CNN received 7 percent. Only 1 percent of the Gallup Poll respondents chose NBC as their top news source.
The numbers certainly put a damper on Williams's success. Although NBC Nightly News topped the evening-newscast rankings for the 17th year in a row in the 2012-13 season, Williams may now be atop a small pyramid compared with past decades.