So, What Is a Traffic Study?
A brief explainer of the common transportation tool that has engulfed Chris Christie's office in controversy.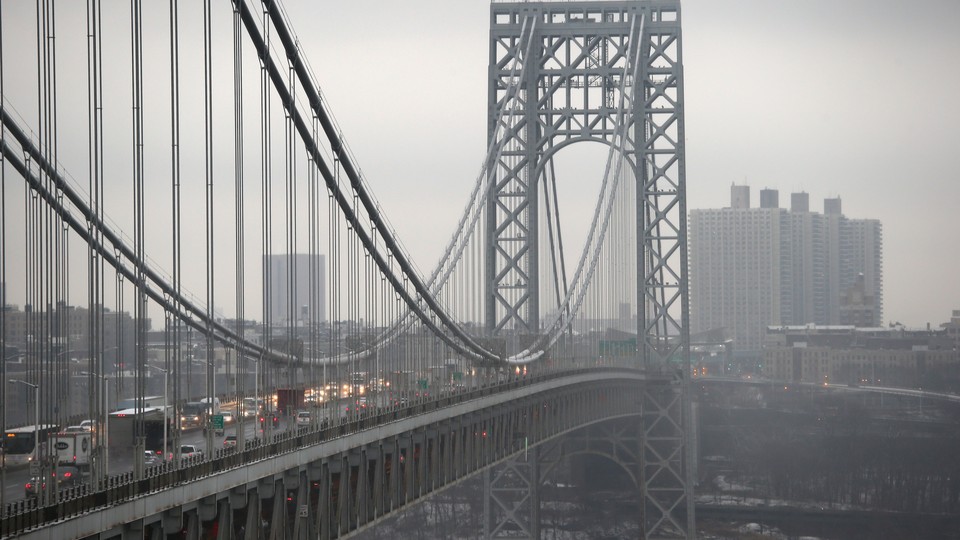 "I probably wouldn't know a traffic study if I tripped over it."
New Jersey Gov. Chris Christie clearly doesn't know what a traffic study is, but in all fairness, who does — other than the occasional urban-studies student or municipal employee? But a supposed traffic study is at the center of a controversy that has engulfed the Republican governor's office.
In September, the Port Authority closed down two of the three upper-level toll lanes on the George Washington Bridge connecting New York and New Jersey. The closures caused massive traffic jams, even slowing an emergency response for a woman who would later die. The aftermath of this controversy has left one of the governor's top aides without a job and threatens the possible presidential prospects for the straight-talking state executive.
But what is a traffic study?
It's actually a common tool used by municipal governments considering new developments near major roads.
Before construction begins on a new road, traffic signal, or turn lane, transportation officials want to see the impact that construction would have on local traffic and what sort of demands would come from it.
So, officials close down certain roads or lanes to see how much congestion builds up and observe what other roads — usually not used for through-traffic — people take to get around the blockage. The data that officials gain through observing the traffic jams will give municipalities enough information to justify certain land use and prepare for the eventual construction.
Generally, a road that would require a traffic study is one with "100 newly generated vehicle trips in the peak direction (inbound or outbound) during the site peak traffic," according to guidelines from the Institute of Transportation Engineers.
Eventually, the impact study will outline how much traffic exists during peak times, which roads vehicles utilize, and what adjustments need to be made in surrounding roadways.
In this case, the Port Authority of New York and New Jersey was the administrative body that supposedly conducted the traffic study. However, officials say they doubt such a study existed. Christie is leaving the door open: "There may still have been a traffic study."
It's unclear what construction project would have required such a study. If he wants to investigate this further, hopefully Christie now knows what he's looking for.