Seat-Sharing Incident at State of the Union Ends in Grimm Joke
Rep. Jim Himes to mistaken reporter: "Please meet me at the Cannon balcony."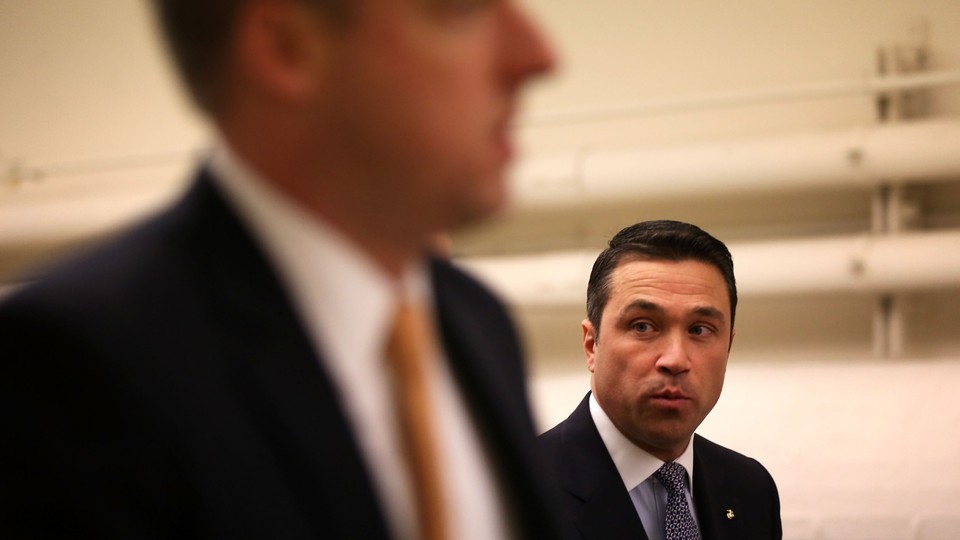 Republican Rep. David Valadao was supposed to be Democratic Rep. Kyrsten Sinema's date from the other side of the aisle at the State of the Union Tuesday night. But during the president's speech, he was upstaged by Illinois Rep. Aaron Schock, who, seeing that the seats next to Sinema were full, squeezed in beside her.
Schock and Sinema, two of the youngest members of Congress, were spotted snapping selfies on the House floor, with Schock perched on the edge of Sinema's seat. Those photos still haven't surfaced on social media, but the congressman tweeted a photo of himself with Sinema and two other members of the Arizona delegation, Democrat Ron Barber and Republican Matt Salmon, before the speech.
Schock occasionally stood with Democrats during the speech to allow Sinema to get up and applaud, Roll Call's Matt Fuller reported on Twitter. Fuller, however, confused Schock with Rep. Jim Himes, D-Conn., and later apologized.
But Fuller's apology came too late for Himes, who issued a challenge to the reporter à la Rep. Michael Grimm, D-N.Y., earning himself the congressional Tweet of the Day.
The congressman followed up with another joke, parodying Grimm's "I'll break you in half" threat to a reporter.
Was just doing some media at Cannon rotunda. Lots of split infinitives, a few broken men and women, but none precisely halved.

— Jim Himes (@jahimes) January 29, 2014
{{ BIZOBJ (video: 4694) }}