Robert Gates: The Iraq War Undermined U.S. Efforts in Afghanistan
The former secretary of defense also says that American foreign policy is too militarized and that politicians can't be trusted to do what's right.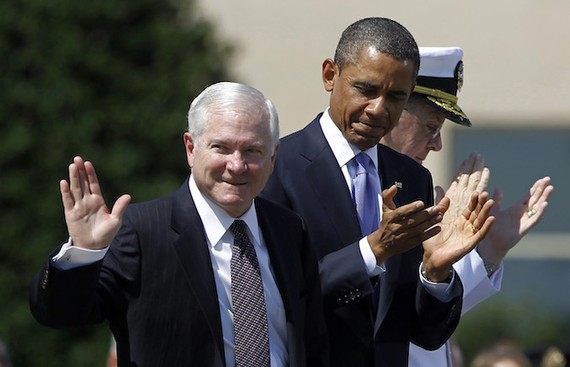 Within the Republican Party, a substantial faction still refuses to acknowledge and may not even believe that the Iraq War was a historic catastrophe that weakened America. So it is worthy of note when a former secretary of defense who served under Presidents Bush and Obama writes this in his forthcoming memoir:
President Bush always detested the notion, but our later challenges in Afghanistan—especially the return of the Taliban in force by the time I reported for duty—were, I believe, significantly compounded by the invasion of Iraq. Resources and senior-level attention were diverted from Afghanistan. U.S. goals in Afghanistan—a properly sized, competent Afghan national army and police, a working democracy with at least a minimally effective and less corrupt central government—were embarrassingly ambitious and historically naive compared with the meager human and financial resources committed to the task, at least before 2009. 
This critique is nothing new. It helped Barack Obama to get elected president in 2008. But perhaps hearing it from Robert Gates will make the point more palatable to Republicans: The Iraq War undermined the most significant anti-terrorism campaign that the United States launched after 9/11, and made us less safe as a country. The GOP and the country would both be better off if anyone who still insists that invading Iraq was prudent never again gets to shape U.S. foreign policy.
That should just be a baseline.
* * *
An excerpt from Gates book in The Wall Street Journal includes a lot more provocative material.
Gates goes on to criticize our current commander in chief, airing their differences in opinion about how best to wage the war in Afghanistan, as well as this:
With Obama ... I joined a new, inexperienced president determined to change course—and equally determined from day one to win re-election. Domestic political considerations would therefore be a factor, though I believe never a decisive one, in virtually every major national security problem we tackled. The White House staff—including Chiefs of Staff Rahm Emanuel and then Bill Daley as well as such core political advisers as Valerie Jarrett, David Axelrod and Robert Gibbs —would have a role in national security decision making that I had not previously experienced (but which, I'm sure, had precedents). 
This is refreshing.
Americans would do well to remember that, even when making national-security decisions, presidents are often self-interested actors influenced by political calculations in addition to the course that they regard as best. It is dangerous to treat them as if they wouldn't ever act from less noble motives. Gates adds, "I saw most of Congress as uncivil, incompetent at fulfilling their basic constitutional responsibilities (such as timely appropriations), micromanagerial, parochial, hypocritical, egotistical, thin-skinned and prone to put self (and re-election) before country."
It matters that many members of Congress are selfish and unprincipled! A closer eye must be kept on the body than if it was filled by paragons of selfless service to country.
Perhaps a subset of the actual, depraved Congress can't be trusted to carry out the will of the people in secret sessions purporting to provide adequate oversight of mass spying. The degree of trust national-security-state enthusiasts want citizens to vest in the federal government seems absurd when you consider the questionable character and competence of many of the people who are charged with oversight.
* * *
The most extraordinary parts of the excerpt come towards the end, when a former secretary of defense worries aloud that too many American elites are war mongers. That isn't the word that he uses. He calls them "fire-breathers." His warning:
Wars are a lot easier to get into than out of. Those who ask about exit strategies or question what will happen if assumptions prove wrong are rarely welcome at the conference table when the fire-breathers are demanding that we strike—as they did when advocating invading Iraq, intervening in Libya and Syria, or bombing Iran's nuclear sites. But in recent decades, presidents confronted with tough problems abroad have too often been too quick to reach for a gun. Our foreign and national security policy has become too militarized, the use of force too easy for presidents. Today, too many ideologues call for U.S. force as the first option rather than a last resort.

On the left, we hear about the "responsibility to protect" civilians to justify military intervention in Libya, Syria, Sudan and elsewhere. On the right, the failure to strike Syria or Iran is deemed an abdication of U.S. leadership. And so the rest of the world sees the U.S. as a militaristic country quick to launch planes, cruise missiles and drones deep into sovereign countries or ungoverned spaces. 
Again, a former secretary of defense just said that the rest of the world sees us as a militaristic country, and that we should resort to force less often than we do now. Focusing on his criticism of Obama leads the public away from a lot that is more noteworthy.