Republicans Are Likely to Cave on Debt Ceiling. But That Won't Be the End of It.
House conservatives are already plotting retribution.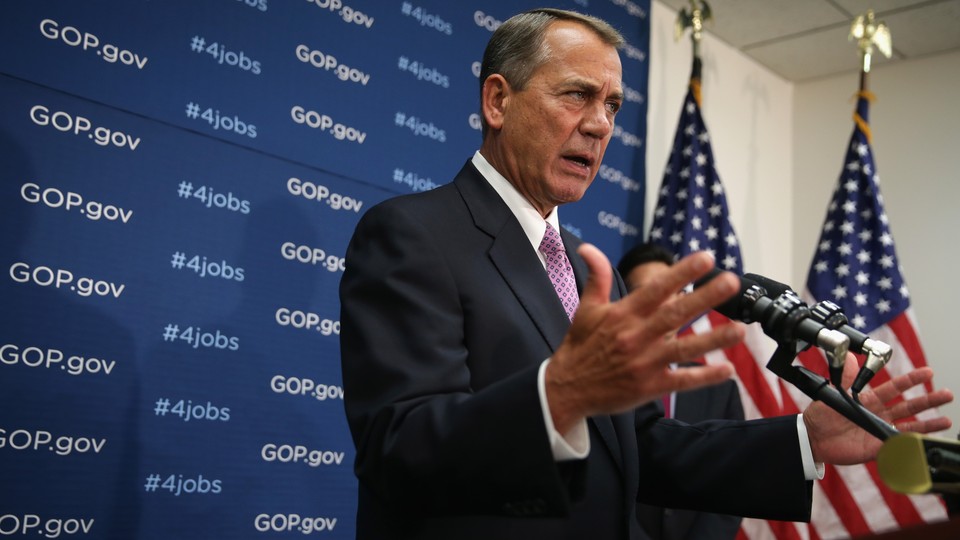 Conservatives are already gearing up for another fight over the debt limit next month, but their first battle could come as soon as Thursday as they face off with members of the House Republican leadership who, they say, appear to be ready to cave.
House Republicans will devote several hours at their annual retreat this week to discussing their tactics on the debt ceiling. But many conservatives, who insist that they will not give the Obama administration another debt ceiling increase without getting something in return, are growing increasingly concerned that Republican leadership isn't in their corner.
Treasury Secretary Jacob Lew has given Congress an end-of-February deadline to raise the debt ceiling to avoid default. House Speaker John Boehner has insisted repeatedly that Republicans will not allow the country to default, and that has some conservatives nervous that he has reduced their leverage on the issue.
"I suspect a fairly great amount of pressure to leave, quote, 'good enough alone,'" Rep. Mark Sanford, R-S.C., said.
Rep. Tom Cole of Oklahoma, who is a member of House Republican leadership, defended Boehner on Tuesday, arguing that the debt-ceiling debate depends not on the speaker, but on President Obama's willingness to negotiate. "I think the important thing is what the White House's attitude is. If it's going to be, 'You have to do this, and we're not going to give you anything,' you know, that's going to be a very tough sell in the Republican Conference," Cole said.
Cole conceded that if the president isn't willing to give anything, Republicans will likely pass a clean debt-ceiling increase anyway, wanting to avoid a default — particularly in light of the October shutdown that so badly damaged his party's brand.
But Cole also noted that Congress has accomplished some pretty difficult tasks over the last two months: passing a budget agreement that no one expected would be made, and writing up a 12-part omnibus in just a month's time. And they're poised to pass the-farm-bill-that-couldn't this week. But all of that could change — quickly, he said — if Obama forces conservatives to pass a clean debt-ceiling increase.
"If the president tries to overplay his hand, [he] may succeed here. But those are the kinds of things that people have a way of remembering," Cole said. "And it complicates things like immigration reform that I know he wants to get done. It complicates other issues."¦ If it's going to be another struggle, no matter who wins, it's going to poison the well for the rest of the year."
Both immigration and the debt-ceiling debate will be major topics of discussion at this week's retreat, which begins Thursday. Conservative members say they will push a number of policy riders to attach to the debt ceiling, posing a clear message to Boehner that they won't just give the president something for nothing and wait for future battles.
A number of options for the debt limit are currently being discussed, including a repeal of several measures in the president's health care law. They include: repealing the Independent Advisory Payment Board, the group that will make binding recommendations to Congress to reduce Medicare costs beginning in 2015; overturning the medical-device tax; and removing the law's "insurance bailout" that provides federal funding to insurance companies to offset the costs of certain new customers brought to them under the Affordable Care Act.
The Keystone XL pipeline could be another option for conservatives who are determined to put up a fight.
Conservatives expect a fair amount of infighting, even among supporters. Rep. Steve King of Iowa said Tuesday that he had heard a number of proposals for a debt-ceiling deal, but he is skeptical there is enough willingness within his caucus to hold its ground.
"I think the folks that might want to go along with those things should demonstrate their conviction first. They don't have to wonder about mine."¦ Anything that we might decide we want to attach, we have to be willing to hold our ground," he said.
Asked if he planned to spend the retreat getting members to commit to standing their ground, King sighed. "I actually don't know if that can be done."