Rand Paul: Hillary Clinton Is a 'Big Proponent of the Surveillance State'
A preview of a 2016 campaign argument?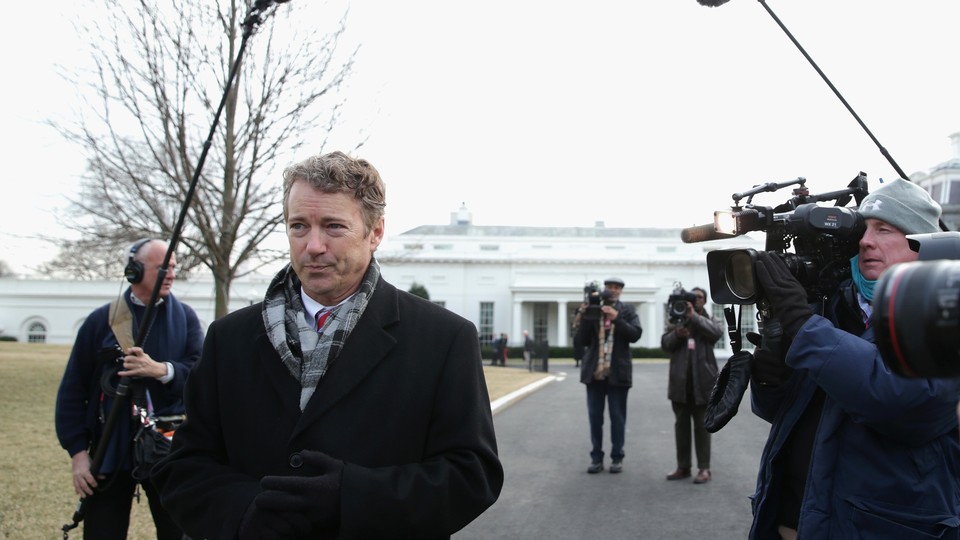 Sen. Rand Paul offered a possible preview of the 2016 presidential campaign Tuesday.
The Kentucky Republican argued that the GOP could win over young voters and independents by opposing the National Security Agency's surveillance powers, and took a swipe at possible Democratic candidate Hillary Clinton.
"I think in 2016 if you had a more libertarian-leaning Republican, and you had someone like Hillary Clinton, I think you could actually completely transform where people think they are and what party people think they have allegiance for," Paul said at the State of the Net conference in Washington.
"Has she said anything about privacy? She's been a big proponent of the surveillance state and the NSA."
Paul is widely believed to be mulling a White House bid and Clinton, the former secretary of State, would be considered the favorite to win the Democratic nomination if she runs.
Paul's comments appear to represent a growing consensus within the Republican Party about the NSA. The Republican National Committee approved a resolution last week with near-unanimous support condemning the agency's surveillance practices.
In a discussion at Colgate University last year, Clinton called for a "full, comprehensive discussion" about the NSA, according to a Wall Street Journal report.
But she also defended the agency, saying, "From my own experience, the information-gathering and analyzing has proven very important and useful in a number of instances."
At Tuesday's conference, Paul said he hopes his lawsuit against the NSA, which he has yet to file, will ultimately reach the Supreme Court. A federal judge in Washington ruled last month that the NSA's bulk collection of millions of phone records is unconstitutional, but a federal judge in New York upheld the program in a separate lawsuit. Both cases are being appealed.
{{ BIZOBJ (video: 4678) }}