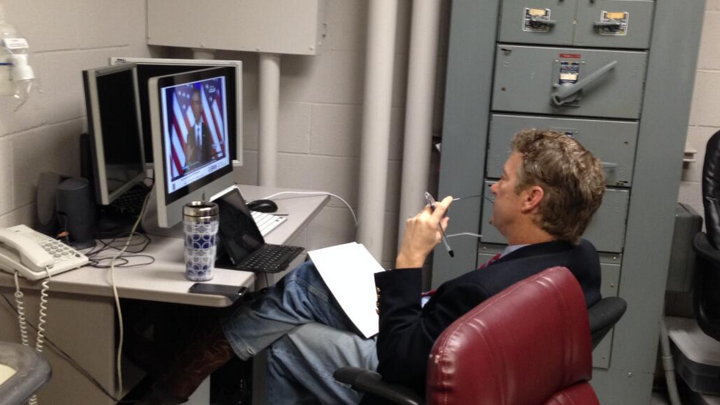 This article is from the archive of our partner

{{ BIZOBJ (video: 4664) }}
It looks like President Obama's latest reforms to the National Security Agency's surveillance program did not satisfy Sen. Rand Paul.
The Kentucky Republican has been one of the leading critics of the administration's data-collection program. And while the president announced it would be slightly reined in and certain surveillance on foreign leaders would stop, Paul said the reforms didn't go far enough.
"I think what I heard is that if you like your privacy you can keep it," Paul zinged on CNN following the president's address. Going after the president's reference to the Revolutionary War, he poked further: "Paul Revere was warning us that the British were coming, not that the Americans were coming."
The libertarian lawmaker contends that the federal government can still collect private information, even credit-card information, without a warrant. His biggest point: The program violates the Fourth Amendment to the Constitution, which requires individualized warrants based on probable cause.
"I don't want them collecting the information," Paul continued on CNN. "It's not about who holds it."
This is ultimately an issue that he said would need to be decided by the Supreme Court.
Paul also gave credit to leaker Edward Snowden for Friday's announcement from the president.
"I think there would have been absolutely no reform without Snowden," Paul said. "We wouldn't have any of this, we wouldn't have any discussion."
Paul said that while he believes Obama's "heart really is in the right place" and that his "motives are not bad," the White House does not have "enough healthy respect for the Fourth Amendment."
At the end of the interview, Paul was asked to give the president a grade for his speech: an "A" for effort, "C" for content.
This article is from the archive of our partner National Journal.
We want to hear what you think about this article. Submit a letter to the editor or write to letters@theatlantic.com.