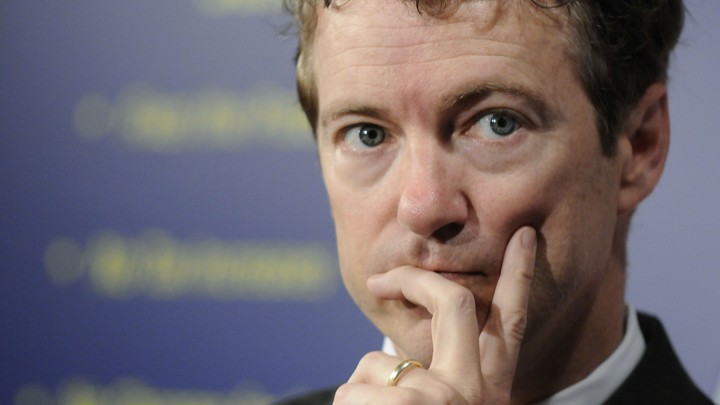 This article is from the archive of our partner

{{ BIZOBJ (video: 4678) }}
Republican Sen. Rand Paul took a shot at the 42nd President of the United States on "Meet the Press" Sunday. Paul, who is considering a bid for the presidency in 2016, was asked whether the Monica Lewinsky scandal would be fair game if Hillary Clinton decides to run for president as well.
"He took advantage of a girl that was 20 years old and an intern in his office," the Kentucky senator said of Bill Clinton. "There is no excuse for that and that is predatory behavior. "¦We shouldn't want to associate with people who would take advantage of a young girl in his office," Paul said Sunday.
"If there was somebody in my community who did that "¦ we would disassociate from [them]," he added.
Paul wouldn't say whether Bill Clinton's past reflected on his wife's abilities to potentially run the country, but added that the Clintons are a team and that "sometimes it's hard to separate one from the other."
Sen. Dick Durbin, D-Ill., hit back against Paul's comments. "Hillary Clinton has established her own reputation, her own name," Durbin said on "Meet the Press." "The issues that were raised by my colleague Sen. Paul, have been litigated in the public square for over a decade."
Paul's comments came as part of a larger discussion of the "war on women," and particularly former Arkansas Gov. Mike Huckabee's comments last week.
Paul, in his appearance on both "Meet the Press" and CNN's "State of the Union" attempted to reframe the ideological war between the two parties over female voters, arguing that "If there was a war on women, I think they won."
"I've seen the women in my family and how well they're doing. My niece is in Cornell [veterinary] school and 85% of the people in vet school right now are women. Over half of the young people in medical school and dental school are women. Law school, the same way," Paul said on CNN. "I think women are doing very well and I'm proud of how well we've come and how far we've come, and I think that some of the victimology and all this other stuff is trumped up. We don't get to any good policy by playing some sort of charade that somehow one party doesn't care about women or one party is not in favor of women advancing or other people advancing."
"I don't see so much that women are downtrodden. "¦ In fact, I worry about our young men sometimes," Paul added on "Meet the Press," arguing that young men are becoming less competitive in higher education than their female counterparts.
Pressed on Huckabee's statement last week that Democrats seem to be arguing that women "cannot control their libido" without the help of government, Paul demurred. "I try not to ever have discussions of anatomy, unless I'm at a medical conference.," the ophthalmologist joked.
This article is from the archive of our partner National Journal.
We want to hear what you think about this article. Submit a letter to the editor or write to letters@theatlantic.com.