Private Sector Takes Lead on Crude-by-Rail Safety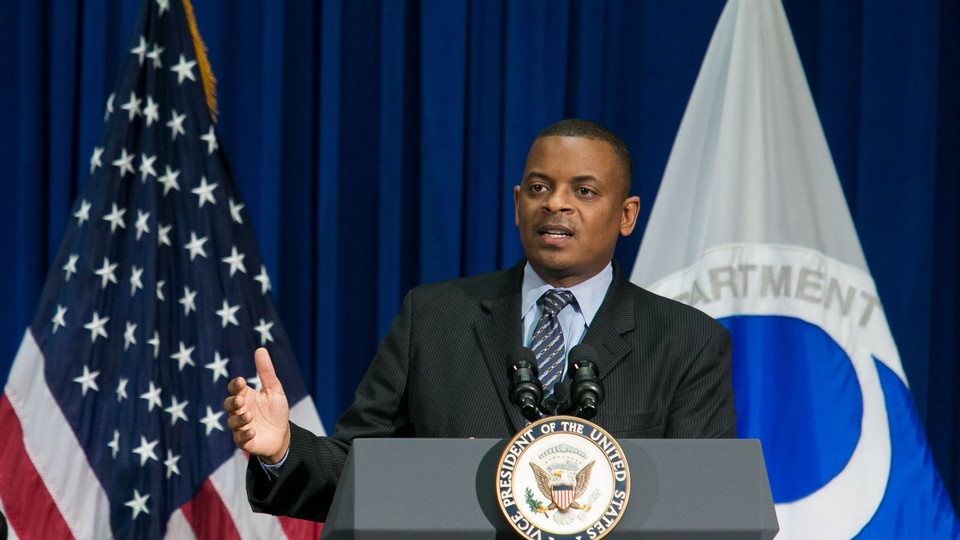 Federal regulators announced Thursday that the rail and energy industries will take steps to improve the safety of crude-by-rail shipments in the wake of a string of recent accidents.
Both industries will work to determine if improvements to existing Association of American Railroad tank-car standards are needed to improve rail safety, Transportation Secretary Anthony Foxx told reporters during a press call.
The secretary did not elaborate on how the improvements would be made.
Foxx was joined on the call by the head of the Pipeline and Hazardous Materials Safety Administration, Cynthia Quaterman, and the leader of the Federal Railroad Administration, Joseph Szabo. All three officials took part in a meeting on Thursday with rail, oil, and natural-gas stakeholders that was described by Foxx as a "call to action" on crude-by-rail safety.
As a result of the negotiations, representatives from the rail industry also pledged to reduce the speed at which tank cars carrying crude oil travel in parts of the country where accident risk is the greatest.
The oil and gas industry, for its part, plans to work with DOT to share information about the content and volatility of crude-oil shipments to increase transparency and aid public- and private-sector efforts to improve tank-car safety.
Foxx praised industry leaders for their willingness to undertake the changes.
"I was heartened to hear the industry say to us that they have a strong and vested interest in the safety of material being transported around the country, particularly this crude oil," Foxx said, adding, "We asked the industry for some specific, immediate deliverables, and we are pleased to see the industry respond."
The press briefing came one day after Sen. John Hoeven, R-N.D., criticized the department for not moving quickly enough to finalize rail-car safety regulations.
"We are concerned that unless DOT provides guidance sooner, the timeline will be too long for industry to transition to newer, safer tank cars in a timely way," the senator said in a statement in response to a notice from the department that new regulations were not likely to be finalized until 2015.
When asked whether DOT can do anything to fast-track the rulemaking, Foxx replied, "We will continue to move as quickly as we can "¦ [but] what we are trying to deal with here is a comprehensive strategy that contains a heavy dose of prevention."
CORRECTION: An earlier verion of this story stated that the rail and oil and natural gas industries would make safety improvements to tank cars within thirty days.