Outside Energy Experts Question EPA Reliance on "˜Unproven' Clean-Coal Technology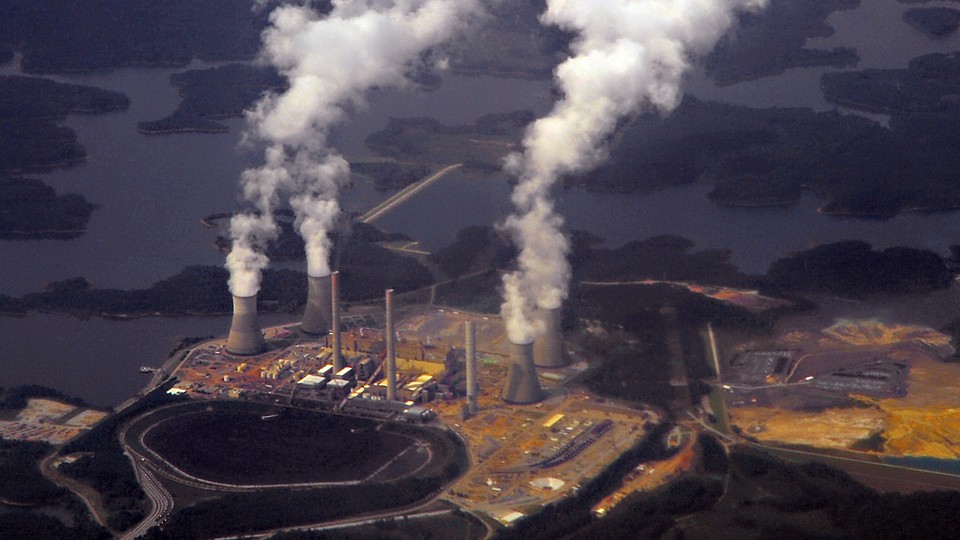 The Obama administration should not depend on so-called "clean-coal" technology to roll out its climate-change rules for power plants, according to a new report released Tuesday that was done in consultation with the White House.
"This technology is only just gaining maturity for power generation," said former Colorado Gov. Bill Ritter, a Democrat, who spearheaded the report with 100 clean-energy executives and experts. "We are not saying CCS [carbon capture and sequestration] isn't commercially viable, but it is unproven enough to not bank [greenhouse-gas] targets alone on this target."
Ritter said that he doesn't think there are yet any fully operational power plants that employ CCS, commonly called "clean coal" technology. The first two generating plants with CCS in North America — one project in Mississippi by Southern Company and another one in Canada — are expected to come online this year, Ritter said.
Environmental Protection Agency Administrator Gina McCarthy and other Obama administration officials have repeatedly said CCS technology is commercially available, and they have cited the Southern project as a model for other power plants to follow in order to comply with EPA's impending climate rules.
The report, which spans 200 pages and includes 200 executive-action recommendations, focuses mostly on renewable energy and natural gas. The point about CCS is tucked away on page 134, and its language is a bit more vague than Ritter's comments.
The report suggests: "Instruct agencies that in setting national priorities for energy resources generally and for transportation fuels in particular, the administration will not rely on unproven or commercially unavailable technologies — for example, reducing the climate impact of a fuel with a carbon capture and sequestration. One objective of setting performance-based goals rather than fuel-specific goals should be to avoid assumptions about unproven or insufficiently scaled technical fixes to [greenhouse-gas] emissions."
A spokeswoman at the American Coalition for Clean Coal Electricity, the coal industry's main lobbying arm, did not have an immediate comment about the report.
In general, fossil-fuel industries felt left out of the report, which Ritter and others — including President Obama's former top energy and climate aide, Heather Zichal — touted Tuesday at an event in Washington.
"They didn't check with us, that's for sure," said Thomas Pyle, president of American Energy Alliance, a conservative industry group backed by the billionaire Koch brothers.
A spokesman for the American Petroleum Institute also said he did not know of anyone at the biggest trade association for the oil and gas industry who had been asked to provide input for the report.
The report focuses more on renewable energy and natural gas than on coal or oil. One recommendation it provides is for the administration to work with states to "develop a nationwide methane reduction strategy in the natural gas value chain." Leaks of methane, a greenhouse gas 20 times more potent than carbon dioxide, have raised concerns about the climate benefits of natural gas, even though it produces half the carbon emissions of coal when burned for power generation.
America's Natural Gas Alliance, a trade association for the U.S. gas industry, reacted cautiously to the report, which also advocates for strong environmental controls on the fast-growing production process known as fracking.
"From a read of the executive summary, there are recommendations throughout that could affect how natural gas is produced and used, potentially impacting the many benefits it brings to our nation for power generation, transportation, and manufacturing," said Amy Farrell, ANGA's vice president of market development.
"We will be reviewing the report to see how the recommendations comport with a level-playing-field approach for all energy sources as our energy demands continue to grow," Farrell added.
The report was based on input from more than 100 energy experts, including officials from utilities such as NextEra, Sempra, and Southwest Power, and at least one major natural-gas producer, Anadarko.
Top executives of these companies were among those present at a 90-minute meeting that Ritter and others held with President Obama last March, when work on the report began. Other than those companies, Ritter would not disclose which fossil-fuel companies were involved in the report, but he indicated that the industry was represented.
"We did have several utilities participate which have significant coal assets," Ritter said in an email after the report's release. "We did not have coal mining companies involved. Regarding natural gas, we had a few oil and gas companies involved, and three representatives of national natural gas trade associations and one state oil-and-gas trade association involved. I am not at liberty to reveal those companies or the trade associations."
Stephen Comstock, director of tax and accounting policy at API, said that if the report's definition of parity was not designed to penalize the oil and gas industry, then the trade group would support the recommendation.
"We don't necessarily have a problem with parity in the tax code," Comstock said. "To me, though, the point of parity is that everyone is treated the same, so what we wouldn't support is any policy that would unfairly target the oil and gas industry. We don't support reform of the tax code that pits one form of energy against another or has one industry act as an offset for spending on another."