Omnibus Spending Bill Nearly Done, but Passage Could Take All Week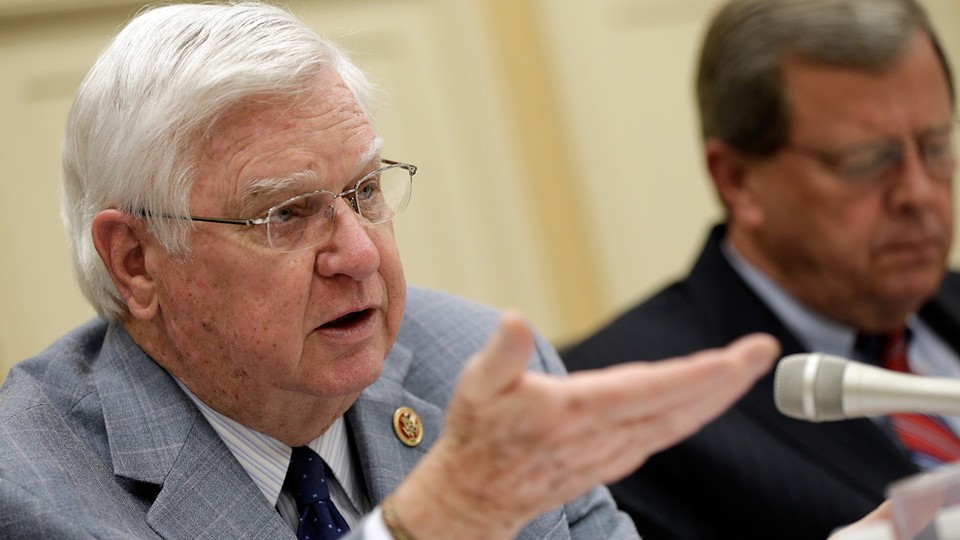 Negotiators in the House and Senate are racing against the clock to put together a 12-part omnibus that will fund the government until the end of September, a process that typically takes months. But with just days to go before the expiration of current funding on Wednesday, appropriators are asking for more time.
House Appropriations Committee Chairman Harold Rogers said Friday that 10 of the 12 bills that will make up the final package are finished, but arguments over funding for the Affordable Care Act and a number of riders would keep negotiators in Washington over the weekend, with the goal of announcing a final bill on Sunday or Monday.
"This is a huge undertaking that we've been undertaking. A year's work condensed into 30 days minus holidays," Rogers said.
Given the short time frame, Rogers filed a continuing resolution on Friday that will fund the government at current levels from Jan. 15-18 in order to buy more time for passage. The CR is expected to come to the House floor Monday with a Senate vote shortly after, and is expected to pass both chambers easily.
House Majority Leader Eric Cantor announced the schedule change Friday, noting that leadership is optimistic that an omnibus will soon reach the House floor. "[Speaker Boehner] is hopeful that they will finish their work by September — January the 18th. I hope that wasn't a Freudian slip," he added, chuckling.
The CR will give Congress until midnight Saturday to pass the omnibus, allowing a few days for the bill to overcome a series of procedural hurdles.
"We're making solid progress and I'm confident that next week we'll have a bipartisan agreement that finds common ground," Senate Appropriations Chairwoman Barbara Mikulski said Friday. "This very short extension is needed to prevent any funding gaps as the agreement moves through the House and Senate next week."
Rogers and Mikulski, along with their staffs, planned to work through the weekend in order to finalize the omnibus legislation. Rogers said Friday that he expected to release the bill late Sunday or Monday, setting up a vote in the House on Tuesday or Wednesday.
Rogers also said that while most of the funding issues had been resolved, he and Mikulski were continuing to work through a number of riders on several of the bills. Rogers would not specify which of the bills are outstanding, adding: "I like to keep you guessing."
But given the issues with the Labor-Health and Human Services-Education bill, it is likely to be the last piece to be resolved. Members are haggling over additional cuts to the Affordable Care Act and changes to its contraception mandate, as well as funding for early childhood education.
Still, Rogers was insistent that he and Mikulski would finish their work and get all 12 bills into the final legislation. "It's just a matter of working out the differences between the Senate and the House to everyone's satisfaction. And you know, there are literally tens of thousands of details in this thing," he said.
Appropriators have confirmed that the Agriculture-Rural Development; Commerce-Justice-Science; Defense; Energy; Interior; Legislative Branch; Transportation-Housing and Urban Development; and Military Construction-Veterans Affairs bills are essentially done as well. But members warn that none of the bills can be called fully locked down until the negotiations around all 12 are resolved.
Sen. Patty Murray, who chairs the Transportation-HUD Subcommittee, grinned when asked about the status of her bill, noting that the often controversial piece of legislation was nearly finished before walking up to a column outside the Senate chamber to literally knock on wood.
Sen. Mary Landrieu, D-La., hesitated to add her Homeland Security bill to the list of completed bills Thursday. "Our bill is in very good shape.... The bill is not technically 'closed out' because there are one or two issues that the leadership has yet to resolve, but those I understand are being resolved today or tomorrow," she told reporters Thursday.
The omnibus is expected to be a clean bill that will fund the various departments of government at $1.012 trillion for fiscal 2014, which began in October and runs through Sept. 30. The figure represents a hard-fought agreement between Murray and her Budget Committee counterpart in the House, Rep. Paul Ryan, that is the exact halfway point between the House and Senate budgets passed last year.
As the deadline nears, outside groups like the Heritage Foundation are sounding the alarm among their members, warning that members of Congress will have little to no time to read the omnibus legislation before it passes.
Still, Rep. Tom Cole, R-Okla., who heads the Legislative Branch Appropriations Subcommittee, predicted that the funding levels alone could cause some rancor when the omnibus hits the House floor this week. And cuts to Defense outlined in the Ryan-Murray budget agreement may be difficult for some Republicans to swallow, he added.
"There are winners and losers and Defense lost. But it didn't lose as badly as it would have under sequestration. At least it's got some stability," Cole said Friday, noting the nearly $40 billion gap between the $520.5 billion outlined in the budget deal and the $560.2 billion Republicans prescribed in their budget last year.
Nonetheless, Cole said he expects the omnibus to pass easily.
"There'll be some people that think it's too much spending from $967 [billion, the topline figure set in the fiscal 2014 House Republican budget] and there'll be some people that think, no, there's too many cuts," Cole said Friday. "But I think at the end of the day, there will be a majority of the majority on our side and there will be a majority of the minority on their side."