Obama's Do-It-Yourself Approach Turns to Education
As with practically every other area of policy, the president isn't waiting for Congress anymore.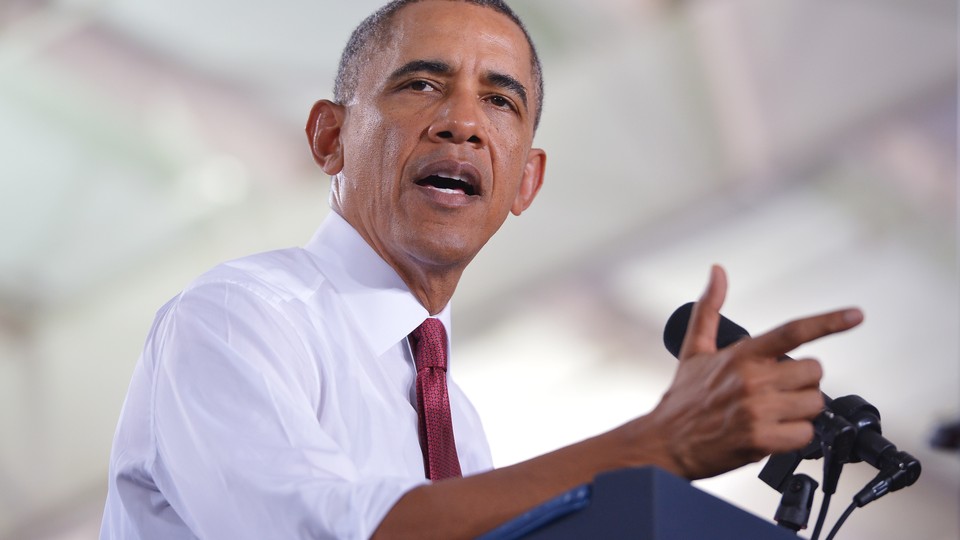 With the federal government, particularly congressional Republicans, reluctant to put much money into education initiatives, President Obama is going it alone to enact reforms.
A Fox News education editorial published Wednesday by House Speaker John Boehner hints at why. In his op-ed, "Why School Choice Opens a Door to the American Dream," Boehner praised private and charter schools as the big educational equalizer. "When parents have the ability to select the best learning environment for their kids, they thrive and so do their communities," he wrote ahead of National School Choice Week.
Unable to get much done in Congress, the Obama administration is taking its education agenda straight to university presidents, foundation heads, and the media. And that's why I was invited to the White House last week to listen to senior administration officials tout their recent brokered deals with around 100 college presidents who've pledged to expand higher-education opportunities for low-income and minority students. (Yes, I'm doing more or less what they wanted — telling you about it. But the initiative is significant because it's an actionable response to a long-popular yet largely unaccomplished talking point.)
The effort, officials at the briefing said, was designed to emphasize areas where there's an opportunity to make a big impact even without Congressional legislation. They spoke of reducing inequalities in advising and test preparation, of strengthening remediation to support student success at college, and of helping students access information about scholarships. They also described waiving fees that keep low-income students from applying to multiple schools, something middle-class kids do without thinking.
All of these concrete actions, meant to further economic mobility and help close the opportunity gap, will go into effect without Congress passing a bill.
"In a perfect world, we'd be investing hundreds of millions more," one of the officials said at the briefing. "That's not the hand we've been dealt. So you either cry about that, or you just get to work."
Education was a favorite talking point for candidate Obama, but reform hasn't been easy. In 2008, Obama campaigned on rewriting the unpopular No Child Left Behind law but he couldn't do it without Congress, which never got its act together to rewrite the act. His signature reform, Race to the Top, a $4.35 billion initiative created to spur innovation and reforms in K-12 education, was passed as part of the American Recovery and Reinvestment Act in 2009 — before Republicans regained control of the House.
The White House's do-it-yourself approach to policy implementation has been well documented in Obama's second term. It's observable in immigration policy, where the president unilaterally granted undocumented children brought to America illegally by their parents the right to stay, as well as in climate policy, where he used executive powers to fastidiously regulate the industry that spews the most greenhouse gas into the air. On health care and guns, two of the more politically divisive issues of his presidency, the president used executive authority to enact policies he specifically tried and failed to get through Congress.
A former constitutional law professor, Obama has said he didn't want to go around Congress but that the legislature's refusal to negotiate on everything from housing reform to government funding and the debt limit has forced him to look elsewhere.
"It's gotten so bad that the president feels compelled to act with executive authority, and is doing so without compunction," said Paul Bledsoe, a former Clinton White House climate adviser, told National Journal this fall. "In the first term, he did so with reluctance. Now he's embracing it."
This new push on education is a variation on that theme, relying on educational leaders around the country instead of elected officials in Washington. Still, as Ronald Brownstein wrote recently, there's no silver bullet to close the opportunity gap and the administration's actions last week, while well received, are not enough.
"The White House conference shined a useful spotlight," wrote Brownstein of the effort, "but many forces must be reversed for higher education to truly expand opportunity: rising costs; the shift in public university funding from taxpayers to parents; restrictions on affirmative action; and the trend of colleges redirecting their scholarship dollars from needy families toward academic stars intended to raise their national rankings."
Look for more of that in the realm of education these next two years, but don't count on it coming from Congress.