Obama Won't Stop Talking About Obamacare
Health care got the most State of the Union airtime in Tuesday's address since 2010.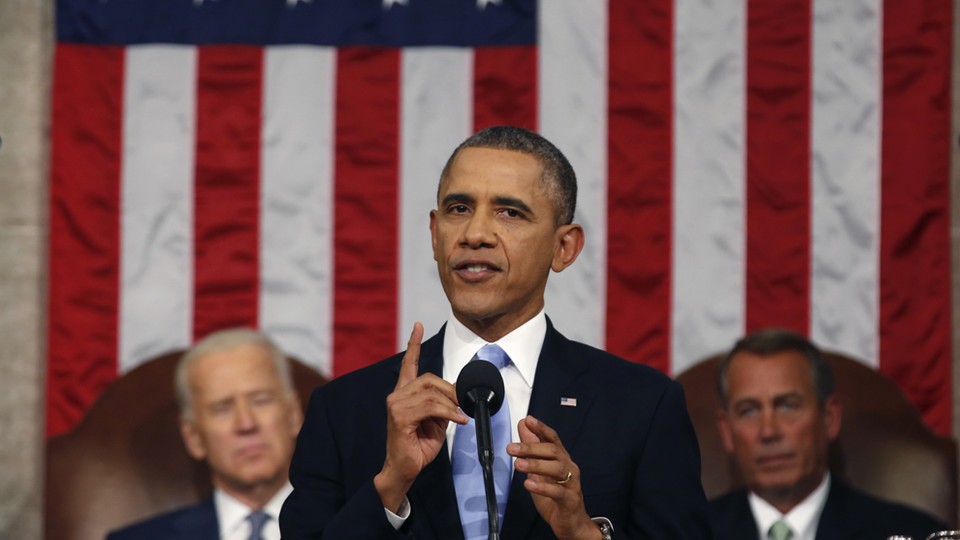 Health care got more attention on Tuesday than it has had in a State of the Union since 2010, as President Obama defended the Affordable Care Act while using the high-profile speech to make a pitch for enrollment — and he even took a chance to needle the law's critics.
"Moms, get on your kids to sign up. Kids, call your mom and walk her through the application," Obama said. The administration is set to spend millions of dollars over the next two months to encourage people to enroll in the health care law's new coverage option, and Obama's direct appeal during the State of the Union was another clear sign that the White House believes its best political argument is simply to get as many people covered as possible.
But that didn't stop the president from taking a few cracks at Republicans for their fixation on repealing Obamacare — or, at least, holding symbolic repeal votes to squeeze Democrats ahead of this year's midterms.
"If you have specific plans to cut costs, cover more people, and increase choice — tell America what you'd do differently. Let's see if the numbers add up," Obama said. "But let's not have another 40-something votes to repeal a law that's already helping millions of Americans. ... The first 40 were plenty."
Kentucky Gov. Steve Beshear won a shout-out from the president for successfully implementing a state-run insurance exchange in a deeply red state. Kentucky has one of the most effective exchanges in the country.
"Kentucky's not the most liberal part of the country, but he's like a man possessed when it comes to covering his commonwealth's families," Obama said.