Obama Won't 'Stand Still' and Wait for Congress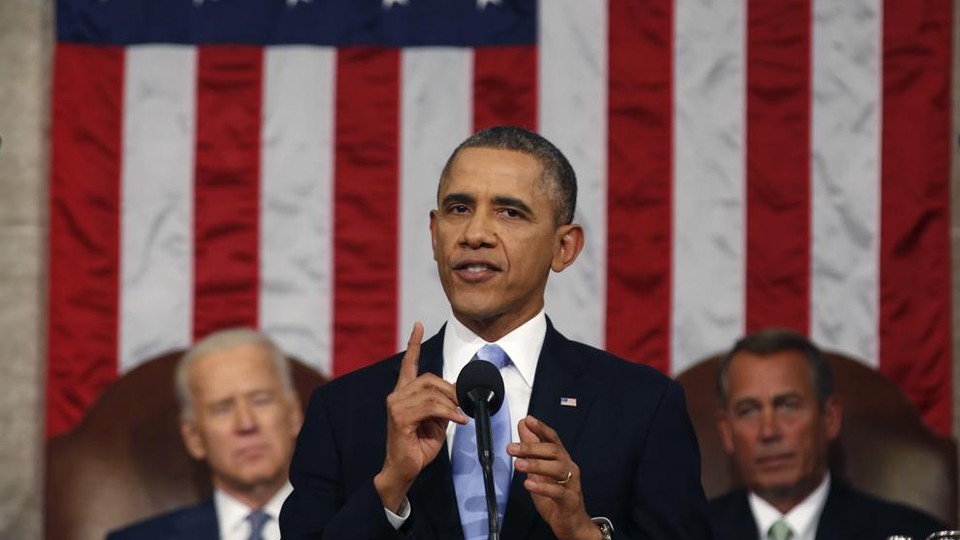 President Obama, seeking to rebound from a rough year and facing an emboldened opposition in Congress, sought Tuesday night to rally the country behind him for a flurry of executive actions he promised would strengthen economic recovery and protect the middle class.
In his fifth State of the Union address, the president in 1 hour and 11 minutes tried to cast himself less as a partisan than as the one leader in Washington looking out for the whole country. He insisted he was not looking for a fight with Republicans, who control the House and spent much of 2013 blocking his agenda. Noting that some of his proposals need congressional action, he insisted, "I'm eager to work with you."
"America does not stand still — and neither will I," he said. "So wherever I can take steps without legislation to expand opportunity for more American families, that's what I'm going to do." Democrats erupted in applause, but House Speaker John Boehner, directly behind the president, remained seated and stone-faced.
Senate Republicans showed their disapproval of the president's agenda by largely withholding their applause. Minority Leader Mitch McConnell orchestrated a rapid response to the address, blasting out five emails throughout the speech and jabbing Obama over the Keystone XL pipeline, coal in Kentucky, and the job market for college graduates.
Several GOP lawmakers walking back to the Senate after the speech said they heard areas of possible agreement, but some said they are not impressed with Obama's determination to go around Congress where he can.
"The president has to deal with Congress whether he's happy to or not," said Sen. Susan Collins of Maine.
Rep. Cathy McMorris Rodgers, the House Republican Conference chair, later gave the official Republican response, championing what she contended is "a more hopeful Republican vision." She also took the obligatory GOP poke at Obama's health care law, declaring that "it is not working" — a strong contrast to Obama's endorsement of the law.
Though the audience for the address has declined steadily since Obama drew 48 million viewers in 2010, Tuesday's television viewership was expected to approach or match last year's 33 million. Almost certainly it was the largest audience he will get this year, and the White House was determined to take advantage of it to bounce back from a year of sagging popularity and the troubled Obamacare rollout.
In the speech, Obama offered a series of modest proposals, befitting a president entering his sixth year in office. Bunched under the rubric of "opportunity for all," they included many items on the progressive wish list: an increase in the minimum wage, help for the unemployed, protection of voting rights, higher fuel-efficiency standards for trucks, more aid for education, removing some subsidies for the rich, more spending on infrastructure, an assault on income inequality, a program for climate change, and an end to discrimination against gays. As he did in last year's address, he also prodded Congress to move on comprehensive immigration reform and overhaul the federal tax code, specifically closing sections that reward companies for moving American jobs overseas.
He also gave a stout defense of his embattled health care law, even gently mocking House Republicans for their dozens of efforts to repeal the law in part or completely. "Let's not have another forty-something votes to repeal a law that's already helping millions of Americans."¦ The first 40 were plenty. We all owe it to the American people to say what we're for, not just what we're against," he said.
Obama was less enthused when he touched on trade, an issue on which he loses many Democrats in Congress, who espouse more protectionist measures. On this, the president sided more with the business community and mainstream Republican policy, urging the Congress to give him the trade promotion authority he has requested. It is needed, he said, "to protect our workers, protect our environment and open new markets to new goods stamped "˜Made in the U.S.A.' China and Europe aren't standing on the sidelines. Neither should we."
His most defiant moment with Congress came when he strongly repeated his threat to veto anything Congress passes that slaps new sanctions on Iran and interferes with American diplomatic efforts to get Iran to halt its nuclear program.
"Let me be clear," he said. "If this Congress sends me a new sanctions bill now that threatens to derail these talks, I will veto it.... We must give diplomacy a chance to succeed."
A year after he devoted a large segment of his address to gun control — and only three days after a gunman opened fire in a mall only 30 miles away from the Capital — the president had only one brief paragraph on the subject, decrying "the lives that gun violence steals from us each day." He pledged "to keep trying, with or without Congress, to help stop more tragedies from visiting innocent Americans in our movie theaters, and our shopping malls, or schools like Sandy Hook."
ENERGY AND ENVIRONMENT
Going Big on Gas
Ignoring environmentalists who are urging him to oppose all fossil-fuel production, Obama doubled down on his support for natural gas, calling it "the bridge fuel that can power our economy with less carbon pollution that causes climate change."
Obama repeated the "all of the above" mantra that leaders of most of the nation's major environmental groups have urged him to drop. "The all-of-the-above energy strategy I announced a few years ago is working, and today, America is closer to energy independence than we've been in decades," he said.
The president's full-throttled endorsement of natural gas — both as an economic driver and as a tool to cut carbon emissions — received the most attention in what was a relatively minor focus on energy and climate issues compared with those of his previous speeches to Congress.
Obama mentioned only in passing — and not by name — the Environmental Protection Agency's regulations to cut carbon emissions from the nation's power plants. He also didn't say anything about his administration's defense of those rules, which are already facing attacks from congressional Republicans and industry groups. The president did tout the growth in solar power, however. "Every four minutes, another American home or business goes solar," he said.
Much of what Obama talked about on energy and environmental issues he has already done or announced, including tougher fuel-efficiency standards for trucks. Left unmentioned in the speech was any talk of wind energy, biofuels, nuclear power (not to be confused with nuclear weapons, which Obama did speak of), coal, and the Keystone XL pipeline.
HEALTH CARE
Enrollment Pitch
Health care got more attention than it's had in a State of the Union since 2010. Obama defended the Affordable Care Act on its merits but also used the high-profile speech to make a pitch for enrollment.
"Moms, get on your kids to sign up. Kids, call your mom and walk her through the application," Obama said. The administration is set to spend millions of dollars over the next two months to encourage people to enroll in the health care law's new coverage option, and Obama's direct appeal during the State of the Union was another clear sign that the White House believes its best political argument is simply to get as many people covered as possible.
But that didn't stop the president from taking a few cracks at Republicans for their fixation on repealing Obamacare — or, at least, holding symbolic repeal votes to squeeze Democrats ahead of this year's midterms.
"If you have specific plans to cut costs, cover more people, and increase choice — tell America what you'd do differently. Let's see if the numbers add up," Obama said.
Kentucky Gov. Steve Beshear won a shout-out from the president for successfully implementing a state-run insurance exchange in a deeply red state. The state has one of the most effective exchanges in the country.
"Kentucky's not the most liberal part of the country, but he's like a man possessed when it comes to covering his commonwealth's families," Obama said.
NATIONAL SECURITY
Iran, Afghanistan
Obama used his bully pulpit to promote the recent deal that world powers reached with Iran as a foreign policy breakthrough. The agreement curbed the progress of Tehran's nuclear program and rolled parts of it back "for the very first time in a decade," Obama said.
U.S. diplomacy matters just as much as military might, the president argued, defending ongoing negotiations even as Israel and some in Congress criticize the interim deal as not being strict enough.
Obama also ramped up pressure on lawmakers — including fellow Democrats — seeking more sanctions against Iran as negotiations continue. Promising to veto those sanctions, he said that "for the sake of our national security, we must give diplomacy a chance to succeed."
If that fails, all options — presumably including military action — are still on table. "I will be the first to call for more sanctions," Obama said, "and stand ready to exercise all options to make sure Iran does not build a nuclear weapon." This public promise may sway some of his critics.
The president also touted his role as a peacemaker. With the end of combat operations in Afghanistan this year, he said, "America's longest war will finally be over." Obama is considering leaving a small force of U.S. troops for narrow counterterrorism and training missions — if such a deal can be reached with Afghanistan. Outgoing Afghan President Hamid Karzai has so far refused to sign the security agreement both countries have already negotiated.
Obama stressed the need to close the Guantanamo Bay prison — a goal that has eluded him since the beginning of his presidency. "With the Afghan war ending, this needs to be the year," Obama said. It actually could happen. The defense authorization bill Obama signed late last year relaxed restrictions on transferring detainees to the custody of foreign countries.
TECHNOLOGY
Broadening Broadband
Obama announced a step forward in his proposal to improve Internet access in schools on Tuesday. A partnership between the Federal Communications Commission and companies including Apple, Microsoft, Sprint, and Verizon will bring high-speed broadband Internet to more than 15,000 schools and 20 million students over the next two years, Obama said.
The issue is one of the few domestic initiatives Obama can get done without congressional support. The FCC already pays for Internet access in schools and libraries through a program called "E-Rate" that is funded by fees on monthly phone bills. Last year, Obama called on the agency to dramatically expand the program to provide high-speed Internet to 99 percent of all students. The White House provided few details about the partnership announced Tuesday, but it appears to be a combination of the existing E-Rate program and donations from the major technology companies.
Another major tech issue that Obama highlighted in the speech was patent reform, urging Congress to pass legislation that allows "our businesses to stay focused on innovation, not costly, needless litigation." The House passed legislation last year aimed at combatting "patent trolls" — firms that use bogus patent-infringement claims to extort settlements out of businesses — but the Senate has yet to act.
But one issue that was notable for its almost complete absence in the speech was the controversy over National Security Agency surveillance. Obama laid out his views for reforming the agency in a speech earlier this month, and he showed little interest in devoting more attention to the controversy. He did, however, promise to work with Congress to reform the surveillance programs.
---
Michael Catalini, Amy Harder, Sara Sorcher, Sam Baker, and Brendan Sasso contributed to this article