Obama Will Raise the Minimum Wage, but on a Small Scale
A new executive order increases the minimum wage to $10.10 an hour for just several hundred thousand workers.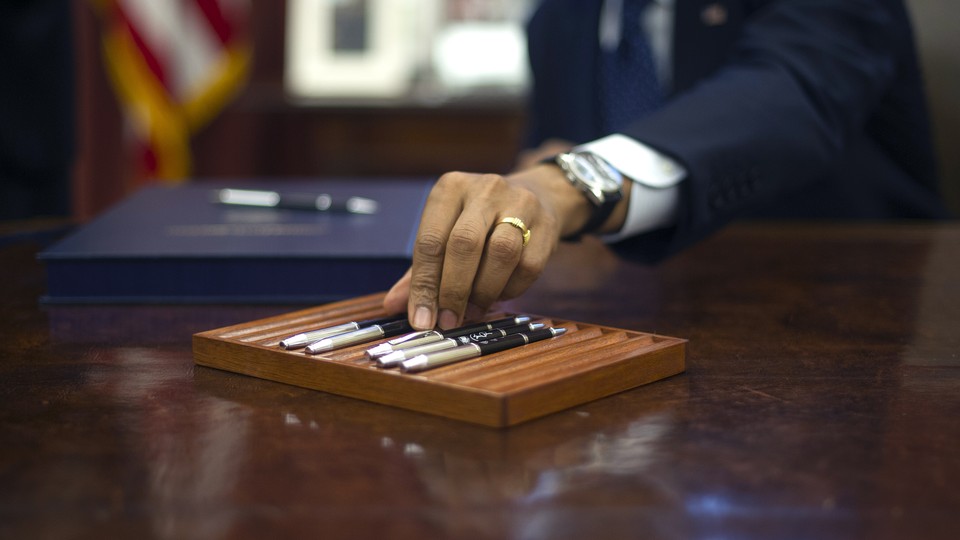 President Obama is planning to unilaterally go after one of the more popular proposals in his State of the Union: raising the minimum wage, if only for a limited number of workers.
The president will sign an executive order that raises the minimum wage for federal contractors from $7.25 an hour to $10.10 an hour, the White House announced on Tuesday morning, just hours before the State of the Union.
But here's the catch: The executive order will only affect several hundred thousand workers, as opposed to the 21 million who would see their wages increased if Congress passed a full federal increase. The order benefits workers in the performing services and construction, along with workers at military bases who work in dish-washing, food service, and laundry.
Raising the minimum wage is wildly popular in the United States. A recent Pew poll shows that 73 percent of Americans are in favor of raising the federal minimum wage for all workers. And those numbers are strong across party lines. Some 90 percent of Democrats support the hike, along with 71 percent of independents and 53 percent of Republicans. An NBC News poll released on Tuesday also shows that a majority of Americans think the president's proposal to increase the minimum wage should be a priority this year.
In last year's State of the Union, the president proposed a bill to increase the minimum wage to $9 an hour. Proposals in Congress, however, have failed to gain any traction, as many Republican lawmakers have argued that a raise in the minimum wage would stifle business and hurt job creation.
In announcing this latest executive action, the White House still promoted a bill that would boost the federal minimum wage to $10.10 an hour, and said the president will work with Congress to get the bill passed. Whether that can happen is another issue.
Progressives in Congress have been pressuring the president to take action on the minimum wage unilaterally for some time. Back in December, Congressional Progressive Caucus Cochairman Keith Ellison, a Minnesota Democrat, hand-delivered a letter to the president asking him to sign an executive order. It's unclear, however, if this latest action by the president will totally satisfy the liberal end of his base.
What is clear, though, is that the president is willing to bypass Congress to go after some of his agenda items, at least on small scales. The president on Tuesday night is expected to announce other executive actions that will not require congressional approval.