Obama Team Stonewalls Democrat on Spying Questions
Ron Wyden pushed for specific answers from Intelligence Director James Clapper and others, but failed to get any details.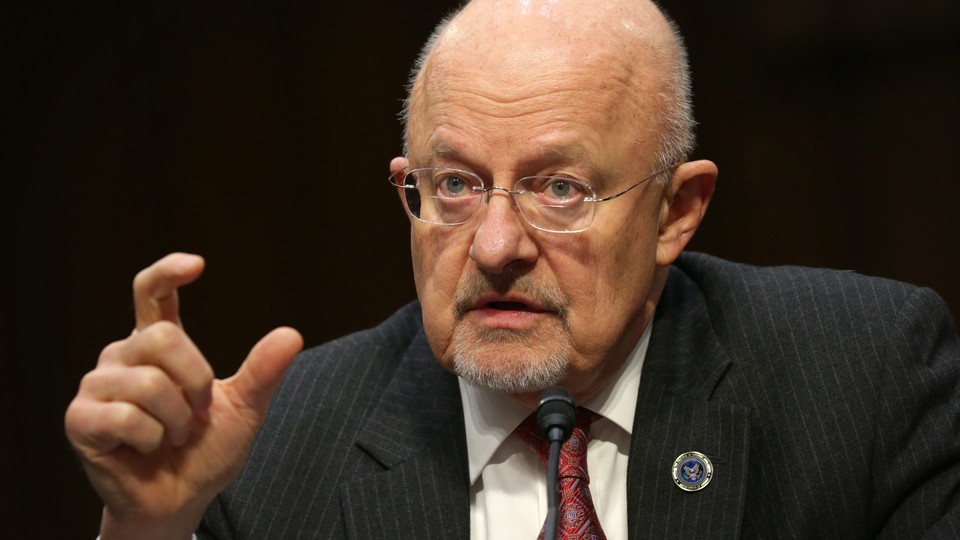 Ron Wyden wanted direct answers on government spying programs during Wednesday's Senate Intelligence Committee hearing. He didn't get many.
Director of Intelligence James Clapper, CIA Director John Brennan, and FBI Director James Comey largely avoided giving details on the agencies' spying activities, instead promising to provide more information as soon as possible. In several cases, Wyden gave deadlines for them to answer his questions.
Wyden, an Oregon Democrat, is a vocal critic of the National Security Agency's program of gathering the phone data of millions of Americans. He also has a history of asking pointed questions, and even of hinting at NSA activities in his questions. In a March 2013 hearing, before Edward Snowden revealed details of the NSA's mass harvesting of phone-call metadata, Wyden asked Clapper if the NSA gathers "any type of data at all on millions of Americans." Clapper answered "no," which Wyden later said was misleading.
At Wednesday's hearing, Wyden asked Brennan if the Computer Fraud and Abuse Act, which bans hacking into private computers, applies to the CIA. Brennan said he did not know, and promised to answer within a week.
Wyden also asked Clapper to provide within 30 days a specific example of a phone record the NSA needed that was so old that the phone company no longer had it. Data-collection advocates have insisted that it is necessary for the NSA to store data itself for the purpose of speedy access, rather than making individual requests to phone companies.
And Wyden asked FBI Director James Comey to answer within a week whether there is any legal difference between accessing phone-record information by using cell-phone towers and using smartphone apps.
Wyden criticized the "culture of misinformation" at the NSA, saying agency Director Keith Alexander and others have purposefully neglected to act transparently. Wyden expressed even more frustration when Clapper, Brennan, and Comey promised to answer questions later.
"This committee can't do oversight if we can't get direct answers," Wyden said.
Although the three somewhat dodged questions on the specifics of spying activities, Clapper railed against the general nature of Edward Snowden's leaks on NSA surveillance programs, calling them "the most massive and most damaging theft of intelligence in our nation's history."
He also called on Snowden to return any more documents that he has not yet released. "The nation is less safe and its people less secure," because of the Snowden leaks, Clapper said.
But Clapper did vow to operate the NSA in a more open way, insisting that the public will ultimately support most of the agency's spying activities.
"We must lean in the direction of transparency, wherever and whenever we can," Clapper said.