Obama Administration Prepares to Show Cards on the Keystone Pipeline Friday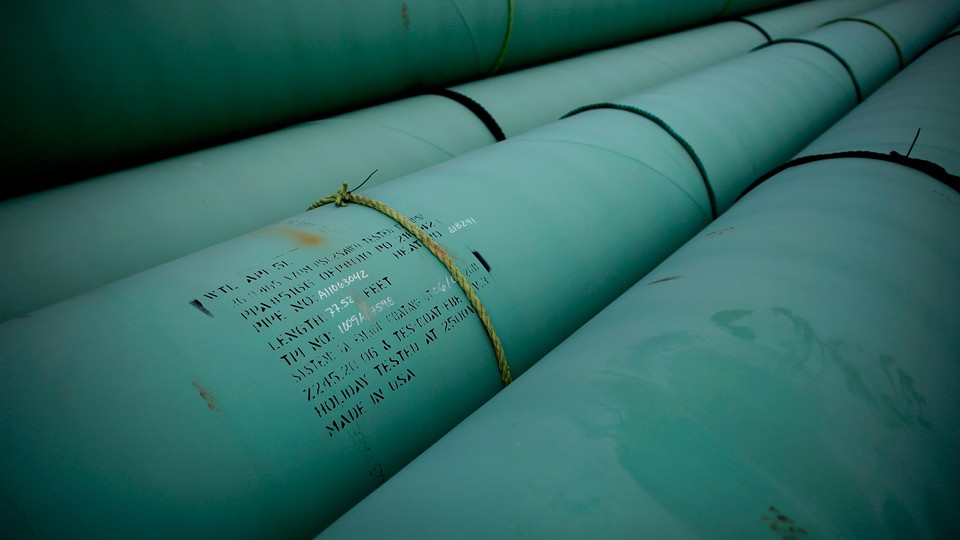 The State Department is expected to release a closely watched environmental study of the proposed Keystone XL pipeline on Friday that could signal whether President Obama will ultimately approve the project.
Sources tracking the study and multiple published reports say the long-awaited analysis of TransCanada's proposed oil sands pipeline is arriving Friday. A State Department official said late Thursday night the report is in the "final stages of preparation" and will be released "soon."
The big question is whether the final environmental analysis upholds a draft State Department finding last March that approving the project would have little effect on greenhouse-gas emissions.
Bloomberg reported late Thursday that the final environmental study will "probably disappoint environmental groups and opponents of the Keystone pipeline."
If last year's draft finding on carbon emissions holds up, it will be a sign that the pipeline to bring crude oil from Alberta's oil sands projects to Gulf Coast refineries is likely on track for White House approval.
President Obama has said he will approve the project only if he's convinced it will not significantly worsen greenhouse-gas emissions.
While the looming report will be a milestone in the contentious, five-year federal review of the Keystone pipeline, it's not the final step — or the end of the furious political and legal battle.
The report sets the clock ticking on a 90-day administration review that, eventually, leads to a final White House decision on the multibillion-dollar project, which would carry hundreds of thousands of barrels of oil per day into the U.S.
Another wrinkle in the regulatory review process is a State Department inspector general report, which environmentalists requested to determine whether the contractor conducting the environmental review--ERM Group--had a conflict of interest with the company building the pipeline, TransCanada. That report is not being released on Friday despite rumors saying so, said a spokesman for the State Department's inspector general report. When this report is released and how it affects the final decision is unclear.
Environmentalists bitterly oppose Keystone and contest State's draft finding that building the pipeline would have little effect on carbon emissions.
The green groups argue that Keystone would be a crucial catalyst for expansion of carbon-intensive oil-sands development.
Supporters of the project say it will have little effect on the rate of ongoing oil-sands production increases, citing other options for getting the product to market. The draft State Department analysis last year backed that view.
The Canadian government, major industry groups, and some unions have lobbied heavily for approval.
---
Amy Harder contributed to this article